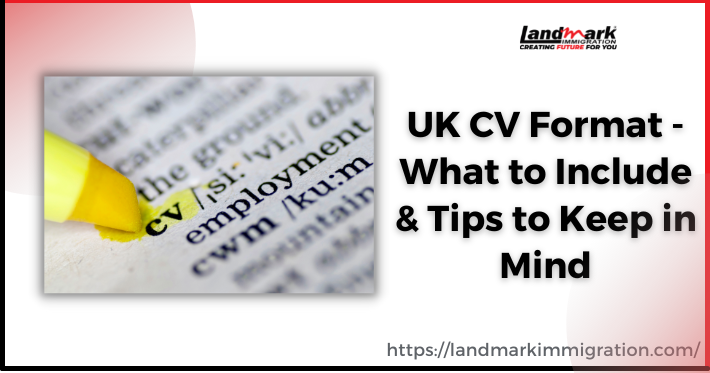 A CV (curriculum vitae) is a document that summarises your skills, education, and work experience to enable you to sell your abilities to potential employers. In this article, we present some tips to keep in mind regarding the UK CV format.
It should be no longer than two sides of A4 and a maximum of two pages.
It should be written in reverse chronological order and formatted so that recruiters can skim it quickly and find the most relevant information.
CV Format
Here are some tips regarding the design of the UK CV format.
Do not label your document as a CV and/or Curriculum Vitae. Your name could be used as the title.
Divide your document into section headings. Make them larger (fonts 14-16) and bold.
Use clear fonts such as Times New Roman, Calibri, or Arial. Limit the font size to 10-12 characters.
Make sure you use the same fonts and sizes on your CV.
It is recommended to present all information in reverse chronological order, with the most recent item being presented first.
Use bullet points and the correct spacing.
Save your document with a name.
If the job ad asks for a specific format, then choose the identical. If not, save it in the format of PDF.
To post the CV, print using White A4 paper. Print only one side. Don't fold your CV.
Reverse Chronological Format
A reverse chronological CV, or classic CV, is the most popular UK CV format.
Starting with your most recent position and working backward, this format shows your work experience and education.
This style of resume is particularly useful for students and entry-level job seekers, as it's a simple way to outline your relevant skills.
It also tends to pass the ATS test, as it's easy for a computer to understand what you've done before and what you're good at.
Unlike a skill-based CV, which focuses on your hard skills, a reverse chronological CV puts the emphasis on your employment history.
This is because recruiters know that a well-written career path will make you an attractive candidate for many roles.
Tips for a Good CV
Here are some helpful tips to write an effective CV:
Make sure you make use of active verbs as often as you can when reviewing your proofreading work for spelling or grammar mistakes.
Avoid using words that are too often such as team member, multi-tasker, sincere, or hardworking. Look for examples that demonstrate these qualities instead.
Make your CV specific to the position and company that you're interested in.
Make sure you have a legitimate email address.
Don't overstate anything as you might be later asked about it or you may be required to provide proof of your expertise accordingly.
Always keep a letter of introduction unless the business states that it is not.
What to Include in your CV for the UK?
Personal Statement
A personal statement should be a short, impactful piece that introduces yourself to the employer and highlights your skills and experiences.
It should also be tailored to the role you are applying for – this makes your application stand out from others, showing that you have carefully considered what they require.
The personal statement is usually displayed as a single paragraph, without a title or subheading, and it should be consistent with the rest of your CV formatting.
You should also keep your writing style and voice consistent throughout.
This student candidate has only just left school and they are looking to make the most of their experience by combining academic achievements with work experience.
They mention their GCSE results, summer program involvement, and work experience and express their ambition to progress within sales.
Work Experience
The work experience section of your UK CV should display all of your recent jobs with their employer, dates, and responsibilities.
A reverse chronological list is recommended.
Volunteering and any unpaid roles should be included as well.
This can help show employers that you can put in time productively, and that money is not your only motivator.
Including work experience in your CV shouldn't be an extensive task but it should be detailed and clear.
It should include all the important information about each job and use bullet points to make it easier for a hiring manager to skim quickly through.
Education
The education section of your CV should include all your formal training, including qualifications from school, university, or other education providers.
It shows employers whether you have the right educational background for the job.
The format of your education section varies depending on your experience level, but the general rule is to follow reverse chronological order.
This means you list your latest educational entry first and then go backward from there.
A-Levels entries should be accompanied by the subjects studied and grades achieved.
For GCSEs, don't list individual subjects unless the employer specifically asks for this information. Alternatively, you could give an overview by listing "10 GCSEs at grades A-C."
Skills
A UK CV needs to include a range of skills. These can be hard or soft, and they should relate to the role you're applying for.
A soft skill is one that is more about your personality and personal traits, whereas a hard skill is more about technical ability or training. CVs that combine both are the best.
The main skills section of your CV should be based on your work experience and qualifications, starting with your most recent first. Include your job title, company name, and key achievements.
Conclusion
CV plays an essential role in showcasing your abilities and getting a desired job in the UK.
By following the tips discussed in this blog you can format your CV according to the UK precisely.
At Landmark Immigration our expert immigration panel will guide you at each step until you reach your destination.