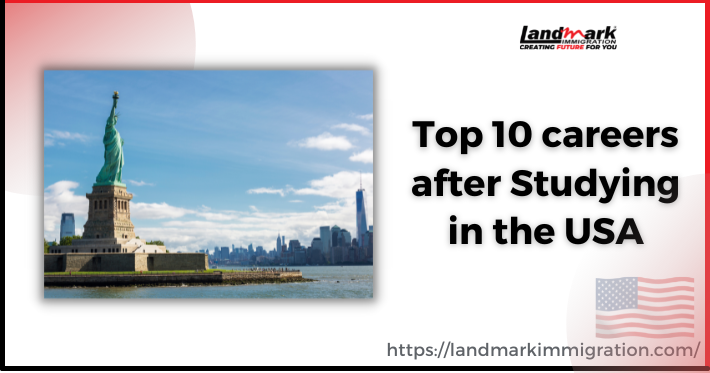 Studying in the USA is a great choice for students who want to get a good job, earn a higher salary and have more opportunities to make money.
But what if you don't want to work all day for companies? What if you eventually want to make your name and stand out? That's why we've compiled this list of 10 careers after studying in America.
1. Software Engineer
Software engineers are the backbone of the tech industry. They're in demand, and they can make a lot of money too!
Software engineers have many opportunities for advancement at their companies. The job market is expected to grow by 10% over the next decade, according to Burning Glass Technologies' 2019 report on employment trends in software engineering roles.
This means there will be plenty of opportunities for you as an entry-level software engineer who is looking for your first job or career move after graduation from college or university programs like ours.
2. Business Analyst
What is a Business Analyst?
A business analyst is an individual who analyzes the needs of a company and recommends solutions to meet those needs. They use their knowledge of technical and non-technical skills to help businesses improve their operations, while also helping them make more informed decisions about the future direction of their business.
To be successful in this role, you'll need strong analytical skills as well as excellent communication abilities so that you can interact effectively with both internal stakeholders (such as managers) and external clients/customers.
What Skills Do You Need To Become A Business Analyst?
The best way for anyone interested in becoming a BA or BBA student career path at graduate school isn't through what they know (though this comes into play), but rather by how much effort they're willing to put into learning new things every day!
3. Consultant
A consultant is a person who provides advice, expertise, and consultation to clients. They help companies solve their problems by providing solutions or by analyzing issues. A consultant works in a variety of industries such as healthcare, business consulting and law enforcement.
To become a consultant you need experience in one of these fields as well as excellent communication skills so that you can easily explain what needs to be done and how best to do it.
The average salary for consultants ranges from $60k-$100k per year but this depends on what kind of company they work for (small firms tend not to pay very much compared with large ones).
Consultants also get bonuses based on performance so it's really up to them whether they want more money or not! There are plenty of opportunities out there so don't give up hope just yet!
4. Accountant
Accountants are in high demand and known for their attention to detail. They are also known for their math skills, which makes them a great choice for careers after studying in the USA.
Accounting is one of the most popular careers after studying abroad in the U.S., with an average salary of over $60k per year! This means that if you have studied accounting in your home country, there's a good chance that you will be able to find work quickly upon graduation.
5. Product Manager
Product managers are responsible for the product and its success. They are responsible for the product from conception to launch, so they need to be able to communicate with other departments, such as sales and marketing. They also need to manage stakeholders' needs, which can include investors or customers.
6. Project Manager
Project management is a process of planning, organising, staffing, leading and controlling resources to achieve specific goals. It is the process of managing a project from its initiation to its closure.
The main purpose of project management is to ensure that projects are completed successfully on time and within budget.
Project managers have to make sure that all stakeholders are involved in their work so that they can understand each other's needs and expectations before starting any activity on their behalf
7. Data Scientist
Data scientists collect and analyse data to find patterns, insights, and correlations. They use statistical analysis, machine learning, and data visualisation to make sense of massive amounts of information.
As more organisations turn their focus to analytics as a core competency for success in today's economy (and not just a fad), there are more opportunities than ever before for people who can harness this technology to help businesses thrive.
Data scientists work in a variety of industries such as healthcare IT or retail marketing where they need access to high volumes of data that can be used by other groups within an organisation—but also outside its walls as well!
Data scientist jobs are available at both small businesses looking for someone who can help them grow their business through better decision-making based on reliable statistics; big companies looking for someone with expertise in areas like predictive modelling; even the government sector has openings if you're interested in working here!
8. Financial Analyst
Financial analysts are responsible for doing and managing the financial planning, doing the analysis and reporting the financial activities of the company. They also perform market research to determine what products or services will be profitable in the future.
You can become a financial analyst by completing an undergraduate degree program such as economics or accounting at an accredited college or university. You'll need strong maths skills and some knowledge of statistics to succeed as well as excellent communication skills as you'll be required to write reports.
Financial analysts usually work full-time on their own projects with little supervision from their managers until they've been in their role for several years.
This means that they often have the opportunity to develop their own areas of expertise within their companies over time through self-study efforts such as reading industry literature related specifically towards those types of questions asked during interviews ("What kind(s)of research do I need before conducting my own?", etc.)
9. Investment Banker
An investment banker is a person who helps companies raise capital by finding investors and advising them on how to invest their money. Investment bankers make money by charging fees for their services, but it's not as easy as it sounds because there aren't that many places to work in this industry.
There are two main types of investment banks: Financial Institutions (FI) and Hedge Funds/Private Equity Funds (HFC). FI focus on retail clients whereas HFC focuses more on institutional investors such as pension funds or sovereign wealth funds.
If you want to be an investment banker then you'll need at least three years of experience working with stocks, bonds or derivatives before applying for jobs at these firms; however, if your dream job is working with hedge funds then you'll need five years' worth!
10. Actuary
Who is an Actuary?
Actuaries are in demand in the insurance industry, where they help determine how much to charge for insurance policies. They use their knowledge of statistics and probability to assess risks and make recommendations on how much premiums should be.
The average salary for an actuary is $126,230 per year according to Payscale's survey results from 2018.
Takeaway:
The takeaway from this article should be that you should consider the following as part of your decision-making process:
Your goals and interests. What kind of career do you want to have? Are there specific skills or experiences that would help you achieve those goals?
How much money do I need to make more than I am now? How much can I save toward retirement, college tuition for my child, or starting a business venture by working part-time during school breaks/summer break/winter break if necessary?
The USA holds lots of opportunities for you as a young adult. When you plan on settling in the US, you open doors to a bright future ahead. Consult our immigration experts at Landmark Immigration for all study and immigration-related queries.