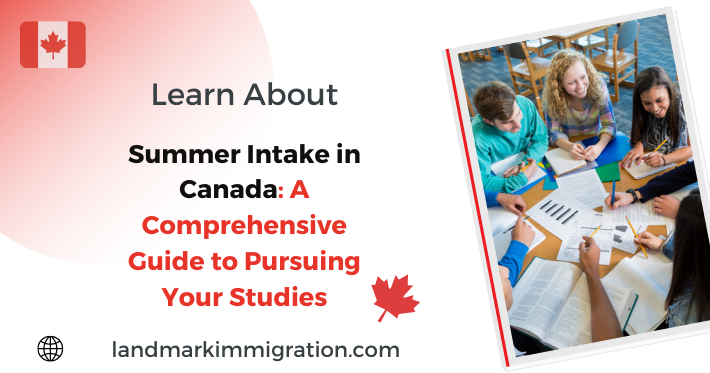 Summer intake in Canada provides an excellent opportunity for international students to explore the country's renowned education system while enjoying its vibrant summer months.
This blog aims to shed light on the merits and demerits of pursuing a summer intake in Canada, the step-by-step application process, the necessary documents, universities offering summer intake admissions, application deadlines, and a concluding summary.
Knowing more about summer intake in Canada:
Summer intake, also known as the May intake, is an alternate term for the regular academic intake that begins in September. May or June are the most convenient months for students to begin their studies. This intake is gaining popularity among international students due to its flexibility and potential advantages.
Merits of the Canadian summer intake:
Summer Intake in Canada has the following advantages for international students
1. Shorter Admissions Process:
Universities often streamline the admission process for the summer intake, making it faster and more convenient for applicants.
2. Easier Visa Processing:
As there is less competition during the summer intake, visa processing may be smoother for prospective students.
3. Opportunity for Early Graduation:
By joining the summer intake, students can complete their studies earlier and enter the job market or pursue further education.
4. Experience Canada in its Prime:
Summer in Canada offers pleasant weather and numerous recreational activities, making it an ideal time to explore the country.
Demerits of the Summer Intake in Canada:
1. Limited Program Availability:
Not all courses and programs may be available during the summer intake, potentially limiting academic options.
2. Smaller Cohort:
The number of students joining during the summer intake might be smaller, which could affect campus vibrancy and extracurricular activities.
Step-by-step guide for summer intake applications:
1. Research and Choose Programs:
Explore the universities and courses offering the summer intake option, and select the ones that align with your academic and career goals.
2. Review Admission Requirements:
Carefully go through the admission criteria, ensuring that you meet all academic and language proficiency prerequisites.
3. Prepare Necessary Documents:
Collect essential documents, including academic transcripts, language test scores, letters of recommendation, and a statement of purpose.
4. Online Application:
Complete the university's online application form, ensuring accuracy and honesty in providing information.
5. Application Fee:
Pay the application fee as required by the university.
Necessary Documents:
   Academic transcripts from previous educational institutions
   English language proficiency test scores (IELTS, TOEFL, etc.)
   Letters of recommendation from academic or professional referees
   Statement of Purpose detailing your academic and career aspirations
Universities offering summer intake admissions in Canada:
University of Toronto
University of British Columbia
McGill University
University of Alberta
University of Waterloo
Deadlines for applying in the summer intake:
Application deadlines for the summer intake vary among universities. It is essential to check each institution's specific deadline and ensure that your application is submitted on time.
Conclusion:
In conclusion, it can be rewarding for international students to study abroad during the summer in Canada. This period offers unique advantages such as faster admissions, better visa processing, and the chance to enjoy Canada's vibrant summer.
However, students must be aware of limited program availability and smaller cohorts during this intake. Your chances of a successful application will increase if you follow our step-by-step guide and gather the necessary documents.
When it comes to studying abroad, the role of reliable and experienced study visa consultants cannot be overstated. One such reputable consultancy is Landmark Immigration, which has been assisting students in realizing their dreams of studying in Canada for many years.
With a team of highly skilled and dedicated professionals, Landmark Immigration offers personalized guidance and support throughout the application process.
Our expertise in navigating the complexities of visa procedures, admission requirements, and university selections is commendable.
Landmark Immigration's commitment to providing accurate and up-to-date information ensures that students make well-informed decisions regarding their academic pursuits.
Whether it's helping with document preparation, visa applications, or even post-arrival assistance, Landmark Immigration strives to be a dependable companion on the educational journey of aspiring students.
Moreover, Landmark Immigration stands out as a trusted partner in your study abroad endeavors. The application process can be made more stress-free and smooth with their professional guidance and support.
So, seize the opportunity and embark on an exciting educational journey in the breathtaking land of Canada during the summer intake, with Landmark Immigration by your side.
Your dreams of studying in Canada are within reach, and the summer intake can be the perfect start to an enriching academic experience.