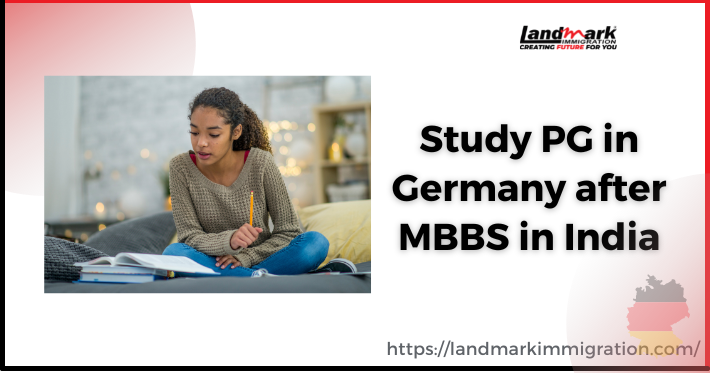 If you are a postgraduate aspirant in India after completing your MBBS, often students may fail to secure admission in the specialization of their choice. Pursuing a PG in Germany after completing your MBBS in India is an excellent option for medical students, particularly when they want to get the branch of their choice.
The education system in Germany makes way for a fulfilling career with world-class education. In this article, we will discuss everything you should know about studying PG in Germany after MBBS in India in detail:  
Why should you consider studying PG in Germany after completing your MBBS in India?
Here are some reasons why you should consider studying PG in Germany after completing your MBBS in India:
Get the college of your choice:
For post-graduation courses, the admission process in India is through an exhaustive and competitive admission test. This leads to increased competition, and students often fail to get admission to the college of their choice.
Medical schools in Germany are world-renowned and offer admission on a merit basis. 
Study at zero tuition fee:
Germany offers students to pursue post-graduation with no tuition fees right after their MBBS. This means that students get the opportunity to avail quality education without incurring any financial burden. 
Most of the renowned and prestigious medical schools in Germany focus on providing their postgraduate students with robust, practical knowledge.
They focus on helping doctors be competent in their fields through high-quality knowledge and rigorous training. The PG courses in the country even include mandatory on-the-job training.
In such training, hospitals provide students with the approval to conduct their training and treat patients. 
Avail attractive career opportunities:
Germany has one of the best healthcare systems in the world. As a doctor, you will be able to easily avail yourself of opportunities to work and train in facilities with advanced equipment and modern infrastructure.
After you complete your education, you would also get the title of a consultant or specialist called a "Facharzt." Receiving this title greatly increases your chances of getting a permanent residency in Germany.
German universities offer stipends to their medical residents:
When you will be studying your post-graduation in Germany, your university may also offer you an attractive monthly stipend.
This stipend is offered to ensure that you can cover your expenses in Germany and are also reimbursed for the work that you perform at the university. Even though this amount can vary per college, it can go up to 4500 euros. 
Which are the top PG courses in Germany after MBBS in India?
There are a lot of different options that students can choose from once they apply for PG courses in Germany. Here are some of the top PG courses that students pursue to study in Germany:
Clinical Research
Ophthalmology
Cardiac Pulmonary Perfusion
Medical Record Technology
Rural Health Care
Medical Imaging Technology
Orthopedics
Operation Theatre Technology
Leprosy, Venereology, and Dermatology
Physiotherapy
OT Technician
Medical Radio-Diagnosis
Hearing Language and Speech
Optometry
Child Health
Gynaecology and Obstetrics
Medical Lab Technology
Anaesthesiology
Community Health Care
How can you pursue PG courses in Germany after completing your MBBS in India?
Pursuing postgraduate courses in Germany after completing your MBBS in India is quite straightforward.
However, since the process can be a little long, it is recommended to take around six months before going to Germany to fulfill all the requirements.
Here is a roadmap that international students can follow to secure admission to PG courses in Germany: 
International students need to clear both A1 and A2 Levels of the German language.
Secure an admission note from a test approved by the government for TELC C1 and TELC B2. Normal C1 and B2 tests are not accepted. 
Learn the German language up to C1 Level.
Secure an observership in a German hospital that is approved for your post-graduation in Germany. Observership needs to be provided by the German Medical Council. Generally, observership is offered for a month, but in some cases, it could also be extended to six months. 
Finish the procedure in the "Approbation system." You need to get yourself registered as a German Medical Practitioner. Until your approbation application gets approved, you will need to manage your residency yourself. 
You have to manage your own residency till your approbation application is approved.
Pursue a Master's in Healthcare in Germany
A common alternative to studying PG in Germany as an international student is to secure admission to a master's in healthcare instead.
This option helps you avoid TELC B1 and TELC C1 entirely and allows you to only study German up to the TELC C1 level.
This is also a good way to improve your overall profile when you do apply for post-graduation since you will hold more qualifications as compared to your peers. 
What are the eligibility criteria to pursue a PG in Germany after completing your MBBS in India?
Here are the eligibility criteria to secure admission for post-graduation in Germany for international candidates: 
You need to have graduated and completed your MBBS from an Indian university. Alternatively, you should have passed the MCI screening examination. 
Ensure that you received your MBBS degree with above-average marks. Germany regards MBBS degrees obtained from other countries as equivalent to German MBBS degrees. 
Students must have exceptional vocal and written English skills.
Which are the top universities for post-graduation in Germany after you complete your MBBS in India? 
Here are some of the top universities for post-graduation in Germany for international students:
Freiburg University
RWTH Aachen University
Tüebingen University
Heidelberg University
FU Berlin
Münster University
University of Hamburg
Leipzig University
University of Bonn
Magdeburg University
Witten/Hercke University
Würzburg University
Lübeck University
Conclusion
More than 90% of all postgraduation aspirants in India fail to get their preferred field for specialization.
These staggering numbers are due to the high number of applicants each year in the country, which naturally leads to tough competition.
This is why more and more students are opting to immigrate to Germany to study PG after completing their MBBS in India.