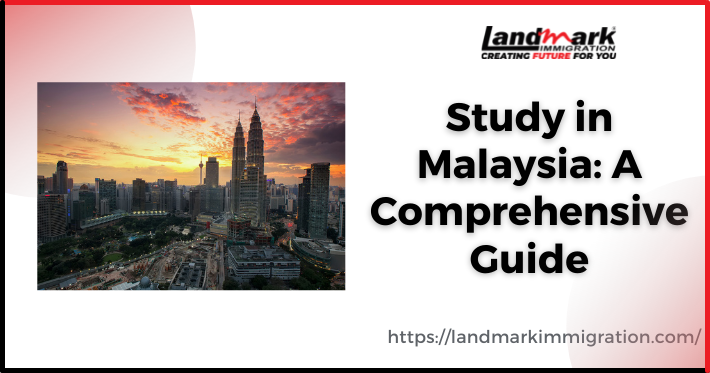 Malaysia is a country that always attracts people because of its unique culture and modern but decent architecture. It gives a perfect destination for Indian students to experience a quality education system. All these qualities compel Students to dream about studying in Malaysia. Here you will get to know everything about study in Malaysia
Is Malaysia a good option to choose?
Every student who dreams to go outside and experience something new has confusion that is worth to go Malaysia or not. To clear their confusion we want to highlight that the Malaysian education system is run by the Ministry of Higher education and 8 Malaysian universities ranked under 500 World University ranking QS.
So now you have clarity that you are not on the wrong path Malaysia can provide you a quality education with authentic degrees and certificates.
How much will it cost to study in Malaysia?
Like everywhere else Malaysia also required a decent amount of money to survive. If we talk generally then you need to maintain your budget Approx. RM140, 000 (US$35,000) for 3 years. It includes everything like travel, living, etc. but yes if you decided to go for the big cities then this cost is not enough but if we compared with other desired countries of students then it is comparatively less.
If we talk about the bachelor's degree then you need to pay approx. RM68, 000 per course for 3 years. A Master's degree will cost more than this RM25, 000-36,000 per course (US$6,250-9,000) per year. Tuition fees are not added in this amount it will vary from institution to institution.
Some scholarship programs are also run by some institutions you can take this information to any immigration consultant. One more thing you need to keep in your mind is that International students are not allowed to work during term-time.
Talk to our expert to know about the scholarship program in detail – Click here
What makes Malaysia a Unique Destiny for Indian Students?
Somehow Students complain about the misbehavior from the living resident towards Indian students but when it comes to Malaysia the number of these complaints is comparatively less.
So if you are afraid that you will not be welcomed in the strange country then it is a good option for you. According to data, 82% of international students receive some sort of financial aid to study in Malaysia.
How to apply for a Study Visa to fulfill your dream to study in Malaysia?
To make your dream come true, first, you need to apply for Student Visa, for that you can talk to any immigration consultant who will help you to get an easy student visa. If you are thinking to go to Malaysia then it is high time to apply. Click here to get all the details about Student Visa to study in Malaysia.
To make this process easy, we have immigration experts who can help you to complete your documentation and easily get your study visa – Know more
Documents required to apply for a visa-
Passport size photographs ( min 3)
Must have a passport
Your university offer letter
Your last academic certificates
Medical Certificates ( It's the time of covid, so having a covid test report is necessary)
Most Popular Universities in Malaysia
Kuala Lumpur, Malaysia Public University|
A public research university in Kuala Lumpur, Malaysia, the University of Malaya was founded in 1935. Malaysia's oldest and most prestigious higher education institution, according to two international ranking agencies.
Public university in Johor Bahru, Malaysia
According to QS University rankings, University of Technology Malaysia is ranked 187th in the world among public universities. It is a English medium university when it comes to instruction.
Public university in George Town, Malaysia
A public research university located in Malaysia, Universiti Sains Malaysia. Founded on 1 June 1969 as a statutory body with its constitution, it is among the oldest institutes of higher learning in Northern Malaysia.
Public university in Bangi, Malaysia
In Bandar Baru Bangi, Selangor, south of Kuala Lumpur, is a public university called the National University of Malaysia. There is a branch campus in Kuala Lumpur as well as a teaching hospital at Universiti Kebangsaan Malaysia Medical Centre in Cheras.
University in Seri Kembangan, Malaysia
The University Of Putra Malaysia, formerly known as the University Of Agriculture Malaysia, is a Malaysian research university that specializes in agricultural sciences
Language Requirements: –
If you desire to study in Malaysia then you must know about English speaking. Most of the courses in Malaysia would be taught in English. Some Universities also have the criteria to check the English proficiency of the candidate by the exams like IELTS and TOEFL.
According to a survey most Malaysian are proficient in English and comfortable talking to tourists and international students in English, So if you are proficient in English then there is no language barrier for you in Malaysia.
Fields you can choose to get your bachelor's degree from Malaysia
     Accounting
      Automotive Engineering
      Chemical Engineering
      Computer Animation
      Construction Management
      Electrical Engineering
      Finance
      Industrial Design
      Marketing
      Mechanical Engineering
      Medical Science
      Medicine
      Product Design
      Psychology
      Public Health
      Real Estate
      Software Engineering
      Surveying
Dream to study in these Universities in your preferred sector talk to our immigration expert here to make your dream true.
Can you live there, after your Degree?
If the same question arises in your mind that it is possible to live there after your graduation or master's then you are not alone. There are plenty of candidates who went to Malaysia for studies but they didn't want to come back. For those types of students, we suggest applying for a job application to get a work permit there.
After your job application will approve your application your employer will apply for a visa for you to get a work permit to legally work in Malaysia.
The opportunities in Malaysia after a degree is very high. You can get a job in Malaysia in any preferred sector.
Is it safe to live in Malaysia?
According to Global Finance's ranking of the world's safest countries, Malaysia ranked as 27th most safe country in the world. Other than that its geographical situation also made it free from any natural disasters. On top of that crime rate is comparatively low in Malaysia, so if you doubt if your mind about your safety then this will help to make up your mind.
So this is all you need to know about Malaysia if you are willing to study there.
If you are still confused then Landmark immigration is there to answer all your possible questions and help you to make your dream of studying in Malaysia true, you just need to click here to know more
                                  Best of luck with your Future!