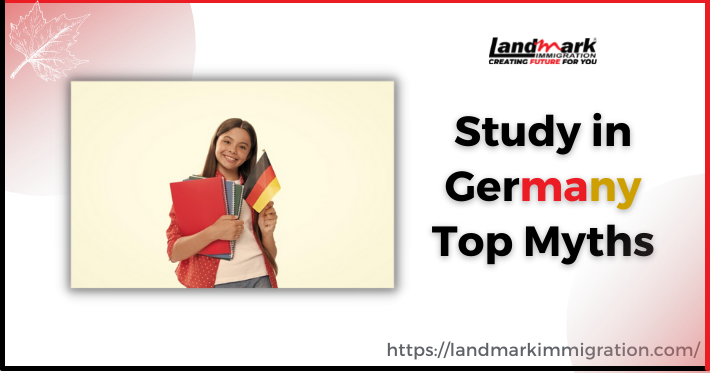 Germany offers subsidized rates when it comes to education and especially for students who are international. Around 25,149 students from India went to Germany in 2019-20 for their winter semester. The preferred streams of education there range from engineering, management, social science, mathematics and natural sciences.
One of the major reasons why students choose Germany as a source for higher education is that there are universities that provide free education. but, is this actually true? The fees for tuition for a year is anything between €25,000 – €30,000 and the fees for the preferred programs is towards the higher edge.
The Free Education Myth
One of the impressions formed by public universities in the country is that they provide free education unconditionally. This was true till 2014 when the public universities of Germany did not charge any tuition fees.
In the year 2017, the state of Baden- Wurttem berg announced that students who are international and not from the European Union will pay a fee of €1,500 every semester. The public universities which provided free education will now also charge an enrollment charge of between €250 – €350 every semester.
Even if the universities provide education at a nominal rate, the cost of living is much more and comes to an average of €800 – €1,000 per month. This cost is inclusive of many basic items that a student has to spend money on like clothes, food, groceries, phone and internet bills, transportation and study materials.
The expenditure also includes the visa, application and flight expenses among others.
The Free Universities List
Some of the known and liked universities in Germany that charge a nominal fee every year are
Technical University of Munich €258
Ludwig Maximilian University of Munich €300
Technical University of Berlin €308
Free University of Berlin €311.99
Humboldt University Berlin – €685 – €1000
RWTH Aachen University €1095
There are some private universities as well that charge a little higher charge than the public universities but are not too exorbitant. Their average fees start at €1000. These universities are-
University of Applied Sciences Europe €1,400
CODE University of Applied Sciences €9,800
EBC Hochschule €10,000
SRH Hochschule Berlin €10,000
GISMA Business School €20,000
Munich Business School €24,000
Bard College Berlin €29,700
Pursuing free education
Applying for a scholarship to avail of education in Germany is also a great way to plan graduation or post-graduation in the country apart from sending out applications to the public universities. Some of the best scholarships available to Indian students are:
Heinrich Boell Scholarships are available to any student who decides to do a post-graduation or attain a PhD from Germany. s/he will be entitled to receive €850 per month for the completion of their masters along with some allowances like travel for ease. An individual who decides to do a PhD will be eligible for €1000 every month along with a travel allowance of €100.
DAAD WISE Scholarship Program makes the life of a student easy by helping the students receive €750 every month as living expenses and €1,075 as health insurance and travel allowance.
Konrad-Adenauer-Stiftung scholarships are available to students from developing countries. This scholarship either reimburses the tuition fees of around €500 or provides a stipend of €1,100 every month for a duration of 3 years.
Apart from this, there are many other scholarships like Kofi Annan MBA Scholarships, Master Scholarships at the University of Stuttgart, EMS Undergraduate Scholarship, ESMT Women's Academic Scholarship, and more that are recognised amongst many Indians who go to Germany for further education to study.
Having spoken about the various myths around free education in Germany, there are many basic expenses that one needs to bear. The country is an excellent place to study abroad at nominal fees.
For further assistance and queries, you can contact Landmark Immigration to avail the wide range of services related to immigration and education.