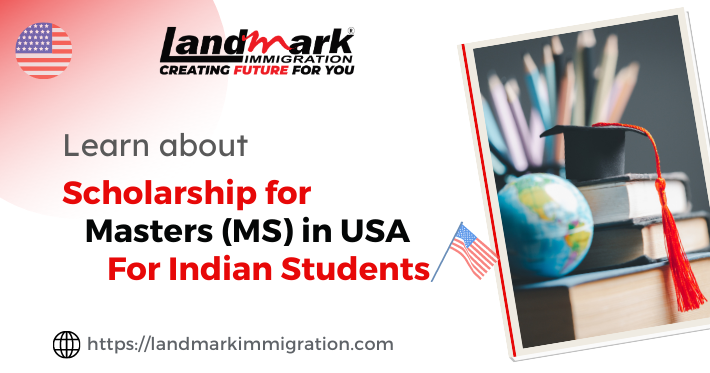 Pursuing a Master's degree in the United States is a dream for many Indian students. However, the cost of education can often be a significant barrier. Thankfully, several scholarships are available specifically for Indian students aiming to pursue their MS in the USA. This blog will explore various scholarships that can help make this dream a reality.
Scholarship for MS in USA: Opening Doors to Opportunities
Studying abroad offers a world-class education and provides exposure to diverse cultures and global networking opportunities. Scholarships for MS in the USA are a stepping stone for Indian students, allowing them to focus on their studies without worrying about financial constraints. These scholarships to study abroad not only provide financial aid but also recognize the talent and potential of Indian students.
Fulbright-Nehru Master's Fellowships:
The Fulbright-Nehru Master's Fellowships are highly competitive scholarships offered to outstanding Indian students who wish to pursue a Master's degree in the United States.
Administered by the United States-India Educational Foundation (USIEF), these scholarships provide comprehensive financial support, covering tuition fees, living expenses, airfare, and health insurance.
The Fulbright program aims to foster mutual understanding between the United States and India through educational exchange. The application process involves submitting a well-crafted proposal, academic transcripts, and letters of recommendation and appearing for interviews and evaluations.
Inlaks Shivdasani Foundation Scholarships:
The Inlaks Shivdasani Foundation Scholarships are prestigious awards granted to exceptional Indian students seeking a Master's degree from renowned American universities.
These scholarships cover tuition fees and living expenses and provide a travel allowance. The rigorous selection process includes an application form, written essays, interviews, and the submission of a detailed study plan.
The foundation seeks candidates with exemplary academic records, strong leadership potential, and a clear vision of their future goals.
Tata Scholarships for Cornell University:
Cornell University offers the Tata Scholarships exclusively for Indian students applying to pursue a Master's degree. These scholarships, funded by the Tata Education and Development Trust, cover full tuition fees and provide additional financial assistance for accommodation and living expenses.
The scholarship aims to support students who demonstrate exceptional academic merit, leadership qualities, and a commitment to positively impacting India. Recipients of the Tata Scholarship also receive mentoring and networking opportunities through Cornell's Tata-Cornell Institute for Agriculture and Nutrition.
Rotary Foundation Global Grant Scholarships:
The Rotary Foundation offers Global Grant Scholarships to support international graduate students pursuing their Master's degree in the USA. These highly competitive scholarships provide funding for academic expenses, travel, and living costs.
Rotary International focuses on six areas of focus: peace and conflict resolution, disease prevention and treatment, water and sanitation, maternal and child health, basic education and literacy, and economic and community development.
Applicants must align their proposed field of study with one of these areas to be considered for the scholarship. The selection process includes submitting a detailed application, academic transcripts, letters of recommendation, and interviews.
Requirements to get a scholarship in the USA
To obtain a scholarship in the USA, you must meet certain requirements and follow a specific application process. While the specific criteria can vary depending on the scholarship program, here are some common requirements:
Academic Excellence: Scholarships often require a strong academic record, including a high-Grade Point Average (GPA) or equivalent scores. This is usually measured through transcripts, standardized test scores (e.g., SAT, ACT), or other academic evaluations.
English Proficiency: For international students, demonstrating English language proficiency is crucial. This is generally assessed through tests like the Test of English as a Foreign Language (TOEFL) or the International English Language Testing System (IELTS).
Field of Study: Scholarships can be specific to particular fields of study or open to all disciplines. Some scholarships target areas like STEM (Science, Technology, Engineering, and Mathematics) or humanities. Ensure your chosen field aligns with the scholarship's requirements.
Leadership and Extracurricular Activities: Many scholarship programs value involvement in extracurricular activities, community service, leadership roles, or notable achievements outside of academics. Highlighting your involvement in these areas can strengthen your scholarship application.
Essays and Personal Statements: Scholarships often require applicants to submit essays or personal statements. These essays provide an opportunity to showcase your achievements, goals, motivations, and how you would contribute to the scholarship program or your field of study.
Letters of Recommendation: Scholarship applications may require letters of recommendation from teachers, professors, or others who can vouch for your abilities, character, and potential. Choose recommenders who know you well and can speak to your strengths.
Financial Need (varies): Some need-based scholarships require demonstrating financial need. This may involve submitting financial documents or completing a separate financial aid application, such as the Free Application for Federal Student Aid (FAFSA) for certain scholarships.
Citizenship or Residency (varies): Scholarships can be available for US citizens, permanent residents, or international students. Be aware of the eligibility requirements related to citizenship or residency status.
Research and Apply: Research various scholarship opportunities, including those offered by universities, government agencies, private organizations, and foundations. Pay attention to the application deadlines, procedures, and specific requirements for each scholarship.
Additional Eligibility Criteria: Some scholarships may have additional requirements, such as specific demographic criteria (e.g., minority scholarships), geographical restrictions, or involvement in particular programs or initiatives.
Conclusion:
Securing a scholarship for MS in the USA opens up many opportunities for Indian students. It not only relieves the financial burden but also acts as a recognition of their academic achievements and potential.
Scholarships like the Fulbright-Nehru Fellowships, Inlaks Shivdasani Foundation Scholarships, Tata Scholarships for Cornell University, and Rotary Foundation Global Grant Scholarships allow deserving Indian students to fulfill their aspirations of studying in the USA.
To increase your chances of obtaining a scholarship, thorough research and careful preparation of application materials are crucial. Highlight your academic excellence, leadership skills, community involvement, and unique achievements in your application.
Emphasize how your studies in the USA will contribute to your personal and professional growth and the development of India.
Remember, securing a scholarship requires determination, perseverance, and a compelling application. By showcasing your unique qualities and achievements, Indian students can make their dreams of studying in the USA a reality.
Start early, gather all the necessary information, and give yourself ample time to craft a persuasive application. Proper planning and diligent efforts can increase your chances of obtaining a scholarship and embarking on an enriching educational journey abroad.
We at Landmark Immigration will help you to choose from the best possibilities of getting a scholarship for MS in USA.