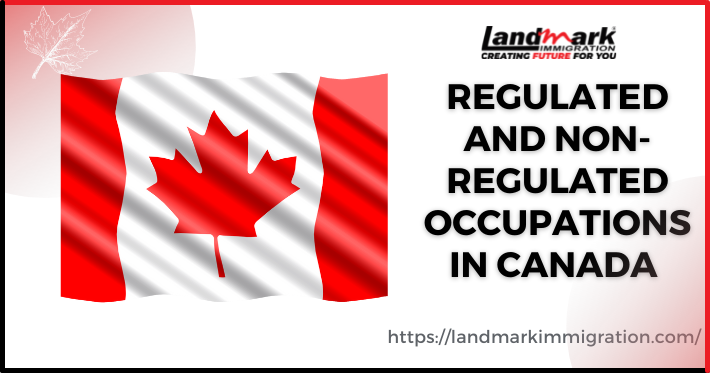 Canada is also counted among the top destinations to work in the world. However, it is important to understand and analyze the eligibility criteria to migrate to Canada. And one of them is to understand the difference between non-regulated and regulated occupation in Canada.
In Canada, nearly 20% of the jobs are regulated to protect the health and safety of the people of Canada. That's why the government makes sure that the professionals and trades persons meet all the standards of competency and practice in a certain occupation.
If your occupation comes under the regulated category in Canada, the appropriate provincial or territorial regulatory authority will check your qualification. In a regulated profession, you are required to have a license or certificate for that profession and be registered with the proper regulatory body to work.
For proper and trustworthy guidance, contact our experts to clear all your doubts
However, if it is non-regulated, then you don't need a license, certificate, or registration with a regulatory body to work in that profession. It is at the discretion of the employer.
While most jobs in Canada are non-regulated, the percentage of regulated occupations in Canada is 20%.
How to Know the Requirements for a Particular Profession or Trade in Canada
While the government has laid certain guidelines for non- regulated and regulated professions, it is important to find requirements for the trade or professions you are going to do in Canada. Each regulatory body has its way to assess qualification, work experience, and professional skills in the certification or licensing process. Therefore, the cost, examination, time, and interview process for licensing are different in each territory and province.
Here is how you can know more about the guidelines associated with your profession or trade in Canada.
Visit National Occupation Classification online to know the details about your trade or occupation.
Get complete details about the regulatory body handling the occupation in the territory by visiting CICIC.
Contact the concerned regulatory body for factors like cost, licensing, and procedure for the application process, documentation needed, etc.
You can also contact the people working in your profession or trade.
Which is Better–Non-Regulated or Regulated Occupation in Canada?
If you have to choose between a non-regulated or regulated profession, let us tell you that many people choose non-regulated professions to save hassles and compliance associated with certification and licenses. Otherwise, it is better to choose the profession according to your qualification.