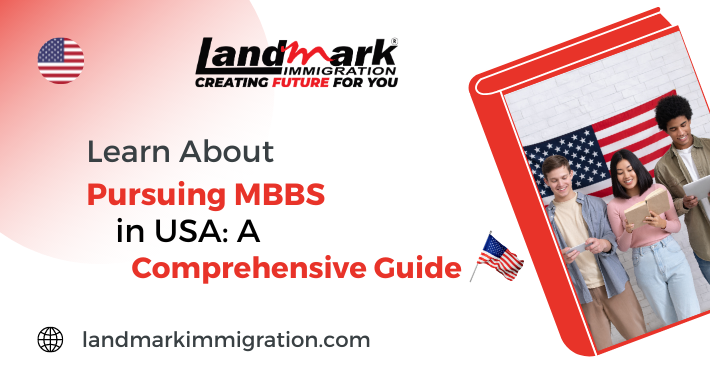 Are you passionate about the field of medicine and dreaming of a successful career as a doctor? Pursuing an MBBS  (Bachelor of Medicine, Bachelor of Surgery) degree in the United States can open up a world of opportunities for you. In this blog post, we will explore the various aspects of studying MBBS in USA and provide you with a comprehensive guide to help you navigate this exciting journey.
Why Study MBBS in USA?
Quality Education
The USA is globally recognized for its high standards of education. Pursuing an MBBS degree in the USA ensures you receive a quality education from renowned institutions that follow rigorous academic standards. 
American medical schools are at the forefront of medical research and technological advancements. Studying in the USA provides access to state-of-the-art facilities and opportunities to work with leading researchers in the field.
Global Recognition
An MBBS degree from an American medical school carries great weight and is recognized worldwide. This provides you with numerous career opportunities, both within the USA and internationally.
Prerequisites for Admission
Now that we have established the benefits of studying MBBS in the USA, let's discuss the prerequisites for admission.
Undergraduate Degree:
To apply for MBBS programs in the USA, you must have completed a four-year undergraduate degree, ideally in a science-related field. Some medical schools also accept students with a Bachelor's degree in non-science fields, provided they have taken prerequisite science courses.
Entrance Exams:
A majority of medical programs in the USA require candidates to take the Medical College Admission Test (MCAT). To achieve an impressive score on the MCAT, it is essential to properly prepare for it.
Experience and Extracurricular Activities:
American medical schools value well-rounded applicants. Engaging in medical-related volunteer work, research projects, and extracurricular activities can greatly enhance your chances of admission.
Application Process
Applying to medical schools in the USA is a complex process that requires careful planning and attention to detail. Let's break down the application process into the following steps:
Research
Begin by researching various medical schools in the USA. Consider factors such as location, curriculum, research opportunities, and student support services.
MCAT Preparation:
Dedicate sufficient time to prepare for the MCAT. For a boost in your score, consider registering for preparation classes, using instructional resources, and taking mock exams.
Gather Required Documentation:
 Compile all the required paperwork, such as your résumé, letter(s) of recommendation, and academic records. Make sure your paperwork is sorted and set for submission.
Submit Applications:
Apply via the American Medical College Application Service (AMCAS) or school-specific registration portals, and complete and submit your applications. Pay close attention to deadlines and adhere to each school's distinctive requirements.
Interviews:
If shortlisted, you may be invited for interviews. Prepare thoroughly by researching common interview questions and practicing your responses.
Funding and Scholarships
Studying MBBS in USA can be financially demanding. However, there are several ways to secure funding and scholarships:
Student Loans:
Explore student loans specifically designed for international students. Research different loan options and carefully consider the repayment terms and interest rates
Scholarships:
Many American medical schools offer scholarships and financial aid to international students. Research and inquire about scholarship opportunities at the schools you are applying to.
Government Funding:
Investigate whether your home country offers any scholarships or grants for studying medicine abroad. Additionally, check if there are any bilateral scholarship programs between your country and the USA.
Challenges and Benefits of Studying MBBS in USA
While pursuing your MBBS in the USA offers numerous benefits, it's important to be aware of the challenges you may encounter:
Competitive Admission:
Admission to American medical schools is highly competitive. You may face challenges in securing a seat in the program of your choice. Patience, perseverance, and continuous self-improvement are key to overcoming these challenges.
Cultural Adaptation:
Moving to a foreign country can be mentally and emotionally challenging. It may take time to adjust to a new culture, new educational system, and new surroundings.
However, overcoming these challenges can broaden your horizons and provide a unique learning experience.
Career Opportunities:
Completing your MBBS in the USA opens doors to a wide range of career options. You can choose to practice medicine in the USA, return to your home country, or explore opportunities in other countries.
Pursuing an MBBS in USA is a rewarding journey that requires dedication, hard work, and careful planning. It provides you with access to world-class education, cutting-edge research opportunities, and a global network of professionals
Best MBBS Colleges in the USA
These institutions are renowned for their excellent medical programs, world-class facilities, and experienced faculty members. Whether you are an international student or a resident, these colleges offer an exceptional education that will prepare you for a successful medical career.
1. Harvard Medical SchoolHarvard Medical School
Located in Boston, Massachusetts, is consistently ranked as one of the top medical schools in the world. The school boasts a rich history and attracts top-tier faculty and students from all over the globe. With state-of-the-art facilities and access to world-class hospitals, Harvard Medical School provides an unmatched learning experience.
2. Johns Hopkins University School of Medicine
Recognized for its groundbreaking research and committed faculty, the Johns Hopkins University School of Medicine in Baltimore, Maryland, is a top choice for many aspiring doctors. With a strong emphasis on research and innovation, students at this institution have the opportunity to work alongside world-renowned physicians and scientists.
3. Stanford University School of Medicine
Located in the heart of Silicon Valley, Stanford University School of Medicine offers an exceptional medical education combined with unique opportunities for research and entrepreneurship. With its proximity to leading healthcare and technology companies, students have access to a wide range of resources and collaboration opportunities.
4. Mayo Clinic School of Medicine
Mayo Clinic School of Medicine, with campuses in Rochester, Minnesota; Phoenix/Scottsdale, Arizona; and Jacksonville, Florida, is known for emphasizing patient care and clinical practice. With a renowned faculty and state-of-the-art facilities, this institution provides students with an immersive and hands-on learning experience.
5. Duke University School of Medicine
Duke University School of Medicine, located in Durham, North Carolina, is known for its rigorous curriculum, innovative teaching methods, and cutting-edge research. The school offers a collaborative and supportive learning environment, encouraging students to push the boundaries of medical knowledge. These are just a few of the best MBBS colleges in the USA.
Remember, this list is not exhaustive, and there are many more exceptional MBBS colleges in the USA. Each institution has its own unique strengths and advantages; therefore, it is crucial to consider various factors such as location, curriculum, faculty, and research opportunities when making a decision. Ultimately, choosing the right college will shape your future career as a successful doctor.
Conclusion
Conduct thorough research and consider your individual preferences and goals to find the perfect fit for your medical education by studying abroad in USA. By following the steps outlined in this comprehensive guide, you can take the first steps toward realizing your dream of becoming a doctor and making a positive impact on the world through medicine. Good luck with your journey toward becoming a medical professional!