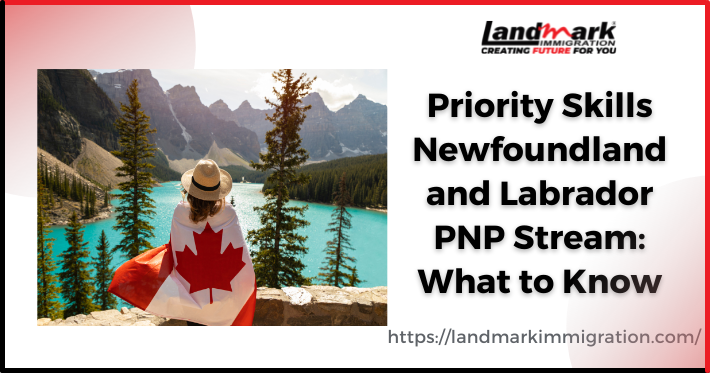 The Priority Skills NL is an immigration pathway for the skilled professionals looking to work in the high-demand occupations in Newfoundland and Labrador. The candidates are chosen according to work experience, education, language proficiency, and interest in becoming a permanent resident of Canada. The Priority Skills Newfoundland and Labrador is the new pathway in the NLPNP (Newfoundland and Labrador Provincial Nominee Program).
This program was designed to meet local labor shortages. To become qualified, newcomers are required at least one year of work experience in one of the in-demand occupations in Newfoundland and Labrador.
This program is also available to post-graduates who completed a Master's or Doctorate degree at Memorial University within the past three years. On average, there are 250-350 invitations are issued throughout the year under the NLPNP stream.
How the Priority Skills Program Work
It is an Expression of Interest or EOI system. Interested candidates are required to complete an EOI, and get an invitation to apply through the province's website.
Invited candidates get a provincial nomination once they meet all the criteria for either the Skilled worker or Express Entry Skilled worker categories. This nomination will support a subsequent application for Canadian PR to the federal government.
You need to fill out a questionnaire to get your EOI score. Only candidates with more than 60 points will be visible to local employers.
A job offer is not necessarily required to apply to the province's new Provincial Nominee Program. Candidates are required to have a good EOI score as well as interest from local employers. Candidates are required a CLB (Canadian Language Benchmark) of at least five to become qualified. The results of the language test should be less than 12 months old. They should also be at least 21 years old and want to live permanently in Newfoundland and Labrador.
Understanding the NLPNP Immigration Categories
Following the are immigration categories of NLPNP:
Express Entry Skilled Worker Category.
Skilled Worker Category.
International Graduate Category.
Priority Skills NL
International Graduate Entrepreneur Category.
International Entrepreneur Category.
Atlantic Immigration Pilot
WHAT ARE THE MOST IN-DEMAND OCCUPATIONS UNDER THIS PROGRAM
Newfoundland and Labrador is an ideal place for foreign workers looking to immigrate to Canada. However, they need to choose the right sector.
Simply put, they need to apply for in-demand jobs. While the housing market is on the boom in Newfoundland and Labrador and the hospitality industry is desperately finding manpower–as are healthcare and finance industries–the province can be a great place to live.
Here is a list of some of the most in-demand occupations in Newfoundland and Labrador to choose from.
Physician
Nurse Practitioner (NP)
Licensed Practical Nurse (LPN)
Personal Care Attendant (PCA)
Clinical Psychologist
Medical Physicist
Radiation Therapist
Dosimetrist
Software Developer
Biomedical Engineer
UI/UX Developer
Electrical Engineer
AI Developer
Mechanical Engineer
Python Developer
Web Developer
.NET Developer
Infrastructure Engineer
Security Specialist
Cloud Specialist
Bioinformatician
Computer Network Support
Research Associate
Data Analytics
Offshore Technician
ROV Operator
Ocean Mapping Specialist
Technical Writer
Captain (FM4 certification required)
Farming and Feeding Manager
Facility Technician
Assistant Manager
Cage Site Technician
Site Manager (with water quality expertise)
Area Manager
So this is all about Priority Skills Newfoundland and Labrador. It is a popular way to immigrate to Canada based on your work experience, language proficiency, and other skills. Want to say something else? Want to know more? Please drop your comments in the box given below! Our immigration expert will respond to them soon.