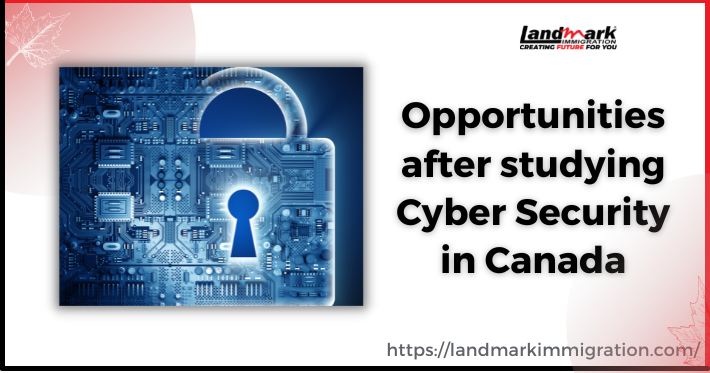 Introduction
The advancement of technology has provided us with improvements in how we shop or communicate, as well as bank and keep track of time. However, along with this technological advancement, comes cyber attacks. Cyber attacks could pose the loss of personal, government, or industrial data, rendering them susceptible to hackers. Cyber security in Canada should be a part of your job.
Hacking incidents and threats to data are increasing exponentially in this day and age.
To protect vulnerable information from threats of all kinds, cyber security is among the most intriguing professions.
Cyber Security requires specialized training in business studies, science, mathematics, computer science, etc.
Why Study Cyber Security Programs In Canada?
Canada is a popular option for students from all over the world.
Its popularity is due to world-class universities, the high standard of living, excellent job opportunities, the chance to settle in Canada permanently, and many others.
1. Elite universities:
The number of institutions offering cyber security courses in Canada.
This expands the range of choices and allows you to discover your niche.
The Ontario tech university, Sask Polytech, and Concordia University are just a few of the most famous known, well-established colleges of courses for cybersecurity in Canada.
2. High living standards:
Cybersecurity Training Programs in Canada's Best Universities, Admissions Process, and jobs.
This makes it an excellent option for higher education and a professional career.
3. Employment opportunities:
The field of cyber security in the profession can lead to a seven percent increase in employment opportunities in Canada.
This is crucial since it impacts nearly every industry Canadians depend on for their daily requirements.
A list of Canadian Universities that offer Cyber Security Programs
Canada is home to the top universities in the world. Of the 220 institutions, 159 offer cybersecurity programs in Canada.
We've selected the best cybersecurity colleges in Canada according to various criteria, including course content and teaching methods instructors, student life for international students, and job score.
Below are the top 5 universities for cybersecurity in Canada:
University of Calgary
Concordia University
University of Ontario Institute of Technology
University of Brunswick
University of Ottawa
Top Cybersecurity Programs In Canada
Certifications are a great way to add qualifications to your resume and enable you to find suitable cybersecurity job opportunities in Canada.
Top Cybersecurity Posts include
Cyber Security Engineer
Security Analyst
Information Security Analyst
Associate Auditor
SAP Consultant
Network Engineer
Eligibility Criteria To Study Cyber Security Courses In Canada
As an international student, you must satisfy the criteria to be eligible for the cybersecurity course you would like to take in the Canadian university you choose.
The university sets out eligibility requirements for each course.
Although the criteria differ from one course to another, there are a set of criteria that are the same for all institutions in Canada. We've listed them below.
Candidates should fulfill the educational requirements of the university.
They must have an English language proficiency score
Additional test scores as per the desired university.
Documents Required To Pursue Cyber Security Courses In Canada
If you want to submit your application for a bachelor's program Cyber Security in Canada or a Master's and Ph.D. in cyber-security in Canada, you have to submit the necessary documents.
The complete list differs between different universities, but these are the standard and obligatory documents that must be provided.
Candidate's academic record transcripts.
Proof of attendance for undergraduate programs
Valid Degree proof for postgraduate or doctoral programs.
Letter of recommendation
Official test scores for selected English Language Proficiency Test
Criminal Background Check
Statement of the purpose
CV/ Resume
Photocopy of passport
Documentation to support finances
Admission Process For Studying Cyber Security In Canada
Each year, most universities in Canada accept students for three terms: Fall, Summer, and winter.
The most common term is Fall. However, others vary from one university to the next.
Searching for deadlines and availability of intakes at universities is highly recommended before applying.
The process for admission to universities can be summarised in the following paragraphs:
Check out the site of the university you'd like to apply to.
Click on the admission section of the course you have selected.
The website of the university will offer you an application form. Complete it and submit the fees for registration.
Always check your admission status through the portal.
If your application is approved, you'll be invited to join. You must accept it.
Make sure you have all the necessary documents ready and follow the enrollment procedure.
Deposit the tuition fee to procure your seat.
Apply for a study visa.
Conclusion
There are a wealth of opportunities available to you after studying cybersecurity in Canada. Are you seeking ways to get admission to a Canadian university for cybersecurity; Landmark Immigration can help you.