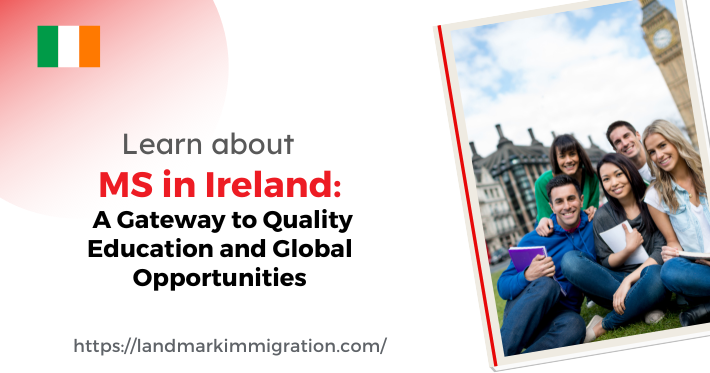 Embarking on a Master of Science (MS) degree in Ireland is an exciting journey that offers international students a plethora of benefits. With its renowned universities, affordable education, multicultural environment, and post-study work opportunities, Ireland has emerged as a popular destination for pursuing higher education.
In this blog, we will explore the reasons why studying MS in Ireland is an excellent choice, the top universities offering MS programs, the application process, available scholarships, and the experience of living in Ireland as an international student.
Overview of Studying MS in Ireland
Studying abroad in Ireland provides students with a well-rounded education that combines academic excellence, research opportunities, and a global perspective. The Irish education system is highly regarded globally, with a focus on innovation and quality.
Universities in Ireland offer a wide range of MS programs across various disciplines, ensuring that students can find a program that aligns with their interests and career goals.
Why Study MS in Ireland?
Quality of Education and Research Opportunities
Ireland is renowned for its commitment to academic excellence and innovation. The country's universities are equipped with state-of-the-art facilities, research centers, and renowned faculty members.
Studying MS in Ireland allows students to engage in cutting-edge research projects and gain valuable skills that are highly sought after by employers worldwide.
Affordable Tuition Fees and Living Expenses
Compared to other popular study destinations, the cost of education in Ireland is relatively affordable. Tuition fees for MS programs in Ireland are competitive, making it an attractive option for international students.
Additionally, the cost of living in Ireland, including accommodation, transportation, and daily expenses, is reasonable compared to other European countries.
Multicultural Environment and Global Connections
Ireland is a vibrant and multicultural country that welcomes students from all over the world. Studying MS in Ireland provides an opportunity to interact with students from diverse backgrounds, fostering cultural exchange and global connections.
Such experiences not only enrich students' personal lives but also expand their professional networks, opening doors to global career prospects.
Visa and Post-Study Work Opportunities
Ireland offers favorable visa policies for international students. Upon completing their MS degree, graduates have the option to stay and work in Ireland through the "stay back" scheme, which allows students to gain valuable work experience for up to two years.
This post-study work opportunity enhances the chances of securing employment and potentially transitioning to long-term residency.
Top Universities for MS in Ireland
Trinity College Dublin
Trinity College Dublin is Ireland's oldest and most prestigious university, known for its academic excellence and historic campus. It offers a wide range of MS programs across disciplines such as science, engineering, business, and humanities.
University College Dublin
University College Dublin (UCD) is a globally recognized institution renowned for its research-intensive environment. UCD offers a diverse range of MS programs, including fields like computer science, data science, and biotechnology.
National University of Ireland, Galway
The National University of Ireland, Galway (NUIG) is known for its expertise in science, engineering, and technology. NUIG offers a range of MS programs with a focus on research and innovation.
University College Cork
University College Cork (UCC) is a leading research institution with a strong emphasis on interdisciplinary education. UCC offers MS programs in various fields, including engineering, business, and life sciences.
Application Process for MS in Ireland
To pursue an MS degree in Ireland, students need to follow a specific application process. Here are the key steps involved:
Entry Requirements and Eligibility Criteria
Each university in Ireland has its own specific entry requirements for MS programs. Typically, applicants are expected to hold a bachelor's degree or an equivalent qualification in a relevant field.
Students may need to provide academic transcripts, recommendation letters, and a statement of purpose.
Application Deadlines and Documents Needed
It is crucial to check the application deadlines for each university and program, as they may vary.
Students should prepare their application well in advance and ensure they have all the necessary documents, including academic transcripts, CV, statement of purpose, and any additional requirements specified by the university.
English Language Proficiency Requirements
Proficiency in the English language is essential for studying in Ireland. Most universities accept internationally recognized English language proficiency tests such as IELTS or TOEFL.
Applicants should meet the minimum language score requirements set by the university.
Scholarships and Financial Aid Options for International Students
International students pursuing an MS degree in Ireland have various scholarship and financial aid options. Here are a few examples:
Government Scholarships and Grants
The Irish government offers scholarships and grants to international students, such as the Irish Research Council Government of Ireland Postgraduate Scholarship and the Ireland-Africa Fellows Programme. These programs provide financial support to exceptional students.
University-Specific Scholarships for MS Programs
Many universities in Ireland offer scholarships specifically for international students. These scholarships are based on academic merit and may cover tuition fees or provide partial financial assistance.
Living in Ireland as an International Student
Living and Studying in Ireland as an international student is an enriching experience. Here are some aspects to consider:
Accommodation Options and Costs
Universities in Ireland usually provide on-campus accommodation options for international students. Additionally, there are private rental options available, including shared apartments and homestays.
It is essential to research and plan accommodation in advance, considering factors such as location, costs, and proximity to the university.
Cultural Experiences and Student Life
Ireland offers a vibrant cultural scene, with a rich heritage, music, literature, and a friendly atmosphere.
International students can participate in various clubs, societies, and events organized by universities, enabling them to immerse themselves in Irish culture and make lifelong friendships.
Conclusion
Studying MS in Ireland presents an incredible opportunity for international students seeking quality education, research prospects, and a global perspective. With its top universities, affordable education, multicultural environment, and post-study work opportunities, Ireland has become an attractive destination for aspiring scholars.
By following the application process and exploring available scholarships, students can make their dream of studying MS degree in Ireland a reality.
Furthermore, the experience of living in Ireland as an international student offers a culturally diverse and intellectually stimulating environment that will shape their personal and professional growth.
Landmark Immigration's expert visa counselors will guide to with the procedure to pursue MS in Ireland.