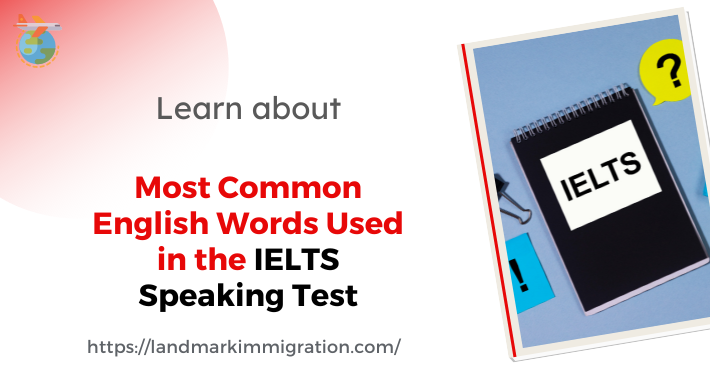 Wondering what are some of the common IELTS English words used in IELTS speaking tests? Read on.
If you are an international student looking to go abroad to study, you need to appear for the standardized English language tests. These language proficiency tests are required by academic institutes in other countries to ensure that international students can communicate in the English language. International students often come from different backgrounds and generally, their mother tongue may be something other than English.
However, to ensure that international students will thrive in courses and programs that use English as their medium of instruction, educational organizations globally require standardized English language test scores. While there are many language tests accepted in various countries, one of the most popular ones is the IELTS or the International English Language Testing System.
If you are preparing for the IELTS, it is important to ensure that you prepare well for all sections of the examination, including the IELTS speaking test. To help you prepare, here are some common IELTS English words that are used in IELTS speaking tests. 
What is the IELTS examination?
The IELTS is a widely-recognized English language proficiency test that is attempted by international students who want to study abroad. The test focuses on evaluating the ability of the applicant to communicate in the English language.
This evaluation is made based on four main criteria, listening, speaking, writing, and reading skills. Generally, to get admission to most colleges and educational universities in other countries, international students need to obtain a minimum band score of 6.0. 
How to prepare for the IELTS?
When you are preparing for the IELTS, it is essential to use a lot of vocabulary. Using vocabulary on different sections of the test can help you in scoring a high band. It is advised that international students focus on sharpening their reading skills by going through a lot of material while focusing on challenging vocabulary.
If you want to get a band score of 7 or more on this test, it is also crucial to focus on commonly used IELTS English words. Using these IELTS English words in their proper context throughout different sections of the test such as speaking, will help you in increasing your score.
Examiners in the IELTS test award more marks to international students who can correctly use a word. 
Phrasal IELTS English words
A phrasal verb is made up of about two or three words. Each word comes from a different grammatical group. When you combine all of these words, the phrasal verb offers a different meaning that needs to be used in the proper context.
Using these phrases on the IELTS can also help you in communicating briefly. Here are some common phrasal IELTS English words: 
Stick with: Keep something constant
Kick back: Relax
Quarrel with: Have a disagreement 
Limber up for: Put in effort for a difficult task
Romp in: Win easily
Peel away: Move in another direction
Tee off: Launch something
Measure against: Judge by comparison
Salt away: Save money
Pass over: Ignore
Go by: Time going by
Venture forth: Leave a comfortable or safe place
Idioms IELTS English words
Learning Idioms used in IELTS English words can help you express your ideas concisely and fluently while sounding natural. You can use these idioms to not only communicate but also showcase your knowledge of the English language. Here are some common idioms of IELTS English words: 
Once in a blue moon 
A drop in the ocean 
Call it a day 
Actions speak louder than words 
Fresh as a daisy
Change one's mind 
Couch potato
If my memory serves me well 
To be on the top of the world 
To be like a dog with two tails 
It makes my blood boil 
Blessing in disguise 
Eager beaver
Over the moon 
To be on cloud nine 
I hit the ceiling 
Full of beans   
Piece of cake 
Put all your eggs in one basket 
A bad egg
Collocations IELTS English words
Collocations stand for the appropriate arrangement of words within a sentence. They focus on creating sentences that sound the most natural.
You can use these collocations when framing sentences in the IELTS speaking section. Here are some words that you can pair together:
Noun and noun
Noun and adjective
Noun and verb
Adjective and adverb 
Verb and adverb
Synonyms IELTS English words
Usually, it is possible to use a better word for what you want to communicate. Using the most appropriate word for different contexts in your IELTS test can help you in maximizing your score.
Getting familiar with some common IELTS English word synonyms is a great way to ensure that you would not only communicate with your examiner but even impress them with your command of the English language.
Here are some words and their synonyms that you can easily use on your IELTS speaking test. 
New: Recent
Delicious: Savory
Awful: Bad 
Begin: Start 
Decide: Settle 
Funny: Amusing 
Cool: Frosty 
Beautiful: Pretty 
Amazing: Incredible 
Important: Vital 
Wrong: Mistaken 
Help: Assist 
Neat: Clean
Come: Arrive 
Interesting: Intriguing 
Answer: Respond 
Tell: Narrate
Definite: Certain 
Famous: Well-known
Place: Procedure 
Show: Exhibit 
Dangerous: Risky 
Happy: Content 
Conclusion
The speaking section in the IELTS test is one of the most difficult areas for many people. However, international students should look at this section as an opportunity to showcase their vocabulary, pronunciation, fluency, and overall command of the language.
International students need to focus on expanding their vocabulary for the IELTS test speaking section and practicing these words beforehand. Expanding your vocabulary with IELTS English words will help you in communicating fluently and pronouncing these words without any hesitation.