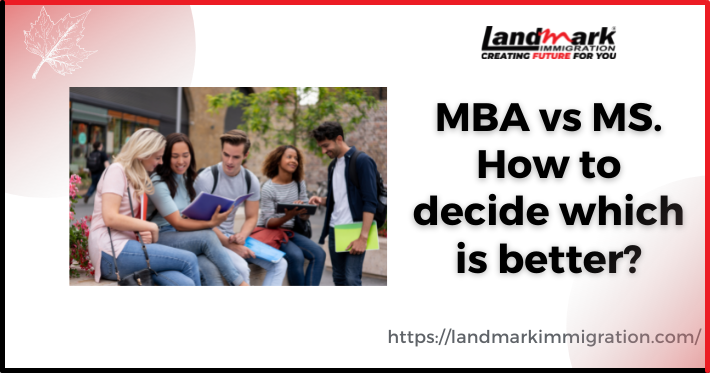 30 October 2021
Students who are looking to study abroad often face great confusion when it comes to opting for an MBA or MS degree.
In other words, for some students, it is not easy to choose between an MBA or MS degree.
Both help you gain important skills as well as land into a rewarding career with handsome salaries. But their areas of focus are not the same.
Here we will consider several factors to help you choose between MBA or MS after graduation.
What is an MS?
An M.S. refers to a Master of Science Degree. It is generally a full-time 2-year degree given in the fields of science, medicine and engineering. However, some universities offer M.S. degrees in the fields associated with humanities and social sciences.
In an M.S. degree program, you study the advanced level of a particular subject. It includes writing a thesis or research. Work experience is not mandatory to get enrolled in an M.S degree program.
What is an MBA?
MBA stands for Master of Business Administration and is a post graduate professional degree in the field of business and management. It aims to teach the theory and application of business and management principles to the students.
MS or MBA? Which is More Popular in the Following Nations?
USA:
Generally, MS programs are opted by those who have less than 2-3 years of experience. However, people with more experience and budget choose MBA. MS is more popular in the USA than MBA, thanks to its comprehensive course outline and rewarding career prospects.
UK:
Masters and MBA programs in the UK are shorter-term than in other nations. Both MS and MBA study programs in the UK are comprehensive as they are of short duration yet offers practical knowledge and insights along with providing support with research. Both programs ensure great career prospects.
Australia:
MBA or MS study programs in Australia can boost your career opportunities. However, most people prefer MBA programs over the MS programs here. The MBA market in Australia is said to be worth AUD 500 million, with over 20,000 students are studying in more than 30 institutes in the country.
Germany:
MS is always a rewarding career option in Germany, especially in the field of Automobile, Biotech, Mechatronics and Mechanical. Plus, students are provided with plenty of research facilities.
Canada:
Both MBA and MS are great study programs in Canada, meaning that you can choose any of them.
Sweden:
Sweden has one of the best education systems in the world. It always offers a student-oriented approach toward learning. No matter if you choose an MS or an MBA program, any study program will be beneficial for learning the particular skill sets.
Can I Pursue an MBA Degree after an MS Degree and Vice Versa?
MBA and MS are two different fields. While MBA study programs are meant for students looking to learn business and management skills, MS study programs offer in-depth knowledge in the field of science of technology.
But you should avoid pursuing an MS degree after an MBA degree or vice versa. Otherwise, it conveys a message that you are not focused enough on your career.
However, you can opt for an MBA after MS if you are looking to start your own business. But it requires you to go through at least 2-3 years of industrial experience.
What are the General Eligibility Criteria to Pursue an MS Degree Abroad?
A Bachelor's degree
GRE scores might be required
Work experience (preferable)
IELTS or TOEFL
Letter of Recommendation
Resume
Statement of Purpose
What are the General Eligibility Criteria to Pursue an MBA Degree Abroad?
A Bachelors program or equivalent
2-3 years of work experience
Resume
Statement of Purpose
Letter of Recommendation
IELTS or TOEFL
GMAT scores
How to Decide Between MBA and MS?
There are two important factors to consider–career goals and return on investment–while choosing between an MBA and an MS to study abroad.
Talking about career goals, choose MBA if you want to make a career in the field of business, management, finance, operations or human resources.
Which study program can offer you a better return on investment?
If pursued with dedication and focus, both MBA and MS programs lead you to a rewarding career with a higher salary and the opportunity to work in any nation.