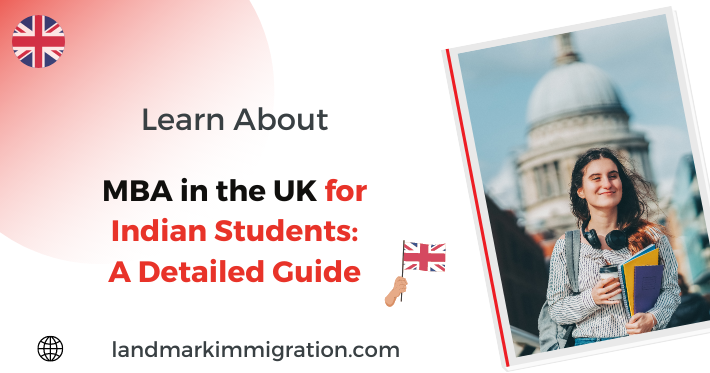 The United Kingdom has established itself as a top-notch educational destination worldwide.
Thanks to its impressive count of over 390 universities, world-class education system, and student-friendly environment, Degrees obtained from UK institutions have global recognition.
Hosting more than 500,000 international students, the UK not only provides academic excellence but also offers a rich tapestry of cultures and experiences.
Here we will explore the things associated with studying MBA in the UK for Indian students.
MBA Abroad: A Global Perspective on Business Education
The pursuit of an MBA degree is a prominent choice for those seeking a globally accepted qualification in business and management.
The MBA journey equips students with the skills to confront real-world business challenges through intensive projects and a comprehensive curriculum. Opting for an MBA program on an international scale enriches this experience by nurturing a broader perspective on problem-solving and business strategies.
The UK, renowned for its academic eminence, stands as a preferred destination for international candidates eyeing an MBA.
Pursuing an MBA in the UK for Indian students opens doors to a global business perspective.
Why Choose an MBA in the UK?
World Class Institutions:
The country boasts several institutions that rank among the top 100 globally, with an impressive four institutions within the top 10, a testament to the UK's educational prowess on a global scale.
The educational milieu profoundly influences the learning journey, particularly in the field of business studies.
Studying business in the UK exposes students to the latest advancements and trends within their chosen industry.
One-Year Program:
Many nations have two-year MBA programs in place. However, the MBA program duration in the UK is one year. This shortened timeframe makes an MBA appealing to students.
Minimum Work Experience Required
Most UK universities require 3 years minimum work experience from the candidate. However, there are some universities where work experience is not that necessary to pursue an MBA course.
But keep in mind, that UK universities want you to have worked for at least two to three years before joining. Yet, there are some cases where this rule can be ignored if the university agrees. It all depends on the university you're applying to.
Eligibility and Application Process
The next part of this detailed guide on MBA in the UK for Indian students covers key eligibility criteria and the application process.
Educational Qualification: As a foundational step, applicants must have completed their secondary education studies at a level that is on par with the educational standards of the United Kingdom.
Document Verification: Prospective students are required to provide school records, transcripts, and certificates.
English Language Proficiency: This is typically accomplished through standardized language tests such as IELTS, TOEFL, or other Equivalent Language Proficiency (ELP) exams.
Bachelor's Degree Equivalence: An essential criterion involves holding a relevant three-year bachelor's degree from a recognized university. This degree should be equivalent to a bachelor's degree awarded in the United Kingdom.
Work Experience: While not universally required, some UK universities may stipulate a minimum of two years of work experience for MBA applicants.
Standardized Test Scores: Certain institutions also consider standardized test scores, such as GMAT or GRE ratings, as part of their admission assessment. For IELTS, it is 6.0 – 6.5; for TOEFL it is 80 – 90 and for PTE it is 56 – 61
The Statement of Purpose: Craft a compelling SOP that captures your essence, your dreams, and your determination to study MBA in the UK.
Top Universities for MBA in the UK
The UK boasts a line-up of prestigious universities renowned for their MBA programs. Here are some notable institutions along with key details covered by this guide on MBA in the UK for Indian students.
University of Oxford: 1-year full-time / 22-24 months part-time executive MBA / GMAT, GRE / INR 74.1 Lakhs
University of Cambridge: 1-year / GMAT, GRE / INR 66.4 Lakhs
London Business School: 15-21 Months / GMAT, GRE / INR 1.11 Cr
University of Warwick: 1-year / GMAT: 650 avg, GRE / INR 51.8 Lakhs
Lancaster University: 1-year / IELTS: 6.5 / INR 37.3 Lakhs
Cranfield University: 12 months / GMAT: Over 600, GRE / INR 45.8 Lakhs
Brunel University: 1-year / IELTS, PTE / INR 28.5 Lakhs
Durham University: 1-year / GMAT: 600, IELTS: 7, TOEFL / INR 36.3 Lakhs
Life in the UK: An Enriching Experience
Immersing oneself in the UK offers a unique blend of cultures and experiences.
The diverse community is enriched by various backgrounds and contemporary perspectives, creating a stimulating environment for personal and academic growth. Exploring exotic cuisines, discovering new destinations, and building connections with peers from around the world enriches the cosmopolitan experience.
Cost of Living for Indian Students
The shorter duration of MBA programs in the UK is accompanied by a reduced overall cost of tuition and living expenses.
While tuition fees vary among colleges, they generally range between 10, 42,392 to 15,64,484 (£10,000–£15,000) (excluding Oxford and Cambridge, which can reach up to £45,000).
The cost of living varies depending on the chosen college's location. The UK Border Agency stipulates a minimum of INR 1.15 Lakhs per month for a London visa application and INR 1 Lakh per month for other UK locations.
Generally, budgeting around 25,000 to 30,000 rupees per week covers living expenses, although actual costs depend on your lifestyle.
Salary and Work Visa Opportunities
Completing an MBA from a top UK institution can open doors to lucrative opportunities. Graduates often secure salaries of up to INR 95 Lakhs annually within prestigious Indian organizations. For those wishing to remain in the UK post-MBA, select institutions offer visa extensions, aiding in loan repayment and saving for the future.
The UK Student Visa extends for 16 months for a 12-month program, allowing graduates four months to seek employment without immediately returning home. However, visa regulations change, necessitating regular updates on this matter.
Let Our Study Abroad Consultants Guide You over Studying MBA in the UK
Embarking on an MBA journey in the UK offers top-tier education as well as exposure to diverse cultures. Moreover, it opens the doors to exceptional networking opportunities and a transformative experience that prepares you for a successful career in the global business landscape.
To stay informed about international education opportunities, seeking guidance from study-abroad experts is advisable.
At Landmark Immigration, our experts possess up-to-date knowledge of industrial trends and can guide you through the process of enrolling in your preferred course and college.