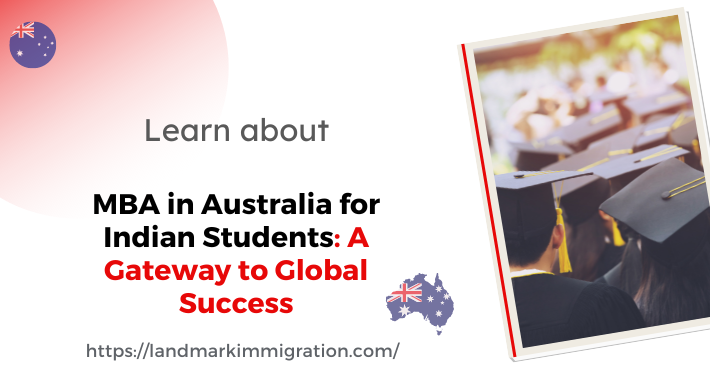 Pursuing an MBA abroad is a dream that many Indian students aspire to fulfill. The lure of gaining international exposure, expanding professional networks, and acquiring a global perspective is particularly strong. Among the top study destinations for Indian students, Australia stands out as an ideal choice for pursuing an MBA.
In this blog, we will explore why Australian universities are highly regarded, what makes the MBA programs in Australia attractive, and how Indian students can embark on this transformative educational journey.
Why Students Prefer Australia for MBA
High-Quality Education
Australian universities are renowned for their high-quality education system. The country has a strong reputation for academic excellence and research output. MBA courses in Australia are designed to equip students with a thorough knowledge of business trends in the world as well as leadership abilities as well as innovative ideas. The curriculum is regularly updated to align with industry requirements, ensuring that graduates are well-prepared for the dynamic business landscape.
Global Recognition
An MBA degree earned from an Australian university has significant international acceptance. Australian institutions consistently rank high in global university rankings, which enhances the value of the degree.
Employers worldwide appreciate the strong academic standards and practical skills that MBA graduates from Australian universities possess. This recognition opens up exciting career opportunities both in Australia and across the globe.
Diverse and Inclusive Environment
Australia embraces cultural diversity and promotes inclusivity, making it an ideal destination for Indian students. Australian cities, such as Melbourne, Sydney, and Brisbane, are multicultural hubs that offer a vibrant and welcoming atmosphere.
The diversity of the environment enhances the general student experience and helps prepare students to succeed in an increasingly globalized world of business which is a place that celebrates the diversity of its customers.
Networking and Industry Connections
Australian universities foster strong ties with the industry, providing ample opportunities for students to network and connect with professionals.
Many institutions have partnerships with leading companies, offering internships, guest lectures, and mentoring programs. This close collaboration between academia and industry equips students with practical skills, industry insights, and valuable connections, enhancing their employability upon graduation.
Post-Study Work Opportunities
A main reason to consider Indian students who are pursuing their MBA within Australia is the possibility of after-study jobs. It is the case that the Australian government provides an extensive post-study rights program that permits international students to be employed in Australia when they have completed their education.
Post-study work permit is granted based on the qualifications the applicant has attained. This gives Indian students the chance to gain valuable work experience, further enhance their skills, and explore career prospects in the Australian job market.
Scholarships and Financial Support
Financing an MBA program abroad can be a concern for many Indian students. There are numerous grants and financial aid opportunities can be found specifically for international students from Australia.
Australian universities, government bodies, and external organizations offer a range of scholarships based on academic merit, leadership qualities, and financial need.
Utilizing these options could significantly lessen the burden on your finances and aid in making studying in Australia easier to afford.
Lifestyle and Cultural Experience
Studying in Australia is not just about academics; it also offers an enriching lifestyle and cultural experience.
The stunning landscapes of the country along with vibrant cities as well as outdoor recreation activities, provide an all-inclusive student experience. Indian students can immerse themselves in a diverse culture, make lifelong friendships, and engage in various extracurricular activities.
Australia's welcoming and safe setting ensures students are relaxed and able to focus on their studies with no worries.
MBA Specializations in Australia
In Australia, there are several MBA specializations offered by universities and business schools. Here is a list of popular MBA specializations in Australia:
Finance
Human Resources Management
Marketing
Supply Chain and Operations Management
Information Technology Management
Entrepreneurship and Innovation
International Business
Healthcare Management
Project Management
Business Analytics
Strategy and Leadership
Hospitality and Tourism Management
Sustainability and Environmental Management
Retail Management
Real Estate and Property Management
Agribusiness Management
Luxury Brand Management
Public Policy and Management
Sports Management
Arts and Cultural Management
These specializations allow students to focus their studies on specific areas of interest and acquire specialized knowledge and skills relevant to their career goals.
Popular Universities to Study MBA in Australia:
University of New South Wales
University of Melbourne
University of Queensland
Monash University
University of Sydney
University of Western Australia
Australian National University
University of Adelaide
Macquarie University
Queensland University of Technology
Eligibility Criteria to Study MBA in Australia
The eligibility criteria for studying an MBA in Australia may vary slightly among universities and programs. However, here are some common eligibility requirements that most business schools in Australia expect applicants to meet:
1. Academic Qualifications:
Applicants should hold a bachelor's degree or an equivalent qualification from a recognized institution. Some universities may require a minimum GPA or academic standing.
2. Work Experience:
Many MBA programs in Australia prefer applicants to have relevant work experience. Typically, a minimum of two to five years of full-time work experience is preferred, although this requirement can vary depending on the program.
3. GMAT/GRE Scores:
Some universities may require applicants to submit scores from the Graduate Management Admission Test (GMAT) or the Graduate Record Examination (GRE). These standardized tests assess an applicant's aptitude for business studies. The required score may vary among universities.
4. English Language Proficiency:
International applicants from non-English speaking countries are usually required to demonstrate English language proficiency. Commonly accepted English language proficiency tests include IELTS, TOEFL, PTE Academic, or Cambridge English: Advanced (CAE). The minimum required scores may vary depending on the university and program.
5. Letters of Recommendation:
Most MBA programs require applicants to submit two or more letters of recommendation. These letters should come from professional or academic referees who can assess the applicant's skills, abilities, character, and potential for success in an MBA program.
6. Statement of Purpose (SOP) or Personal Essay:
Applicants are typically required to submit a well-written statement of purpose or personal essay. This document should outline the applicant's career goals, motivations for pursuing an MBA, and reasons for choosing a particular institution or program.
7. Resume/CV:
A comprehensive resume or curriculum vitae (CV) is usually required. This should highlight the applicant's educational background, work experience, skills, achievements, and any relevant professional certifications.
Conclusion
In conclusion, pursuing an MBA in Australia offers Indian students a pathway to global success.
By immersing themselves in a high-quality education system, embracing diverse perspectives, and building a strong professional network, students can enhance their skills, expand their horizons, and unlock a world of career opportunities.
The journey towards an MBA in Australia is not only about acquiring knowledge but also about personal growth, cultural exchange, and lifelong memories.
So, take the leap and embark on this transformative educational adventure that can shape your future in remarkable ways with Landmark Immigration.