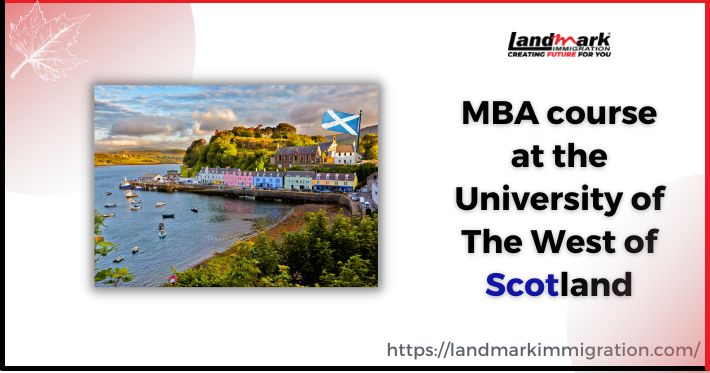 21 July 2022
The University of the West of Scotland has four campuses in the southwestern part of Scotland and it is a public university. Its campuses are in the towns of Dumfries, Ayr, Blantyre and Paisley. The university is having a campus in London, England as well.
The university was established in the latter part of the 19th century after which there have been several mergers as well as changes in name in the previous century enabling its expansion over the region of western Scotland.
The university is reputed for its vocational undergraduate and postgraduate courses but an MBA from the University of the West of Scotland is one of its best courses. Their university has a strength of 16,105 students and a staff of 1300 in all its six schools of learning.
The Importance of procuring an MBA Degree
The MBA Programme at the University of the West of Scotland has its own environment for virtual learning enabling students to have access to core texts of MBA while studying online. They are able to identify contemporary practices in business relating them to concepts and theories. Students are able to imbibe competencies and skills required to overcome all challenges through case studies and practical examples.
An Overview of the MBA Program
The MBA degree at the University of the West of Scotland aims at developing inquiring and adaptive thinking, strategic analytical skills and business intuition among its students.
They get a thorough understanding of core business knowledge as well as the requisite managerial skills to become successful leaders.  Students can opt for any one specialization area from finance, leadership, risk management, enterprise and health service management.
MBA Course Details
Students pursuing MBA Postgraduate Diploma will be required to study these core modules:
Innovation, Entrepreneurship and the Market (core, 20 credits)
Analytical Thinking and Decision Making (core,20 credits)
Integration of Business Functions (core,10 credits)
Influencing Organisational Strategy (core,20 credits)
Managing Organisational Health (core,20 credits)
To complete their Postgraduate Diploma students will also have to successfully clear 30 credits from optional modules which include
Business Creativity (10 credits)
Global Finance (10 credits)
New Venture Creation (10 credits)
Advanced Financial Functions (10 credits)
Risk, Crisis and Resilience Management (20 credits)
Leading Change (10 credits)
Responding to Health Service Challenges (20 credits)
Influencing Organisational Culture and Change (10 credits)
After completing their MBA Postgraduate Diploma students are eligible for the Master's dissertation module which consists of MBA Strategic Business Project/ Dissertation where they can undertake business plan development/ research investigation in a company or traditional and research-based dissertation.
Admission Procedure
Aspirants are required to fulfill a minimum of one of the given criteria for admission:
Have a degree from any recognized institution with a minimum score of 50%
Have done their pre- masters or any foundation courses
Any professional experience or relevant work
Any other academic, professional or vocational qualification
Application Process
The applicants must access the website of university to know about the process of admission. They will be required to fill out an application form and also check in case of any application fee. Along with this, they will also have to submit documents and official transcripts of all their qualifications.
Required Documents
English Proficiency test scores
Resume or Curriculum Vitae
Letter of Recommendation
Statements of Purpose or Personal Statement
FAQ
What are the credentials of the University of the West of Scotland?
The University of the West of Scotland is ranked among the top 3 universities in Scotland for its teaching quality and top 5 for graduate prospects.
Is the University of the West of Scotland a private university?
The University of the West of Scotland is a public university having four campuses in the towns of Dumfries, Ayr, Blantyre and Paisley as well as a campus in London, England.
What is the acceptance rate of the University of the West of Scotland?
The University of the West of Scotland is an institution that is selective in its admission process. Admissions are based on the previous grades and academic performance of students. The rate of admission ranges from 70 to 80. The choice of the correct university and course is very important for bright future prospects.
Our experts will assist you in choosing the course and university according to your qualifications, interests and skills. For any assistance or query contact Landmark Immigration for further details.