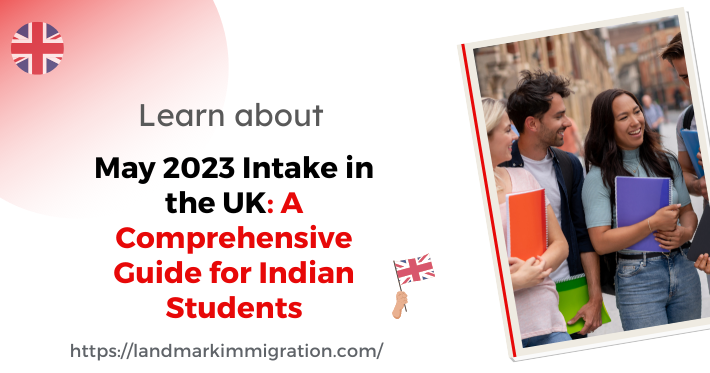 Studying in the UK is a dream for many Indian students, as the country boasts some of the world's top-ranked academic institutions. While the September intake is the most popular choice, the May intake offers a great opportunity for students who may have missed applying for the earlier intakes.
In this blog, we will comprehensively describe the May 2023 intake in the UK, including its timeline, available universities, the application process, and required documents. We will also touch upon the benefits of choosing the May intake and the importance of seeking guidance from study-abroad consultants.
Intakes in the United Kingdom
UK universities and colleges accept admissions for three intakes: January/February, September, and April/May. While most institutions offer courses for the September intake, the May intake provides an alternative option for students. Here is a breakdown of the acceptable intakes and their corresponding admission months:
January/February Intake: Applications accepted in June and September.
September Intake: Applications were accepted in February and May.
April/May Intake: Applications are accepted from January to February, with some institutions opening applications as early as October or November.
Timeline for UK Summer Intake 2024:
Applying for the May intake requires careful planning and adherence to specific deadlines. The timeline outlined below provides a general overview of the application process:
Find programs and universities of interest: August – September.
Prepare for required tests: September – October.
Compile necessary documents: October – November.
Submit applications to preferred universities: November – February.
Await responses from applied institutions: February – March.
Apply for a student visa: March – April.
Book tickets to the UK before the commencement of the May intake: April – May.
Note: The timeline mentioned above is subject to variation based on different course deadlines set by individual UK institutions.
Student Visa Process for May (Summer) Intake 2024:
To apply for the May intake, students should initiate their planning a year in advance. Student visas can be obtained in the following ways:
Program search and university selection: August – September.
Prepare for course-specific requirements: September – October.
Gather all necessary documents for application: October – November.
Submit applications to chosen universities: November – February.
Await a response from applied institutions: February – March.
Receive an offer letter from the chosen institution.
Making travel arrangements and obtaining a student visa: March – April.
Top Universities for May Intake UK 2024
While the May intake may have fewer options than other intakes, several reputable universities in the UK offer courses during this period. Here are some universities for students to consider:
Coventry University
University of West London
University of Bedfordshire
University of Greenwich
University of Chester
University of Roehampton London
How to Apply for May Intake in the UK?
The application process for the May intake is similar to other intakes, with the key difference being the application dates. Students should regularly check university websites for specific deadlines and available courses.
They can apply directly through the university's application portal or seek guidance from education consultants who provide expert assistance throughout the application process.
Documents Required for Admission in UK Universities:
While the document requirements may vary among universities, some common documents needed for admission include:
Academic mark sheets of previously attended courses.
English language proficiency scores (IELTS, TOEFL, GMAT, etc.).
Statement of Purpose (SOP).
Letter of Recommendation (LOR).
Resume.
Why Choose May Intake?
1. Flexibility:
The May intake offers additional flexibility in terms of starting your studies. Unlike the traditional September intake, which is the most common intake in the UK, the May intake allows you to begin your program at a different time of the year.
This can be beneficial if you have commitments or constraints that prevent you from starting in September.
2. Availability of Programs:
While the September intake typically offers a wide range of programs, the May intake often has a more limited selection.
However, this can work to your advantage if the program you are interested in is only available in the May intake. It allows you to pursue your desired course without having to wait for the next academic year.
3. Less Competition:
Since the May intake is less popular than the September intake, there may be fewer applicants vying for available spots. This could increase your chances of getting accepted into your preferred university or program.
4. Time to Prepare:
Opting for the May intake gives you more time to prepare for your studies. If you need to apply for a student visa, make travel arrangements, or secure accommodation, the additional months between the application deadline and the start of the program can be beneficial in terms of planning and organization.
5. Networking Opportunities:
The May intake often consists of a smaller group of students compared to the larger September intake. This can provide you with the opportunity to build stronger connections and networks with your peers and professors.
With fewer students, you may also have better access to resources and personalized attention from faculty members.
Conclusion
Choosing the right intake and successfully applying to a UK university requires careful planning, thorough research, and timely submission of applications. Making a successful application can be greatly enhanced by seeking guidance from a study abroad consultant.
Landmark Immigration, a trusted name in the field, offers comprehensive support to students throughout their study abroad journey. Our expertise and guidance can help students navigate the application process successfully and realize their dreams of studying in the UK.
Embark on your study abroad journey today, and let Landmark Immigration guide you toward a bright future!