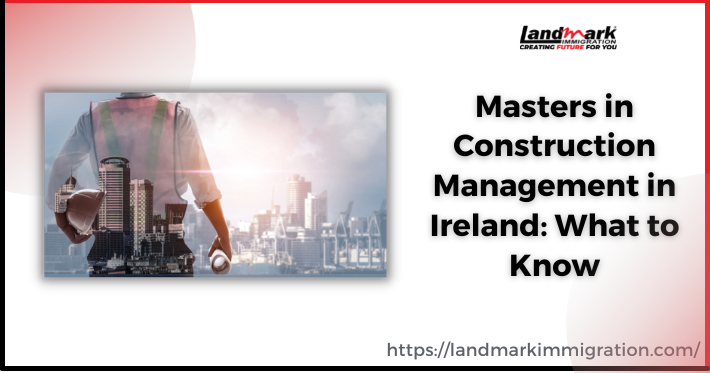 For overseas students looking to study for a master's degree in construction management, Ireland is a great choice. The nation is renowned for its high level of living and the opportunity to find employment there after graduating.
Pre-planning and design, construction, completion, and post-construction are the four separate stages that make up a typical construction project. Every phase focuses differently and calls for a new set of construction manager skills.
A construction manager needs to be able to manage a range of tasks and stakeholders while keeping the end in mind in order to be successful.
Fortunately, a master's degree in construction management from a reputable Irish university can give students the skills they need to be successful in this industry.
Benefits of Studying Masters in Construction Management in Ireland
Project management is one area in which Irish institutions stand out. Strong economic growth and a burgeoning corporate sector in the nation have led to a high need for experienced project managers. Therefore, a large number of Irish universities present master's programmes in project management.
Students who complete these programmes will have the information and skills necessary to succeed in this industry. Additionally, attending an Irish institution might give students the chance to network with business leaders and obtain global experience. For individuals wishing to advance their professional chances, obtaining a master's degree in project management from an Irish university is a wise choice. And the master's degree in construction management is no different.
Here's why…
There are currently 116,700 people in Ireland working after earning their MSc in construction management. In addition, future years are predicted to see an increase in that number. For MSc in Construction Project Management graduates, the Irish government plans to add 60,000 new construction job openings.
And with Irish institutions offering some of the best programs in the world, there is no better place to study than Ireland.
International students can rest assured that they will be well-supported while studying in Ireland. At every higher education institution, there is a designated staff person who can help with anything students need – from finding housing to getting a library card. So if you're looking for an excellent education and a bright future, look no further than Ireland's construction management programs.
What are the Popular Master Courses in Ireland?
MSc in Construction Management
MSc in Real Estate
MSc in Quantity Surveying
What are the Best Universities to Study Master in Construction Management in Ireland?
Waterford Institute of Technology
University College Dublin
National University of Ireland Galway
Dundalk institute of technology
University College Cork
University of Limerick
Technical Universities Dublin
Cork institute of technology
Trinity College Dublin
Institute of Technology Carlow
Letterkenny Institute of Technology
Understanding the Eligibility Criteria of Doing Construction Management in Ireland
In Ireland, a degree in civil engineering or a similar course with less than five backlogs and a 60% score is the major entry requirement for studying for the Master's in Construction Management. Knowledge of related crafts can be very beneficial.
The GRE is not a requirement for the Masters in Construction Management programme in Ireland.
To be admitted to Ireland, one must pass the English Language Test for Non-Native Speakers of English. One of the entry requirements for Ireland's MSc in Construction Management is a particular band score on the relevant English Language Test.
Conclusion
Things look bright when you choose to pursue what you are good at. If Masters in Construction Management in Ireland seems to have grabbed your attention, then consult our immigration experts at Landmark Immigration to get things moving.