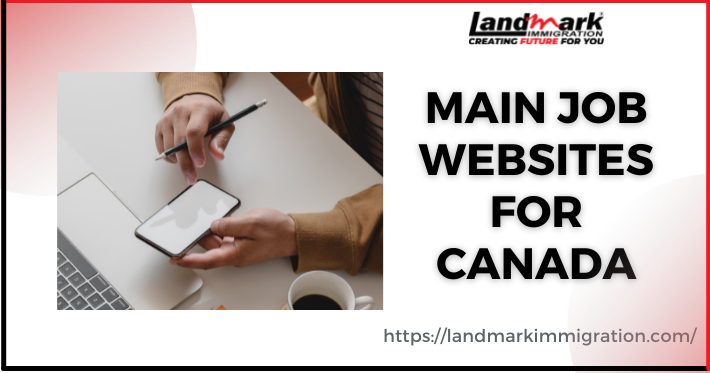 You Are Hired! These are the sweet three words any skilled worker dreams of. Regardless of that, finding a job in Canada living overseas can be challenging.  Several terms, conditions, and procedures need to be followed and fulfilled. Finding a job in Canada can be a daunting task from a lot of aspects but top job sites in Canada can help you to overcome this situation. Apart from that,
The candidate not only needs to successfully work according to all the guidelines but also cross-check many things from their end. For instance-
You cannot apply for a work permit unless your employer has a positive LMIA (labor market impact assessment).
Another thing that requires to be done is updating your resume according to your job requirements.
The entire procedure is not even close to completion unless you dive deep and research the labor market needs of Canada.
Amidst this havoc, if there is one thing we can assure you is to not panic. Following are the top job sites in Canada for you to secure a job.
Type- International search engine for employment
Indeed is a popular name in India as well as the world.  Its popularity not only lies in the variety of job profiles available but also because it is a job aggregator. What does this mean for you? It increases every possible chance of you getting a job in Canada. Indeed also lists jobs from numerous classified listings and career sites.
That said, it is indeed a popular choice among newcomers and remote-foreign workers. So stay vigilant so that you do not miss out on a sure-shot opportunity.
Type: Popular online job platform in Canada
Our next pick is among the top job sites in Canada for a special reason. Monster Canada comes equipped with a job fit scoring system. There are times where you might have the qualifications and skills but lack awareness. This platform displays the jobs most relevant to your credentials— nothing more, nothing less.
Another reason behind its popularity is the free resume assessment that gives you tips on making your resume stand out. What's more to love? There are interesting videos on the platform posted by potential employers describing your job role.
Type: Popular online job platform in Canada
It is not only deemed among the top job sites in Canada but also the oldest. So you know, it is a reliable platform. It has a dedicated section for foreign workers.  So those of you interested to apply for jobs in Canada remotely must go ahead.
The job profiles range from farmworkers and cashiers to caregivers even. Also, there is clarity since all listings declare whether the potential employer has LMIA-documents.
Type: Canada's official government job platform
This site is of great help to those especially if you are an Express Entry applicant.  The site is deemed significant as jobs through Job Bank can even accelerate a foreign worker's permanent residency application.
Here, employers in Canada get connected to Express Entry applicants through the Job Match function. These candidates with a legit job offer can earn points ranging from 50 to 200 points. This, however, is solely based on the job profile. Still, it is a great opportunity.
Type: Canadian job platform
Although new, it has garnered popularity among recruiters, employers, and candidates almost immediately. It sure stands out for its intel and other unique features like a smart matching system, video job application, and of course, free accessibility. Another great feature is that eJobbo is affiliated with the Canadian visa agency and Visa immigration.
So what are you waiting for? Take charge and your chances. Start applying on the top job sites in Canada mentioned above, right away and if still, you have any confusion contact us to know more about it