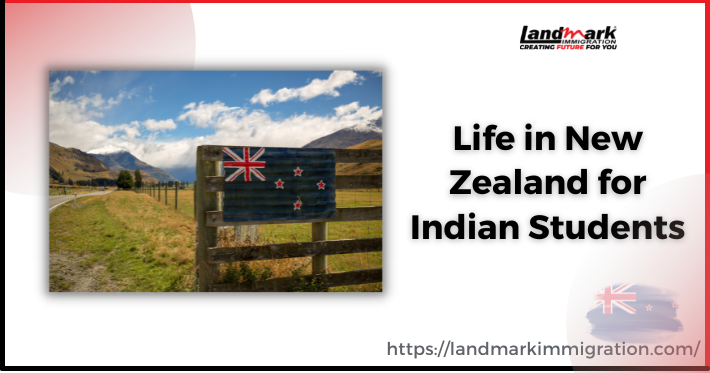 Introduction
Life in New Zealand for Indian students is pretty good. NZ is a preferred choice for most Indian students due to the opportunities and exposure it offers. The best part is NZ offers world-class education with affordable fees compared to other countries.
Are you willing to study in New Zealand and concerned about student life in New Zealand?
This blog will serve as a guide to discuss with you everything about life in New Zealand for Indian students. It includes all necessary information such as accommodation and campus life, safety and socializing, food and culture, living expenses, and jobs.
Most importantly, here you will find tips for adapting to student life in New Zealand.
Let's look at each of the topics one by one.
Accommodation and campus life
Accommodation in a foreign country is one of the most crucial parameters that need consideration. It is better to plan it before relocating to the new country.
Many universities in New Zealand offer on-campus accommodation to students. Staying in on-campus accommodation gives you a better living feel and will be helpful in avoiding homesickness.
Universities will offer numerous accommodation choices. It is recommended to choose the one which aligns with your budget and requirements.
You may ask universities for virtual campus visits to get a better idea. In case you are not willing to live in on-campus accommodation, you may ask your university to suggest trusted rental companies in that area.
Safety and socializing
New Zealand has been ranked as the second safest country in the world by the Global Peace Index. International students can feel safe in New Zealand. The best thing about this country is it offers a thriving culture with incredible social life.
Due to its friendly culture, students sometimes find it hard to leave the country after the completion of their studies.
If you are concerned about the safety of the university campus you are choosing, you must ask them to provide you with the campus safety statistics. You can send them an email asking for the information you require.
Food and Culture
New Zealand is blessed not only in offering affordable and world-class education but also in offering mesmerizing culture and delicious food.
Though local food depends on the area you are commuting to, you must try the traditional food of New Zealand.
The traditional food includes Kumara, Rewena Paraoa, and fresh seafood. As New Zealand is home to a thriving international community, it bestows the opportunity to try a variety of cuisines.
Having an environment filled with peace and friendliness, it is easy to blend with the friendly culture of New Zealand.
Here you can expect to be surrounded by people who are calm, friendly, and laid back. Many people like to explore the outdoors as this country has the world's most stunning hikes.
Sports such as rugby are very popular in the country.
Living expenses and student jobs
Though education in New Zealand's universities is affordable, you must have a clear idea about the living cost and other expenses.
If you are willing to work part-time to meet up your expenses, the student visa in New Zealand permits you to work 20 hours a week and full-time during the holidays.
If you want to have a clear idea about the same, you must consult with your university's employment team. A complete overview will be presented, including any hidden conditions that might exist.
Tips for adapting to student life in New Zealand
It can be both exciting and challenging to adjust to student life in New Zealand. To help you adjust to studying in New Zealand and maximize your experience, here are some tips:
1. Explore your environment
Exploring your new environment and getting to know your neighborhood will help you adjust to your new surroundings. Find out what public transportation is available, which cafes and restaurants are nearby, and what supermarkets and other amenities you need.
2. Connect with other students
Joining student clubs and organizations is a great way to make friends and get involved in campus life. Attend orientation events and social gatherings to meet new people and make connections.
3. Get Support
You can find academic and personal support services at universities and colleges in New Zealand. When needed, utilize these resources.
4. Be open-minded
New Zealand has a diverse culture and people from all over the globe travel to it. Be open to learning about different perspectives, customs, and traditions.
5. Stay active
New Zealand is known for its beautiful scenery and outdoor activities. Take advantage of this and go for hikes, bike rides, or exploring the beaches. Staying active is also essential for maintaining good mental and physical health.
6. Manage your finances
As a student, it may seem hard and pricey to develop and stick to a budget. Look for student discounts and special deals on necessities and amenities to help you spend less money.
7. Embrace the Kiwi lifestyle
New Zealanders are known for their friendly and relaxed way of life. Embrace this laid-back lifestyle and take time to enjoy the simple things in life, such as spending time with friends, enjoying a good meal, or taking a walk in nature.
Conclusion
If you are enthusiastic about studying in New Zealand, you can expect a good future.
For assistance regarding anything about your life in New Zealand for Indian students, you may contact Landmark Immigration.
Being one of the best immigration consultants and best study visa consultants in India, Landmark Immigration strives to offer the best guidance at every step.