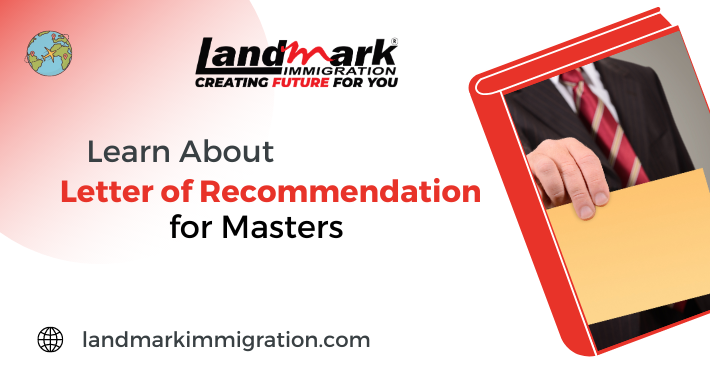 As you embark on the exciting journey of pursuing your Masters abroad, several essential components of your application can significantly impact your chances of acceptance. One such crucial element is the "Letter of Recommendation for Masters." This document holds a powerful position in the application process and can make a difference in the eyes of the admissions committee.
In this blog, we will delve into the intricacies of crafting a compelling Letter of Recommendation that will captivate the attention of universities and portray you as an exceptional candidate.
Understanding the Letter of Recommendation for Masters
A Letter of Recommendation (LOR) is a personalized document written by someone who has closely interacted with you during your academic or professional journey. This person could be a professor, supervisor, employer, or mentor. A LOR aims to shed light on your strengths, accomplishments, and character, providing insights into why you are an ideal candidate for the Masters program you are applying to.
The Importance of the Letter of Recommendation for Masters
Universities receive thousands of applications yearly, and a well-crafted LOR can make you stand out. Unlike your academic transcripts and test scores, a LOR offers a unique perspective on your abilities, work ethic, and potential. Admissions committees seek to better understand your personality and skills beyond what your application documents may reveal.
Choosing the Right Recommender
The first step in creating a compelling LOR is selecting the right person to write it. Choosing someone who knows you well is crucial and can provide detailed insights into your academic or professional achievements. Ideally, your recommender should have taught you a core subject or supervised you in a significant project. Their credibility and reputation can add weight to their endorsement of your application.
A professor who has seen your academic growth over the years can provide valuable insights into your intellectual capabilities, critical thinking skills, and potential for further studies. Alternatively, if you have work experience, a supervisor or employer can attest to your professional skills, leadership qualities, and ability to contribute to the Masters program.
Building a Strong Relationship with Your Recommender
Before requesting a Letter of Recommendation for Masters, make an effort to build a strong relationship with your potential recommender. Attend their classes regularly, actively participate in discussions, and seek their guidance on academic and career matters. When you approach them for a LOR, they will be more willing to write one that reflects your genuine abilities and potential.
During your interactions, ask thoughtful questions, seek their mentorship, and engage in academic or professional discussions. This will help them get to know you better and demonstrate your dedication and passion for your field of study or work.
Providing Relevant Information
While requesting a Letter of Recommendation for Masters, ensure that you provide your recommender with all the necessary information they may need. This includes your resume, academic transcripts, achievements, and any specific details about the Masters program you are applying for. The more context they have, the more personalized and effective their letter will be.
Share your academic goals, the areas of study you wish to focus on during your Masters, and any research interests. If you have relevant work experience, discuss your professional accomplishments and how they align with your academic aspirations.
Showcasing Your Unique Qualities
An engaging LOR should not merely repeat facts from your application. It should showcase your unique qualities, experiences, and contributions that set you apart from other applicants. Encourage your recommender to provide specific anecdotes or instances demonstrating your strengths and character.
Highlight any challenging projects or assignments you have completed, published research papers, or presentations you have delivered. If you've overcome obstacles or demonstrated leadership skills, these experiences can add depth to your LOR and showcase your ability to thrive in the Masters program.
Emphasizing Your Academic and Professional Achievements
The letter should emphasize your academic achievements, research capabilities, and any notable projects you've undertaken. Additionally, it should highlight your professional accomplishments and contributions if you have work experience relevant to the Masters program.
Your recommender should provide concrete examples of how you excelled in coursework, tackled complex problems, or positively impacted your workplace. These achievements can reinforce your potential for success in the Masters program and demonstrate your ability to contribute meaningfully to the academic or professional community.
Conclusion
A well-written Letter of Recommendation for Masters is a powerful tool that can open doors to prestigious universities abroad. Take the time to carefully choose the right recommender, build a strong relationship with them, and provide relevant information to assist them in crafting a compelling and engaging letter on your behalf. Remember, an outstanding LOR can make a lasting impression on the admissions committee and increase your chances of acceptance into your dream Masters program.
With Landmark Immigration, you can ensure that your journey abroad goes smoothly. Best of luck in your academic pursuits!