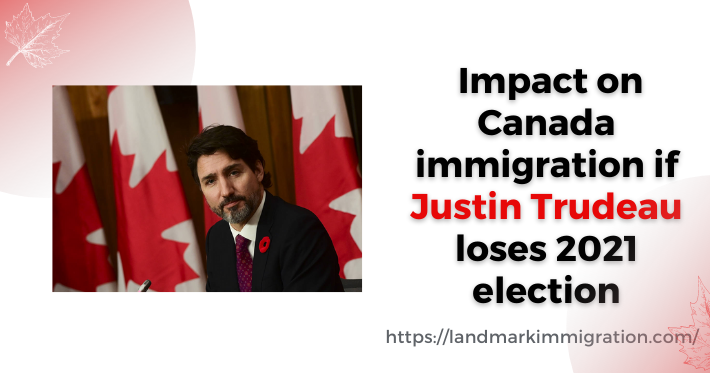 Canadian parliamentary elections are just around the corner and experts are hopeful that the results will be positive and the outcome of the elections will be beneficial for the country's education system.
However, there is a certain concern among students, especially those from India, that what will happen if the ruling government changes or someone other than Justin Trudeau becomes the president.
The students are worried that if this change happens, they might have to face issues for their Canadian immigration process. These fears, though genuine, are not warranted as most experts believe that the educational immigration scene for Canada is only going to improve with time.
In this blog by Landmark Immigration, a licensed immigration consultant company, we are going to discuss the scenario of Canadian immigration if Justin Trudeau loses the 2021 election.
Please watch our video for more information
There is almost a 100% chance that Justin Trudeau will be sworn in again as the president of Canada.
Although there are certain immigration changes that Mr Trudeau has not been able to get implemented yet, these changes will definitely get implemented in Mr Trudeau's next term if he gets elected with a clear and full majority in the upcoming elections due to be held on 20th September 2021.
There is a lot of pressure on the Canadian High Commission to deliver the results at the earliest. This is because they have not been able to achieve all the targets set for themselves till now.  With the ongoing pressure on the Canadian High Commission, there is a high chance that even more study visas and tourist visas will get sanctioned by them post the elections.
If students are eyeing the Jan 2022 or May 2022 intake but have not reserved their seats, they should get it done at the earliest. Also, book your IELTS exam date at the earliest if you haven't given the test yet.
This is because while 2022 looks very promising for immigration, the overall availability of seats available for foreign students is poised to reduce as every student wants to get themselves enrolled in a government college.
There is also the question of choosing a good government college for your studies. This is not as easy as it sounds because getting admission into a government college is a hard task in itself.
The biggest hindrance is that most of the students are not made aware of the opportunity provided by government colleges by immigration consultants.
The benefits of studying in a government college are manifold as the students get better jobs and more opportunities for PR (permanent residency) if they get their degree from a government college.
Also, the level of education provided in government colleges is quite high, and ultimately, it is your educational level that is going to secure you a job and a better future for yourself and your family.
Another important question is the resurgence in travel bans if the government changes. Since we have full confidence in the successful re-election of Justin Trudeau, there is a negligible chance of travel bans.
Although if they are implemented, it is only going to happen on or after 21st September 2021. Also, other countries have their airports open and there are no curbs on international travel, thanks to the progress in global Covid vaccination levels.
Our suggestion for students is that they should focus on getting their study visa as Justin Trudeau is poised to get re-elected. Even if he does not get re-elected, the incoming resident and the government are not going to drastically change the policies as the Canadian economy is dependent on immigration.
Moreover, Canada is the best option as it has some of the best opportunities for both job and PR upon the successful completion of your degree course. Have the motto to go abroad and complete your studies with flying colors.
Elections will come and go, but not at the cost of your future. If you want any consultation for securing a study visa, you can call us on 90412-90412 or send us a Whatsapp message. Alternatively, you can also send an email to info@landmarkimmigration.com.