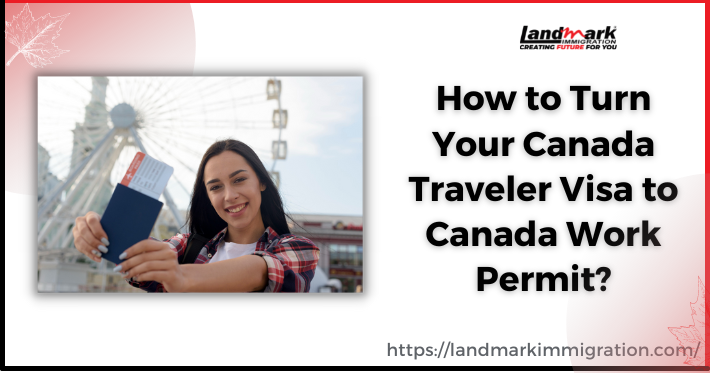 First, let's all just admit how hard it can be to get visa acceptance for Canada, now taking it one step further to get a work visa definitely seems harder! Well, not with us!! We have discovered the easiest way to get your hands on a work visa in Canada! Carry on reading to know!
We all know that, when visiting abroad, one has to not take any paid jobs as per the country's terms and conditions for the visa, to hold the balance of labour problems, and every country has its own set of rules for it. And so does Canada.
So, let's say you went to visit Canada as a tourist and found your dream job for yourself. Now with holding just the Visitor Visa, he will not be able to apply for any job, and if he does, this could lead to deportation to his country of origin and a ban on his ever entering Canada again, according to the requirements for visiting visas published on the Canadian Immigration website.
So what can be done to help you get your dream job? Scroll and read to know the plot twist!
The applicant may request a work permit from within Canada if:
1. The applicant, his/her spouse, or parents are in possession of an active work or study visa for Canada. So, if you have a wife or parents already in Canada with an active work or study visa, you can then get the work permit easily.
2. The potential employee is already in possession of a work visa for Canada, but he or she wants to file for a new work permit. Before being eligible for a Canadian work visa, in this case, the applicant must successfully complete particular application processing steps.
3. The applicant has a valid brief or temporary resident permit that is good for at least 6 months.
4. The applicant has already submitted their application for permanent residency in Canada, which explains why they are already there. Canada implements a point-based system known as the CRS Score in this situation.
If you have a high CRS score, you will have a good chance of getting an ITA and then a PR visa. Age, education, and solid English abilities are just a few of the areas where CRS has improved.
You can go through such procedures to get his work permit. Although there is an alternative route taken by some applicants in order to get a work permit for Canada.
They initially indicate interest in a particular course offered by a Canadian educational institution before choosing a student visa. They are consequently eligible to obtain a native Canadian academic degree and work part-time.
After completion of the course, the applicant may remain in Canada for some time and seek employment there. If the student finds a job only within the allotted time span after finishing the course, they may finally receive a long-term work visa.
However, holding just the Visitor's Visa, you can surely perform a few of the business-related tasks.
Even though you would typically require a work permit to be employed in Canada, you can conduct certain commercial operations while being there as long as you don't directly engage the labour market. You can, for instance:
Purchase products or services from Canadian companies for a foreign company.
Visit a company website.
Upon invitation from a Canadian company, receive training in product use, sales, or other business-related activities.
Meet and converse with individuals to begin and complete a business transaction.
Your bright future in Canada awaits. Let our immigration experts at Landmark Immigration help you pave the way to success.