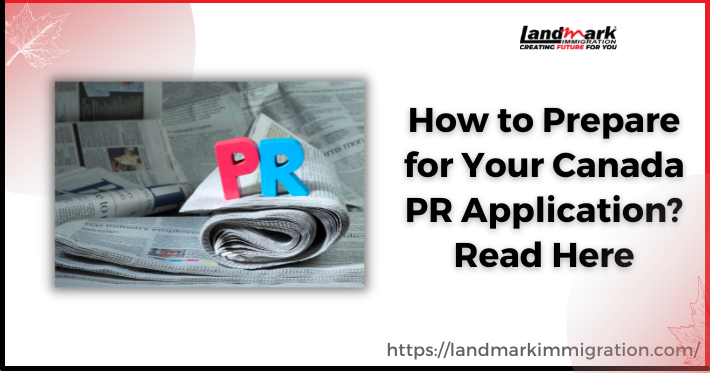 Did you know?
More than 210,000 permanent residents have been granted Canadian citizenship during 2021-2022. 
And the country saw a boost of 55% in visa applications in the year 2022 compared to the number it received in 2019.
After all, Canada is a great place to work and live, thanks to its good quality of life, world-class education system, and sound public health care system. 
If you are looking to apply for a Canadian PR, make sure to prepare your application carefully. 
This includes gathering all of your necessary documents and submitting them to Immigration, Refugees, and Citizenship Canada (IRCC) by the deadline. 
If you fail to meet these requirements or miss out on submitting them at all, your Canada PR application could be rejected before it even reaches IRCC. 
Here we discuss how you can prepare for your Canada PR application for a solid chance of getting qualified. 
1. Choose Your Immigration Program
Within its three main categories, Canada provides a wide variety of immigration options (economic, family class, refugee & humanitarian). 
Some applications use points, whilst others do not. 
While some programs do not, others do, and some operate on a first-come, first-served basis. While some programs demand a sponsor, others do not. And although some programs are perpetually available, others are not.
Have you done your homework to choose the best program for you? Do you have other choices, and if so, which one will you choose to pursue? Before starting, be sure you know the best course of action for you.
2. Gather the Important Documents
Here is the list of common documents required for a Canada PR application. 
Your Personal reference code
Provincial Nomination Certificate or territorial certificate of nomination
Proof of Funds
Police Verification report
Photographs
Passport
Offer letter from a Canadian employer
Medical report
Marriage certificates or divorce certificate (if applicable)
Letter of recommendation from previous employers
Language Test score results
Express Entry Profile Number
Education Credential Assessment (ECA)
Birth Certificate
The application of any applicant who provides false information on the paperwork or forgets to submit a crucial document at the time of documentation will be subject to rejection by IRCC (Immigration Refugee and Citizenship Canada), and the applicant may experience the underlying effects of the action by being barred for five years from applying for permanent resident (PR) status.
3. Make sure your IELTS scores are valid
If you have taken the test more than once, make sure you have the most recent scores. If your IELTS scores are older than two years, they may need to be retaken.
4. Make sure you have your passport and that it is up to date
Make sure you have your passport and that it is up to date.
Check the expiry date and make sure it is valid for at least 6 months. 
If you are applying for a visa, make sure your passport has at least 1 month left on its current validity period and that this cannot be extended past 2 years.
You may also want to check if the visa has an additional validity period after which it must be used by the applicant or any dependents they bring with them (usually 3 years).
5. Give Your Biometrics
You will be required to give your biometric information at a collection service centre.
You will need to pay the fee, which is around $100 CAD (or $90 USD).
You must make an appointment in advance, as it can take up to 2 weeks for the appointment request and biometric collection process to complete.
Your passport and visa are necessary for this step of the application process—if yours does not have these documents, you can apply for a replacement from Citizenship and Immigration Canada before proceeding with your PR application.
6. Keep the Copies of Your Documents
Keep copies of your submitted documents and forms, whether they are in hard copy or electronic format. Before completing the real Canada PR application, Express Entry applicants may want to capture screenshots of the various pages of their profile as they proceed through the process. 
You could save copies of the paperwork you submit to prove your relationship to applicants for common-law/spousal sponsorship.
It's usually helpful to have backup copies of everything carefully preserved in physical and/or electronic form because you never know when you might need to refer to any component of your application in the future. Your scanner is a helpful tool.
7. Get in Touch with an Expert
While you can meet all the steps on your own, the process can be stressful for a beginner. That's why it is important to work with Canadian immigration experts.
Find knowledgeable Regulated Canadian Immigration Consultants (RCICs) who can respond to your inquiries, thoroughly describe the procedure, and, if you desire, represent you before the Canadian immigration authorities.
The Conclusion
The Canada PR application process is a long one, and it can be difficult to get through it all on your own. Luckily, there are many resources available for you to use as you prepare for your PR application. 
You should also keep in mind that the Canada Immigration office will only accept documents from recognized entities such as banks or government agencies. 
They can also request additional documents from applicants if necessary so make sure that everything is in order before submitting anything! Hope this post has been helpful and good luck with your future plans!
For more information on Canada PR application, consult our immigration experts at Landmark Immigration!