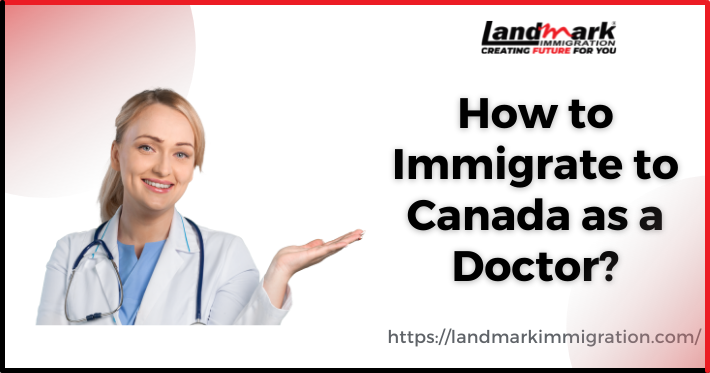 Doctors have always been in high demand in Canada, especially after the COVID 19 outbreak. The Canadian government has introduced various federal and provincial immigration programs to invite physicians looking to settle in Canada.
Moreover, working in Canada as a doctor can be a rewarding career. An entry-level position in healthcare can earn $45,000 per year while the most experienced physician can make up to $76,000 annually.
Doctors are categorized into high skilled worker types, therefore immigration might be easy for doctors compared to other work categories.
Steps for Doctors to Follow for Canadian Immigration
Check your eligibility points and NOC code
Complete your Education Credentials Assessment and Tests
Create Your Express Entry Profile
Get Your Invitation to Apply
Submit Documents with Fees
Get Your Visa
Understanding the Immigration Programs for Doctors:
Express Entry:
The Express Entry System is a points-based immigration program for workers looking to live and work in Canada. It allocates points to applicants based on skills, experience, employment status, and provincial/territorial nomination. You must have at least 67 points to get qualified for immigration under Express Entry.
It is a great immigration option for doctors looking to settle in Canada. They can apply through the Federal Skilled Worker Program which is one of the parts of Express entry.
Once you submit your application, you are given scores based on factors like work experience, age, education, etc. A candidate with the highest score gets an invitation to apply for PR.
Provincial Nominee Program (PNP):
This is an efficient program if you are looking to settle in a specific province. PNP is counted among the quickest and most efficient ways to immigrate.
The Provincial Nominee Program was created to address labour shortages in the provinces and target skilled individuals who can contribute to the economic growth of the province.
The requirements for the program vary from province to province.
Atlantic Immigration Pilot:
This program is quite identical to the PNP and fills labor shortages in the Atlantic Provinces such as Newfoundland and Labrador, Prince Edward Island, New Brunswick, and Nova Scotia.
These provinces have been struggling with shortages of doctors and nurses. So applying through this program can also work.
Canadian Experience Class:
For any physician already living and working in Canada, the Canadian Experience Class program can be the right program. It has been created for temporary foreign workers and foreign graduates with work experience earned in Canada.
STEPS TO IMMIGRATE AND PRACTICE IN CANADA AS A DOCTOR
You can immigrate through any of the above-given programs as a doctor in Canada. But there are many more steps to go through to practice as a physician in Canada.
These steps include a series of examinations, language proficiency tests, assessments, and other processes.
Certification is required because professional occupations in health are regulated in Canada.
STEP 1: Check If Your Medical Degree is From a Recognized School
The first step is to find out if your medical school is listed by the FAIMER International Medical Education Directory under its World Directory of Medical Schools.
STEP 2: Open a physiciansapply.ca account
Open an online physiciansapply.ca account to manage your medical credentials, verifications, registration for assessment exams and other steps. The account set-up will cost $290.
STEP 3: Submit Medical Diploma to the Medical Council of Canada (MCR) for Verification:
It is the stage to get your medical credentials verified. It will cost you $170 per medical credential as well as $108 for the report fee.
STEP 4: Appear in the Medical Council of Canada Qualifying Examination or MCCQE
PART I:
It is a computer-based test to assess your medical knowledge. The application fee to opt for this test is $1,305.
For taking PART 2 of the MCCQE, you are required to be in Canada.
STEP 5: Opt for the National Assessment Collaboration or NAC Exam:
You are also required to take the NAC examination if you are looking to apply for a residency position in Canada. This exam is held in Canada to assess your knowledge, skills, and attitudes. It will cost you $2,830.
STEP 6: Take the Medical Council of Canada Qualifying Examination or MCCQE PART II:
It is a two-day examination to assess your core abilities associated with medical knowledge, clinical skills, and professional behavior. This exam is also held in Canada and costs $2,780.
After passing all your MCCQE exams, you will be awarded the Licentiate of the Medical Council of Canada or LMCC. However, the LMCC doesn't allow you to practice medicine in the nation.
For this, you need to get the approval of the Medical Regulatory Authorities in the province or territory you are looking to apply for. So you need to apply to the Registrar of the Canadian Medical Regulatory Authority of your desired province or territory.
LET LANDMARK IMMIGRATION HELPS YOU IMMIGRATE TO CANADA
So you must have understood the general information on how to immigrate to Canada as a doctor.
However, it still requires to you get in touch with an experienced immigration consultant like Landmark Immigration. This is because immigration to Canada as a doctor is quite complicated, thanks to a lot of paperwork and ever-changing requirements.
We are familiar with the ins and outs of the immigration process. Over the years, our team of Canadian immigration consultants has helped many aspirants like you when it comes to practicing medicine in Canada.
Whether it's paperwork, documentation, visa filing, test preparations, and landing, we help you at every step of the immigration process—right from the start.
Let us know how we can help you!