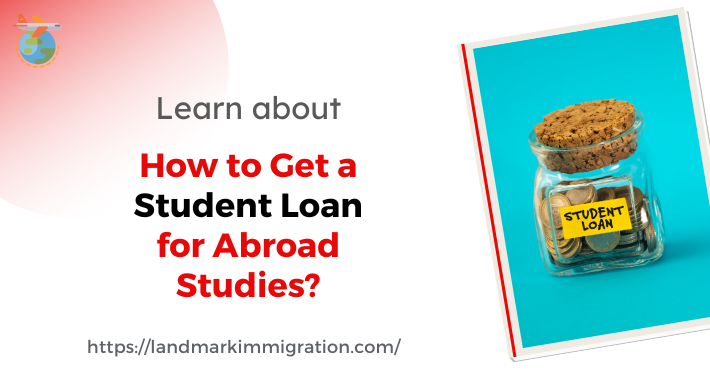 30 April 2023
Studying abroad can be an ideal possibility for students to gain exposure to new cultures, widen their perspectives, and improve their knowledge. But it can be costly due to tuition and accommodation expenses and the cost of living rising rapidly. Student loans can be an ideal way of financing your study abroad program. Student loan for abroad studies are available to cover tuition fees and living expenses.
Both federal and private loans provide affordable solutions to cover your international studies. Be mindful that both types of loans come with different interest rates and repayment terms, so be sure to explore each one thoroughly.
Student loans might be the best option if you're considering a trip abroad but need more money to cover the cost upfront. In this blog, we'll discuss ways of obtaining a student loan to fund study abroad.
Benefits of Getting a Study Loan to Study Abroad
Getting a study loan to pursue education abroad can provide several benefits, including:
Access to Top-Quality Education: Studying abroad can offer a higher quality of education and access to the latest advancements in the field of study. With a study loan, you can afford to attend a renowned university or institution that would otherwise be beyond your budget.
Career Opportunities: Pursuing higher education from a prestigious institution abroad can enhance your career prospects. It can provide you with the necessary skills and knowledge to compete in the global job market.
Cultural Exposure: Studying abroad can provide exposure to new cultures, languages, and customs. This can broaden your perspective and make you more open-minded and adaptable.
Personal Development: Studying abroad can be a life-changing experience that can help you develop independence, resilience, and self-confidence. You will have to navigate new environments, make new friends, and adjust to different lifestyles, which can all contribute to your personal growth.
Loan Repayment Options: Most study loans come with flexible repayment options, allowing you to pay back the loan in installments after you complete your education. Some loans may even offer a grace period to allow you to secure employment and stabilize your finances before repayment begins.
Ways to Get Student Loan for Abroad Studies
Research the Available Options
The first step to getting an education loan to study abroad is exploring various options. Many countries offer loans to students specifically for students from abroad, and banks and private lenders have loans specifically designed for those studying abroad.
It is possible to begin by searching online to find available loans while analyzing the conditions and terms of every loan. It's crucial to look at the rates of interest along with the terms of repayment and eligibility requirements for different loans to choose which one best meets your specific needs.
If possible, you can also consider getting guidance about the education loan.
Apply for Financial Aid
When you seek student loans, you must seek financial aid through your selected institution of higher education or college. Numerous institutions offer international students grants, scholarships, and other financial aid options.
It is possible to check out the university's site or call the office for financial aid for more information about the possibilities available. Financial aid applications are generally a competitive process, and you should complete your application as soon as possible.
Get a Co-Signer
If you're a student from another country and you're an international student, you might need co-signers to get a student loan. A co-signer accepts the responsibility of your loan in case the borrower cannot repay it. The typical co-signer is someone from your family or a friend with good credit ratings and a steady income.
Co-signing with a co-signer may boost your odds of being granted a loan. It could also assist you in getting an interest-free cost.
Check Your Credit Score
Credit scores are crucial in receiving approval for a college loan. It's an indicator of your creditworthiness. It also tells your likelihood of paying back your loans. If you need credit scores for the country you're currently taking classes in, you'll require one before trying to get a loan.
This can be done by creating a bank account and using a credit card responsibly. It is also vital to examine your credit report regularly to ensure no errors or omissions can impact your credit score.
Gather Required Documents
To apply for a student loan, you must submit many documents, such as the passport of your choice, visas and proof of income and academic transcripts. It's crucial to have all the required documentation before making a loan application to ensure the application process runs smoothly.
Be sure to verify the specifications of the lending institution to avoid delays or rejected applications.
Fill Out the Application
If you've looked into the various choices, contacted assistance with finances, and arranged for the co-signer you need after obtaining all required documents, now it's time to complete the application. It's usually done via the Internet.
The application will take some time to finish. Be sure to go through the terms and conditions carefully and address any concerns you might have before submitting your application.
Wait for Approval
Once you've completed the application, you must await approval. The process could take a few weeks. The lender may request more documents or details during this period. Be patient and keep in touch often to check that the loan application process is going well.
Final Thoughts
A student loan for study abroad is long and difficult. However, it may make a great investment in your future. It is essential to study the possibilities, apply for financial aid, identify an appropriate co-signer to examine your credit score, take all necessary documents, complete the form, and then be patient.
If you are still confused about student loans for studying abroad, our immigration consultants team at Landmark Immigration is there to help you.