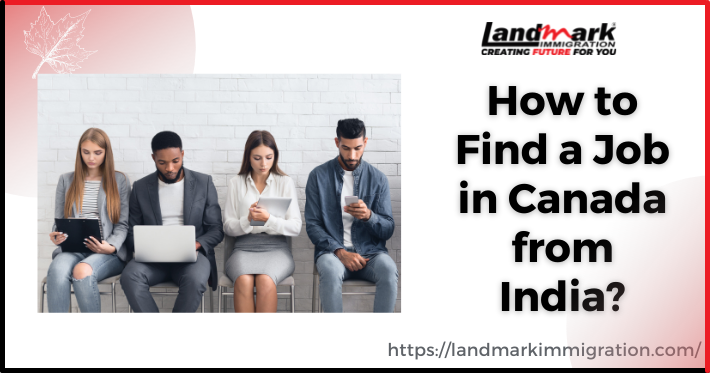 Canada is a dream destination for thousands of Indians to live and work. Thanks to the highest standard of living, huge variety of jobs, ideal working conditions, attractive wages, and lower employment rate. Above all, Canada has the highest-paying jobs all around the world. No wonder why many Indians migrate to Canada to work. But how to find a job in Canada from India? After all, like any foreign nation, Canada has its own set of rules for workers coming from other countries. Here we will help you understand how to find a job in Canada from India? Let's check it out…
Learn English or Achieve Proficiency According to Your Job:
First thing first, make sure you have a good command of English to work in Canada. However, the language rules could be simple for most blue-collar jobs in the country. But still, it is important to master your English for the safe side.
Learning and mastering the language should be one of your priorities. An excellent alternative that Canada offers you to achieve this is its study programs. A very good option is virtual courses with a specialized Canadian institution, which you can take from your country.
You can also study and work in Canada in vocational or university study programs, where you will perfect the language and at the same time you will learn how to work in Canada.
Apply for a visa that allows you to work in Canada
Canada offers multiple job opportunities to foreigners. Its excellent immigration policy allows you to apply for a work visa that will facilitate your job search in Canada.
But working in Canada is only possible with the proper visa. Clearly define your professional goals so that you can apply for the visa that allows you to achieve them. Learn about the types of work visas that allow you to work in Canada.
Student Work Permit:
With this work permit, you can work while you study. Your study program must be longer than six months, and you can work part-time during classes and full-time during vacations.
This work permit does not include language courses, only vocational and university courses. You must enroll in an official institution and have the enrollment confirmation letter to apply for this permit.
Post Graduation Work Permit for Canada
The Post Graduation Work Permit is a permit that allows you to work in Canada immediately after completing your study program.
To qualify for the Post Graduation Work Permit, you must study at a public college, and complete a program with a minimum duration of 8 months and a maximum of 3 years. You have up to 90 days after finishing your studies to request it.
The duration of the Post Graduation Work Permit is equal to the duration of your program, that is, if your program lasted 3 years, your permit will be 3 years.
Look for the Most In-Demand Jobs:
To get a job in Canada, prefer the economic sectors with the most job offers, as well as the most requested professional profiles.
This will allow you to specialize in an area that you know has good job opportunities and, in this way, it will be easier for you to get a job opportunity.
Among the most requested profiles in Canada are those related to information technology, as well as the construction, sales, banking, and finance sectors.
Enroll in a study program in Canada:
Making your profile more attractive to Canadian employers is possible by studying in Canada. Enrolling in a study program in Canada, in addition to improving your professional profile, expands your network of contacts and makes it easier for you to enter the Canadian labor market.
The specialized agencies advise you on the different study programs to which you can apply, in addition to guiding you on the best cities to study and get a job in your work area.
You can find volunteer work online in Canada easily.
Do Volunteering:
Why anyone would work for free?
Sure, it seems unrealistic, but voluntary (unpaid) work comes with many benefits. A few months of volunteer work can open many doors for us in the long term.
First of all, volunteering demonstrates that you can work well with others, make a commitment, and possess the attitudes and talents that businesses seek in potential employees. Employers will be able to see that you are capable of managing your time and completing things. In other words, employers appreciate applicants who contribute to the community; it helps you answer the question, "What are you doing right now?" It also fills in the gaps in your job history and keeps you occupied while you hunt for paid work. Secondly, volunteering helps you build your professional network. It also helps you develop and practice new skills.
 Prepare your Resume:
After following all these tips, the most important thing is to prepare your resume adapted to the Canadian format.
Keep in mind that you should not post personal data such as age, religion, or religious orientation. In addition, it must be in perfect English and you do not have to attach photographs.
Do not forget to include all the academic training you have received, your work experience, and very valuable information: the volunteering you have done.
So you must have understood how to find a job in Canada from India. Growing professionally and personally is one of the advantages of getting a job in Canada. Studying and working in Canada makes you a competitive and internationally valued professional. Best of luck!!!