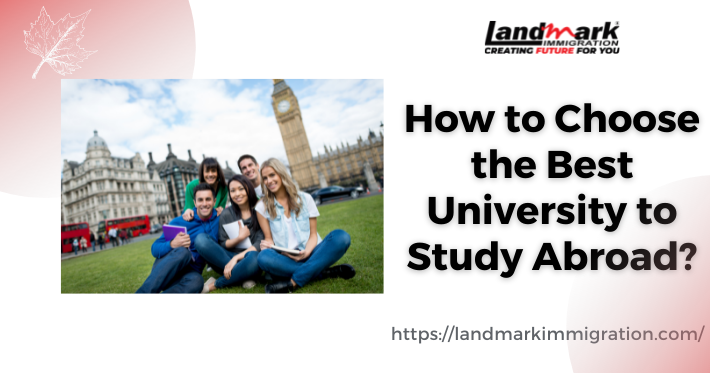 Many students from India apply to study abroad each year. According to one report, more than 1 million Indian students are studying in over 80 nations outside India.
Studying abroad not only ensures you great career opportunities, but also exposes you to new languages, cultures, and helps gain a better understanding of the world. And these are the things that modern employers look for while hiring you.
However, picking the right university is important to make the most out of your studying abroad. With an overwhelming number of best universities across the globe, choosing the right one can be stressful.
Keeping this in mind, here are some important factors to consider while picking your university to study abroad.
Choose Your Course:
First of all, you need to choose a program to study abroad. But it doesn't mean you randomly choose any course. It makes sense if the course matches your qualification. If you still want to choose a course different from your academic or professional background, think about the skills you would like to learn.
If you are still not sure, many universities are offering combined programs, letting you study more than one subject. Or it would be better if you consult a good study abroad consultant to opting for the course that doesn't match your qualification.
Pick Your Study Destination:
After choosing the course, pick your study location.
Where do you want to pursue your course from? Is it Canada, Australia, the US, Germany or any other study destination?
Whatever nation you choose, make sure it feels safe and comfortable to you. You need to ponder over the factors such as language, local culture, climate, and career opportunities.
Also, check if you have any relatives or friends in that nation. Learn about the nation's attitude about certain communities and groups. For example, some nations are known to be less tolerant towards other communities.
Check the Ranking of the University:
Ranking helps you determine the quality of teaching of a university. The ranking is based on many factors such as research, quality of education, teaching and reputation. Some of the top websites to check the ranking of any university
Make sure to check how universities rank for your study program. Graduating from a top institute can make you an attractive candidate for employers.
Calculate the Cost:
Studying abroad is expensive. You must have come across the stories that parents sell their property and mortgage their house to sponsor the study of their son abroad.
While studying abroad can make you cough out a lot of money, there are certain ways to make it a bit affordable. First of all, check the tuition fees. The other factors to consider are travel, routine expenses and accommodation.
Tuition fees are generally varied from university to university. Here you need to prefer affordable universities.
Consider the Application Process:
The application process is another factor to check out while planning to study abroad. Generally, most nations require a student visa, English proficiency tests such as IELTS or TOEFL. 
The way to apply also varies based on the nation. In the UK, you are required to apply through the UCAS that involves submitting a personal statement. In other nations, you can apply directly to your desired university.
Opt for a Study Abroad Consultant:
Studying abroad is a crucial decision. But the process is not simpler as it seems. Some silly mistakes can lead to your study visa refusals. That's why you need to seek the guidance of an experience study abroad consultant.
A good consultant guides you over the process, helps you with the tests and even represents your case on your behalf. Moreover, he or she will suggest the right course. They will try their best to get you a study visa on the very first attempt.
Consider the Course Content:
The teaching styles, course content, and assessment methods are not the same. Check if they have suitable modules or a group of courses for you, and find out if they can be flexible for you.
For instance, in the USA, you can opt for study modules that are not related to your major, giving you a varied learning experience. However, most universities in Europe only allow you to choose the modules related to your study program.
Check if the course is delivered through lectures, seminars, and workshops. Also, know how you will be assessed, whether it's assignments, exams or both.
Learn about Extra-Curricular Activities and Campus Perks:
Every educational institution is likely to arrange extra-curricular activities for the welfare of students, including voluntary work, student council, drama, sports, debate tournaments and events.
Taking part in such activities can add some grades as well as improve your communication skills and personality.