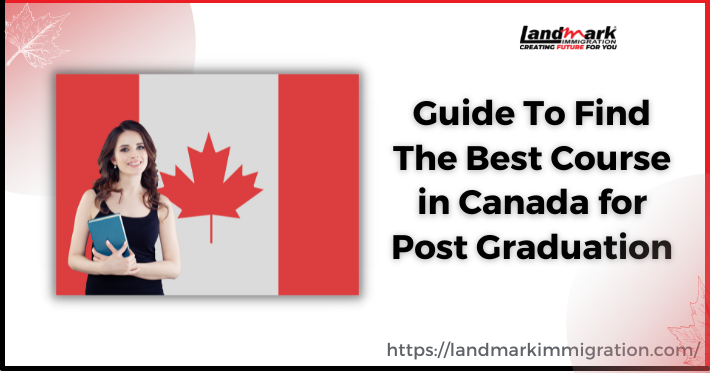 Canada offers top courses for post graduation. Also, Canada is the first choice of many international students.
Having a postgraduate degree is extremely important and will be very beneficial to your career. 
However, when you are choosing a course, there are a number of things that you must pay attention to. 
This blog will guide you to select the best course in Canada you can opt for for post graduation. Stay tuned!
Let's take a look at some of the best courses in Canada for post graduation.
1. Hospitality management
Taking a hospitality management course in Canada allows you to get a job with excellent salaries and benefits. 
The tourism industry is expected to see more job openings with rising economic growth with the tourism and hospitality management course. 
With a career in tourism, you can choose from a variety of different areas, such as destination marketing, tourist attraction management, and food and beverage.
Hospitality management is among the best courses in Canada cover all the essential areas of the industry. 
Besides teaching culinary arts, catering, and cleaning, students learn about menu creation and planning, as well as the ins and outs of the restaurant and hotel industry. 
They also learn about the basics of financial accounting and basic computer systems.
Many Canadian colleges offer short-term certificate and diploma programs in this domain. 
Some universities also offer a two-year postgraduate diploma in hotel management. 
A number of these programs are also provided for international students.
2. Civil engineering
Having a career in Civil Engineering is quite a rewarding career. 
Having a civil engineering degree in Canada opens up a wealth of new opportunities for civil engineers.
The demand for skilled labor is expected to experience growth in the coming years. 
The regular supply of immigrant labor has also led to more openings for Civil Engineers in Canada. 
The best part is that Canadian universities are known for their outstanding education quality.
Canada offers many scholarships to international students. 
Some of the best universities in Canada include the University of Waterloo and the University of Toronto. 
The universities provide a variety of courses in civil engineering.
A career in civil engineering is a lucrative option for students pursuing graduate studies in Canada. 
It is also a good choice for students looking for part-time work or internship opportunities. 
Some Canadian universities offer affordable courses in Civil Engineering.
If you are interested in technical field this could be the best course in Canada for you.
3. Business Analytics
PG Diploma in Business Analytics is a postgraduate program offered by several universities in Canada.
The course provides comprehensive training on big data, statistical analysis, and data management. 
The program is the best choice for candidates who want to pursue a career in big business. 
Moreover, it is cheaper than the courses offered in other countries.
The University of Toronto offers the top business analytics program in Canada. 
The course is short but gives students a comprehensive introduction to the field. 
In addition, students will have the opportunity to create a professional network.
HEC Montreal is one of the oldest business schools in Canada. 
The program offers a unique combining course combining data science, business analytics, and artificial intelligence. 
The program is offered in either a thesis-based or a non-thesis-based track. It can be completed in 16 to 24 months.
4. Human resource management
Taking human resource management courses in Canada will open up a new world of employment opportunities. 
The job market for HR professionals is expected to expand in the near future. 
Renowned universities and institutions offer the best courses in Canada for human resource management. 
In addition to gaining a solid foundation in HR, students will also improve their decision-making and soft skills.
The Chartered Professional in Human Resources (CPHR) is the leading designation for HR professionals in Canada. 
This certificate includes training in HR law, legislation, strategic planning, communications, leadership, and teamwork. 
It also offers language support and a potential work placement.
The Post-Degree Diploma in Human Resource Management is a 4X award-winning program emphasising effective communication, leadership, concrete business tools, and WHMIS certification. 
It also makes students eligible for CPHR certification.
5. Health Sciences
Choosing to study health sciences at a Canadian university will provide you with some of the most attractive career opportunities in the healthcare industry. 
Health science is a multidisciplinary field that encompasses a wide variety of occupations. 
These include physicians, dentists, registered dietitians, and occupational therapists.
If you are looking for a comprehensive health sciences program, consider studying at the University of Ottawa. 
This program offers world-class facilities and students the opportunity to learn from expert professors and gain valuable skills in research. 
The program also focuses on mental health, community engagement, and student support.
The program also provides a wide variety of electives that will allow you to explore your interests. 
You can also participate in co-op programs, an excellent way to get experience in your field of study. 
This will help you build a strong network of industry professionals.
The Bottom Line
Having top-class universities in the world, Canada is considered as one of the best countries to acquire postgraduate degrees.
Hope this blog has guided you the path to choose the best course for you to study in Canada.
Still, if you are facing any trouble in deciding your course, consult your doubts with the best visa counsellor at Landmark Immigration.