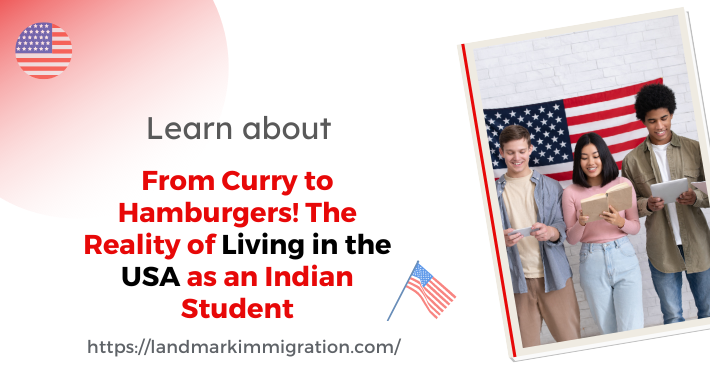 Planning to go the USA for study?
Congratulations! The USA is one of the most sought-after study destinations in the world.
But there are some things to get familiar with before landing in this land of opportunity.
Life of Indian Students in USA
Many of you must have seen enough "America" in movies and the Internet. But the reality is somehow different from your assumptions.
The point is here that life is not in the USA as it is portrayed in those Bollywood movies or Hollywood films. Living in the USA as an Indian student can be an exciting experience, but it's important to be aware of a few things to make the most of your time there. Here are some key points to keep in mind:
Finding Accommodation
You might stay on or off-campus in rooms or dormitories with other students. Most schools have housing offices that can help you find a suitable place to live and provide information about roommates, restaurants, parks, shopping areas, laundry facilities, and libraries.
Living on campus is convenient for both academics and social activities, and many students prefer it at the beginning. Dormitories are also preferred as there is no concern about utilities like gas, water, internet, and electricity.
It's helpful to live close to campus to avoid unnecessary travel expenses.
Academic Transition:
In the American education system, students are taught in a different way compared to schools in India.
Instead of just memorizing and giving the right answers, American schools focus more on how you think and solve problems.
This shows how important critical thinking and problem-solving skills are in the American education system. Adapting to this new way of learning can be challenging for Indian students at first. It's a shift from just memorizing information to analyzing things independently and coming up with creative solutions.
American schools want to prepare students for real-life challenges where thinking innovatively, being adaptable, and solving problems effectively are highly valued.
Food:
When people ask about life in the USA for Indian students, one interesting thing to mention is the food and culture. American institutions take pride in their food, which reflects the country's diverse mix of cultures. You can find delicious dishes like pizza, burgers, and foods from different parts of the world.
And if you are a vegetarian or vegan, you will find your choices easily. When it comes to eating out in the USA, there are plenty of vegetarian restaurants to choose from. Cities like Los Angeles and New York have some great options. Moreover, there are many Indian food restaurants across the nation.
Cost of Living:
The high cost of living means you should learn to do things yourself, like cleaning, doing laundry, and cooking, to save money. You'll also need to manage your finances by shopping wisely, paying bills, and budgeting your funds.
As a student, life in the USA can be busy. Many students work part-time jobs alongside their studies to earn extra money. Some students even have shifts or work multiple jobs.
Just remember to check your visa restrictions to see how many hours you're allowed to work each week (usually up to 20 hours for student visas) and make sure you understand your legal rights before starting any paid work. Respecting Privacy
In India, we are used to being asked personal questions by friends, family, and even strangers.
But in the USA, people value their privacy more. It's best to avoid asking personal questions when talking to strangers and not share too much personal information about yourself either. It's important to respect others' private lives and always ask for permission before discussing personal or professional matters.
Dealing with Homesickness:
Feeling homesickness is also a part of living abroad. Make sure to stay connected with your family, beloved ones, and friends back home. It will make you feel more comfortable and help with the culture shock of moving to a country with a different social environment.
You'll make new friends and find people who are willing to help you succeed and share their knowledge and experience with you. But always be cautious in new situations and don't hesitate to say no if you're being pressured into something, unless it's required for your course.
Staying Safe:
While complete safety cannot be guaranteed in any country, adopting a sensible approach is advisable to minimize risks.
Avoiding dimly lit alleys is a wise choice. When venturing out in public, stick to well-illuminated areas and remain in the company of familiar individuals. Numerous locations in the United States have implemented effective security measures, such as surveillance cameras and detectors.
Therefore, it is advisable to refrain from engaging in suspicious behavior that may attract unwanted attention. While Americans are generally welcoming, they also value their privacy.
Holding onto Your Identity:
It's important to stay true to yourself no matter where you are. Many Indians worry about losing their Indian identity when adjusting to a foreign country, but it's crucial to hold onto your values and principles.
The Conclusion:
Living in the USA as an Indian student can be a diverse and enriching experience. It's a chance to immerse yourself in a different culture, adapt to new ways of living, and expand your horizons.
While it may come with its own set of challenges, such as adjusting to the cost of living or navigating cultural differences, it also presents countless opportunities for personal and academic growth. Embrace the journey, make connections, and seize every moment to make the most of your time as an Indian student studying in the USA.