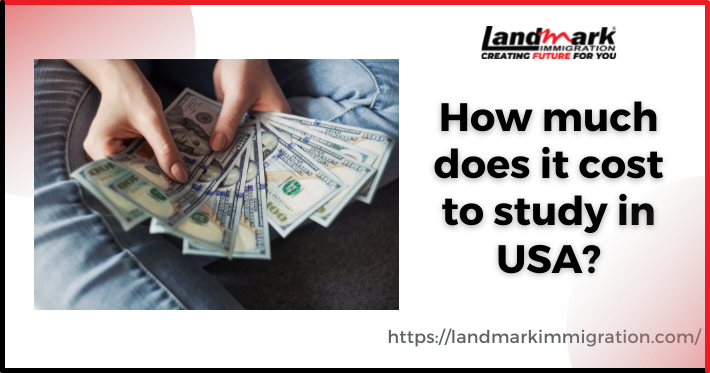 An international student studying in the US will have to pay a certain amount.
The United States is a dream destination for students from all over the world. The United States has many renowned universities. Students from around the world want to study at a university in the US for several reasons, including improving their future prospects, getting a quality higher education, and having access to better opportunities.
To purchase a high-quality product, though, you usually must spend a significant amount of money. Millions of international students apply each year to some of the most expensive colleges in the world, but tuition costs are still among the highest in the world.
So, how much does
studying in the US
cost an international student? A five-figure annual fee is not uncommon.
There isn't a standardized system of government fees at most colleges.
The amount you pay will mostly depend on the school and the course you take.
US colleges and universities include community colleges, private colleges, and public colleges. In contrast to community colleges, most international students attend public and private colleges.
The most expensive colleges are private ones. The average cost of tuition at a public college is $35,000 to $45,000 while a private college charges $50,000 to $75,000 per year on average.
Tuition Fees:
Expenses associated with international students' tuition
Private colleges receive funding mostly from private organizations and donors, while public colleges are mostly funded by the state government. Governmental funding is also a common source of funding for community colleges and two-year colleges.
Humanities, arts, and education are usually cheaper than engineering, medicine, and dentistry.
Master's degrees tend to be more expensive than undergraduate degrees. Depending on your course or the college that you plan to attend, you will have to pay different college tuition fees. Each college has its own tuition charges. However, international students typically pay much more than their American counterparts.
Accommodation Costs:
Most colleges offer their international students on-campus residence. Residences are often referred to as dormitories or dorms. The rooms are usually shared by two or three students. Many colleges provide basic necessities like electricity, water, and internet access. Bathrooms and showers are also shared between students. The cost of on-campus housing varies depending on the college. On average this is between $5000-$8000 per year.
International student accommodation costs
Alternatively, you can choose to live off-campus. Living alone or in a shared apartment is an option for students. The cost of rent varies depending on where you live. Rent is more affordable in the Midwest than in the Northeast and East. However, you are also responsible for paying your electricity, internet, and water bills. Usually, there is a range between $6,000 and $15,000 per year for a single-bedroom apartment – depending on the location and apartment.
Living Expenses:
In order to save some money for the essentials in your daily life, such as shopping, groceries, food, water, clothes, books, and study materials, it would be wise to set aside cash. You should keep track of even the smallest expenses when living abroad. Maintaining an eye on your overall expenses will enable you to set a budget or make a saving.
Living expenses in the USA
The yearly budget for international students ranges between $10,000 and $12,000. Your location will determine this amount.
Student Visa:
All international students require a student visa. This process is also time-consuming. An international student must apply to and be accepted by a SEVP-certified college. The I-20, on which all your information is recorded, will be sent to you once the application process has been approved.
Student visa required
There is a nonrefundable fee for visa applicants. The courses, merit, and college of each student determine their classes, merit, and grading. Fees for SEVP and visa applications are $350 and $160 respectively.
The transportation system:
International students are usually housed in dormitories at colleges. Most of the time, you won't have to use transportation on the college campus unless you are going off-campus. Nevertheless, if you decide to live off-campus, you will need transportation. As a result, transportation costs in the US are not as high as they are abroad, and we have multiple options to choose from. Cabs, trains, and buses can be accessed as well as rental vehicles.
Costs associated with transportation
For students, bus and train pass cost around $30-$50 per month. You can expect to pay about $100-$120 per month in extra transportation expenses. However, this cost is largely influenced by your living arrangements.
If you still think something bothers you, feel free to
contact
Best Study In USA Consultants.