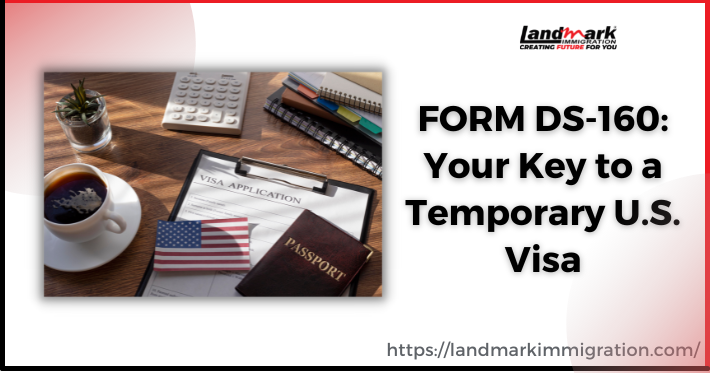 Are you going to the U.S. for higher studies? Then you must have come across Form DS-160.
The DS-160 is the official student visa application form for foreign students. And one must fill it out and get accepted to lawfully continue their studies. And today, we will let you in on every trick we know!
Purpose of Form DS-160
Your past, family, and a number of other personal details will be questioned on Form DS-160 to determine your eligibility. Your eligibility for a visa will be determined by these answers and the in-person interview. The full form must be filled out in around 90 minutes, and it must be submitted within 30 days of the procedure's start date.
Validation of FORM DS-160
The 30-day validity period is applicable to DS-160 visa applications. For instance, if the procedure started on May 1st, it would expire on May 31st. Finish the form before the deadline to avoid starting over.
How to Submit FORM DS-160:
Electronic submissions of Form DS-160 are made to the Department of State website over the Internet. The information provided on the DS-160 is used by immigration authorities to evaluate visa applications and, in conjunction with a personal interview, establish a candidate's qualification for a nonimmigrant visa.
Completing the DS-160
Once you have digitally filed your DS-160 application, you must get in touch with the consulate or embassy where you desire to apply to find out whether a consular officer interview is required and to set up an appointment.
Guidelines to fill DS-160 form online
The applicant's digital photo should be available in a particular format. In case, not being able to upload the photo online, you can also bring a hard copy of the photo to your interview with the consulate during the online application submission.
Double-check which consulate you are going to for the interview.
Check your internet connection while submitting the form online.
Keep handy information regarding the:
Applicant's passport information
The name should be exactly as it seems on the document -date of issue, date of expiration, date of birth, and passport number.
Applicant's family (Name of parents of each applicant, mailing and work address, income, occupation, etc).
Also don't forget to mention the address of your accommodation, and the address of any American relatives you may have.
In case you are a US citizen remember your tax ID number and social security number.'
Also, you have to let them know if you took any trips to the US recently.
Technical Requirements
Internet Explorer 11 or higher and Google Chrome 58 or above are the recommended browsers for filling out the DS-160 online form. Safari is not supported.
About filling out Form DS-160
All of your responses must be delivered in English and must utilize English characters, with the exception of the question that asks for your full name in your native alphabet.
Provide truthful information. Choose "does not apply" for any fields that do not apply.
Your application might be momentarily saved online. Don't forget to save your application on your device if you leave the device, or take a break in between filling out the form.
The session expires if there is no action for 20 minutes on the device/form, thus deleting all the data and hard work!
When your application has been uploaded successfully, take care to delete the file if you're using a public computer.
It cannot comprehend special characters or letters.
Check the factuality of the info you entered.
Print out the confirmation page.
Carry the printed confirmation page, throughout the visa process.
Note: By electronically signing your DS-160, you attest that all of the information on it is truthful and accurate. You could not be allowed to enter the US if you lied about any facts. Please make sure that each question is wholly addressed and accurate.