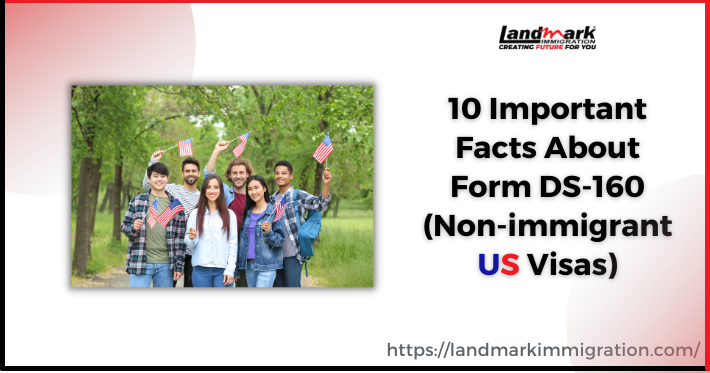 When you are applying for a US visa, one of the most important things is to fill out your DS-160 form accurately. There are many applicants who fail to understand how important this form is in your visa application process.
However, just like other sections of your US visa application, DS-160 is one of the most important parts. In this article, we will discuss some important facts about the DS-160.
What is the DS-160 form for US visas?
It is basically an online form for visa applications in the US that is required to be filled by temporary travelers.
Which US visas need the DS-160 form?
A completed DS-160 or the online non-immigrant visa application needs to be submitted by all people applying for a US visa under the non-immigrant categories, as well as K visas. Non-immigrant category visas allow temporary stay in the US, while immigrant visas are designed for dwelling in the country forever.
Top 5 errors made by applicants in the DS-160 form
According to the official data, here are the top 5 errors made by applicants:
Choosing the wrong type of visa
Failing to give their accurate current home address
Withholding or not revealing entire information on their previous trips to the US
Misinforming about different foreign travels taken in the last five years
Not accurately disclosing the name of the organization or person that has helped you in filling out the DS-160 form as your representative
How long can it take to fill up a DS 160 form?
You will need around 90 minutes of time to finish your DS-160 form online.
Where would you get your DS-160 form?
You can fill up the DS-160 via the official website of the US Department of State Consular Electronic Application Center.
Is there a limitation on the days during which the DS-160 form needs to be filled?
Once you start your DS-160 form, you need to fill and submit it within 30 days.
What if you fail to finish your DS-160 within the timeline?
If you fail to finish within the above timeline of 30 days, you need to download your application by using the save button available at the bottom of the last page of the application that you filled out. You should follow the given instructions carefully at this stage. Later, when you wish to fill up your DS-160, you can select and upload your application.
Do you need to take a hard copy of your completed DS-160 form to your US visa interview?
On the confirmation page, after submitting your DS-160, you will be able to see the Application ID number. This application number needs to be reported to your US visa interview. You will need to take a print of the confirmation page and take it with you since your visa application will not be processed if you fail to give them a copy of the confirmation page.
Which documents are needed to fill up the DS-160 form?
You need to have some particular documents with you when you are filling up your form. These are:
Your passport
If you have already made your travel arrangements, keep your travel itinerary handy
Keep a record of your previous travel to the US handy, as you will need to quote their dates
You will also need your international travel history during the last five years
You will have to use your resume to provide information about your work history and education
Conclusion
The DS-160 form is the first step that you need to take in your visa application process if you wish to travel to the US and stay temporarily. You will need approximately 90 minutes to submit a DS-160 form. Once you submit the DS-160, you can go ahead and plan your visa interview.