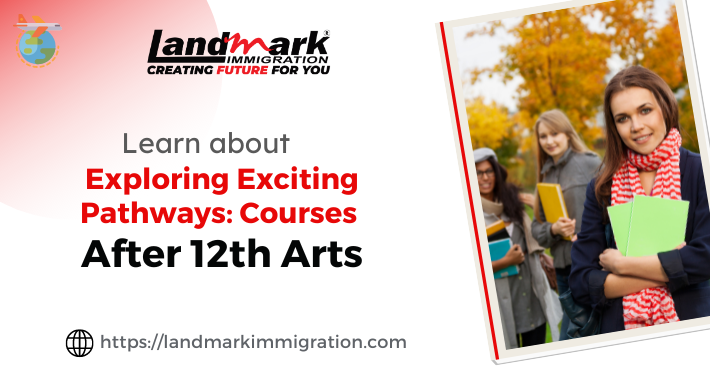 The 12th standard, a significant milestone in every student's academic journey, is the foundation for their future. It paves the way to numerous exciting career paths, particularly for Arts students.
The decision can be overwhelming with an array of courses after 12th Arts. Making the right choice is crucial – a course that aligns with your passion, aptitude, and future ambitions.
Choosing the Right Course After 12th Arts
Choosing courses after 12th Arts should primarily depend on your interests and career aspirations. Choosing the right course after completing 12th arts requires careful thought and analysis. Here are some steps that can help you make an informed decision:
Self-Analysis:
Understand your strengths, weaknesses, interests, and long-term career goals. Ask yourself questions such as, "What are the subjects I enjoy most?" or "What kind of job do I see myself doing in the future?"
Explore Fields of Study:
There's a wide variety of courses available for arts students such as Bachelor of Arts (BA) in History, English, Sociology, Political Science, Psychology, etc.
There are also professional courses such as BBA (Bachelor of Business Administration), Bachelor of Hotel Management, BFA (Bachelor of Fine Arts), Bachelor of Design (B.Des), Bachelor of Mass Media (BMM), etc. Research these courses and find out which one aligns with your career goals.
Career Scope:
Look at the job prospects, career growth, and earning potential of each course. You can refer to websites, career counselors, and industry professionals for this information.
Universities and Colleges: Make a list of potential colleges and universities that offer the course you are interested in. Look at their course curriculum, faculty, placement record, and overall reputation.
Entrance Exams:
Some courses might require you to clear an entrance exam. Prepare well for these exams to ensure your admission into the course of your choice.
Seek Guidance: Discuss your options with teachers, career counselors, and family members. They can provide you with a different perspective and might suggest options that you hadn't considered.
Attend Webinars and Workshops:
These can provide insights into various career options, industry expectations, and future trends. It can help you make an informed decision.
Internship/Work Experience: If possible, get some practical experience in the field you are interested in. An internship or part-time job can give you a feel of the industry and help you understand if it suits your expectations.
Top Courses to Pursue after 12th Arts
Arts students have many options that allow them to explore their creativity and intellect in depth. Some of the most popular undergraduate degree courses include:
Bachelor of Arts (B.A)
This undergraduate degree is the epitome of versatility, allowing students to specialize in many areas, from English Literature to Sociology, Political Science, or Psychology.
Each subject opens up various career paths in education, civil services, social work, law, journalism, etc. The skills gained, such as critical thinking, communication, and research, are highly valued across industries.
Bachelor of Fine Arts (B.F.A)
The B.F.A program is a paradise for creative minds, providing the necessary skills for careers in the world of art and design. Specializations like Painting, Sculpting, or Applied Arts allow students to harness their creativity while gaining professional competence. Graduates can pursue careers as artists, illustrators, art directors, or art teachers.
Bachelor in Hotel Management (B.H.M.)
The hospitality industry is continuously growing, creating abundant opportunities for B.H.M. graduates. This course imparts industry-specific skills like food and beverage management, housekeeping, and front office operations. Career paths include hotel manager, event manager, or restaurant manager.
Bachelor of Business Administration (B.B.A)
This business-oriented course instills management and leadership skills, preparing students for various roles in the business world. Specializations like Finance, Marketing, and H.R. open doors to roles in corporate firms, banks, or even entrepreneurial ventures.
Bachelor of Fashion Designing
This course provides in-depth knowledge of fashion trends, garment manufacturing, textile science, and more. Aspiring fashion designers can create a portfolio and work towards roles in fashion houses, garment manufacturing firms or even establish their labels.
Diploma Courses After 12th Arts
Diploma in Interior Designing
This course is an excellent choice for those with a keen eye for design and detail. It teaches students about spatial planning, materials, color theory, and more. Graduates can pursue careers as interior designers, consultants, or stylists.
Diploma in Event Management
Students learn the essentials of planning, coordinating, and executing various events. This can lead to roles in event management companies, corporate firms, or starting your event management service.
Diploma in Graphic Designing
The course equips students with technical skills to create visual content for marketing, branding, and communication. Graphic designers are highly sought-after in advertising agencies, publishing houses, and I.T. companies.
Diploma in Retail Management
This course offers insights into retail operations, supply chain management, and marketing. Graduates can work in various capacities within the retail sector, including store management and retail marketing.
Diploma in Photography
This course provides practical skills in various types of photography, from product and fashion to wildlife photography. Graduates can work as freelance photographers and photojournalists or start their photography businesses.
Conclusion: Time to Embark on Your Journey with Landmark Immigration
Choosing the right course after 12th Arts is a critical decision that shapes your career path. At Landmark Immigration, we understand this significance. Our best study visa consultants can aid you in picking the course that matches your passion and potential, setting you up for a successful and fulfilling career.
Embark on your journey today, explore your interests, and make an informed choice for your future with Landmark Immigration. The world of arts is expansive and exciting – delve in and discover your path!