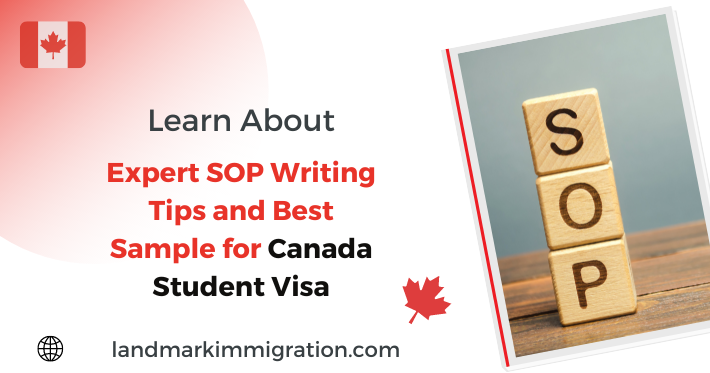 The statement of purpose is a crucial document that students must submit when applying for admission to universities abroad.
In this long-form essay, you should provide detailed information about your academic and professional background, outline your career path and future goals, and explain your reasons for choosing the specific course, country, university, and study abroad experience.
The SOP you provide to universities will be evaluated by the admission committee members, while the SOP for a Canada student visa will be reviewed by visa officers.
These individuals will carefully assess your capabilities, skillset, level of interest, and passion for the field as expressed in your SOP. Your goal is to make them choose you among all the other applicants seeking to study in Canada.
In this blog, we will walk through the expert SOP writing tips along with the best SOP samples for Canada student visa.
Understanding the Difference between Student Visa SOP and University SOP
If you're applying for a Canada student visa, it's important to create a strong statement of purpose (SOP).
Your SOP should explain why you've chosen Canada as your study destination, provide a summary of your coursework, detail your academic and professional background, outline your future career plans, and explain why you've chosen to study at your particular institution and in your particular course.
Remember that immigration authorities will review your SOP, so it's important to focus on justification and explanation throughout your writing.
When crafting an SOP for Universities, you can use the same information as for your Canada student visa application, but be sure to focus more on why you're the perfect candidate for admission.
You'll need to submit a separate SOP for each university you're applying to, but you can use the same SOP for your Canada student visa application.
To make sure your SOP is compelling, use clear and concise language and avoid jargon. Organize your ideas logically, break down lengthy sentences into shorter ones, and proofread for any remaining errors or inconsistencies.
Format for writing SOP for Canada Student Visa
Once you have received an admission offer from a Canadian university, it is crucial to promptly apply for a Canadian student visa. As part of the application process, you will need to submit a Statement of Purpose (SOP) specifically for your student visa.
It is important to approach the preparation of your SOP for the student visa with great care, as it will differ slightly from the one you previously used to apply to universities.
When writing your SOP for the student visa, the purpose is to provide an explanation to the visa officer about why you have chosen Canada as your academic destination, why you have applied for a particular course or university, what your academic aspirations are, and what your plans entail after completing your studies.
Ensure that your SOP for the student visa is clear, concise, and well-structured. Use language that is straightforward and relatable to the visa officer.
Keep in mind that this SOP serves to demonstrate your genuine commitment to your academic pursuits and your intention to contribute positively to Canada's educational landscape.
Factors to Follow While Writing SOP for Canada Student Visa
Introduction: Setting the Tone
The introduction of your SOP serves as the foundation for the rest of your content. Given that visa officers review numerous SOPs, clarity and simplicity are key. Consider incorporating the following elements:
Introduce the course and university you've chosen, highlighting why you're drawn to them.
Explain your decision to study in Canada and the significance of your chosen subject.
Consider opening with a relevant quote that aligns with your academic or professional journey.
Touch on your plans and how the chosen course contributes to your aspirations.
Personal Information: Showcasing Your Identity
In this section, briefly discuss your family background while keeping the focus on yourself. Highlight how your family's values and support have shaped your work ethic and drive, contributing to your academic and professional goals.
Academic Background: Building Your Foundation
Detail your educational journey, focusing on high school and college experiences. Emphasize accomplishments, extracurricular activities, and competitive exams. If relevant, discuss projects and certification programs that align with your Canadian course or long-term objectives.
Professional Experience: Bridging Academia and Work
If you have work experience, connect it to your educational background, the chosen Canadian course, or your future goals. Highlight promotions and achievements that demonstrate your growth and potential.
Reasons to Select the Course: Demonstrating Alignment
Show your in-depth understanding of the chosen course's relevance to your past experiences and future aspirations. Discuss technical or academic aspects that intrigue you, any interesting faculty projects, and specific modules that align with your plans. If pursuing a different field for your master's, provide a clear rationale.
Reasons for Attending a Specific University: Expressing Your Qualification
Explain why you've chosen the specific university for your studies. Detail academic facilities, placement opportunities, student-faculty ratios, and research projects that resonate with your goals.
Professional Objectives: Mapping Your Future
Outline both short- and long-term goals. Short-term objectives should align with university tasks like research projects, internships, or specific placements. Long-term goals should connect your desired industry to your chosen course in Canada, showing how you plan to contribute.
Source of Funds: Showcasing Financial Stability
Highlight your financial stability, not only in your application but also in your SOP. Assure immigration officers that you can support yourself during your time in Canada.
Conclusion: Looking Ahead
In your conclusion, briefly discuss what you hope to gain from your Canadian experience. Express gratitude to the university for the opportunity and acknowledge the visa officer for considering your application.
Here is one of the best SOP samples for Canada student visa you can try now.
An SOP Sample for Your Reference
To,
The Visa Officer,
Canadian High Commission,
[City]
Subject: Statement of Purpose for Canada Student Visa Application
Respected Sir/Madam,
I am writing this statement of purpose with utmost sincerity to express my genuine intentions and aspirations for pursuing higher education in Canada.
I'm [Your Name], an enthusiastic student from [Your City], India, seeking to embark on an academic journey that will shape my future endeavors. I am writing to seek your approval for a Canada student visa to facilitate my pursuit of excellence at [University Name] in the [Degree and Course Name] program.
Personal Background:
I hail from a close-knit family situated in [Your City]. My father, [Father's Name], holds the position of [Father's Profession] at [Father's Workplace], while my mother, [Mother's Name], contributes immensely as a dedicated homemaker. I have two siblings, [Sibling 1 Name] and [Sibling 2 Name], both actively engaged in the professional realm, specifically within [Their Professions].
Academic Background:
My educational journey commenced with my secondary education at [Your School Name]. Following this, I embarked on my academic pursuits at [Your Bachelor's College Name], where I completed my [Bachelor's Degree and Course Name] with commendable grades. My dedication to English language proficiency led me to achieve a [IELTS Band Score].
Professional Background:
Seeking practical exposure, I entered the professional realm by joining [Your Previous Organization Name] as a [Your Job Role]. During my tenure, I was responsible for [Your Responsibilities], working collaboratively on projects such as [Project 1] and [Project 2].
This experience equipped me with technical and soft skills, and I achieved [Your Achievements in the Organization]. My time at [Previous Organization Name] has been pivotal in honing my core competencies in [Relevant Skills Gained].
Reason for Choosing the Course in Canada:
My intrigue for [Your Chosen Field] stems from its intricate technical aspects and continuous evolution. To further explore my specific interests and potential, I delved into [Relevant Field] during my employment.
This hands-on experience illuminated the need for a deeper understanding, which fuels my decision to pursue graduate studies in Canada. The guidance of my seniors and thorough research revealed Canada's status as a prominent study destination for [Your Course Name], validating my choice.
Why [University Name]?
My meticulous research led me to [University Name], a globally esteemed institution renowned for its academic excellence.
The cutting-edge infrastructure, comprehensive research facilities, expansive study resources, and the [Additional Highlights] underscore [University Name]'s commitment to fostering holistic learning experiences.
Moreover, the vibrant academic community and career development programs align perfectly with my aspirations.
Financial Details:
I understand the financial responsibilities that come with studying abroad, and I am committed to meeting them.
My parents and I have collectively arranged funds for my tuition, accommodation, travel, and living expenses. I have secured an education loan from [Your Bank Name], which will further support my educational journey.
Conclusion:
In conclusion, I am excited to embark on this transformative academic journey at [University Name] in Canada. I am convinced that this experience will not only enhance my knowledge but also equip me with the skills necessary to excel in my field. I earnestly request your favorable consideration of my Canada student visa application to facilitate my pursuit of academic excellence.
Thank you for your time and consideration.
Warm regards,
[Your Full Name]
So you must have understood how to write an SOP for a Canada student visa. And we have picked one of the best SOP samples for Canada student visa which will surely help you.
If you have still any doubts on mind or want to learn more about SOP, get in touch with our Canada visa consultant at Landmark Immigration now. We will be happy to help you. Contact us now!