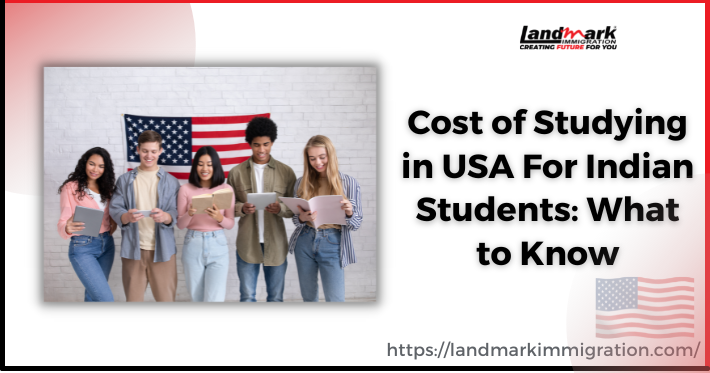 If you are looking for the cost of studying in USA for Indian students, you are lucky. 
This article gives you some useful information on the average annual tuition costs and the average living costs for an Indian student studying in the US.
Cost of living in the USA for Indian students
When planning to study in the USA, you must consider the cost of living in the country. Living costs can add up quickly. Consider working part-time while studying. 
The living costs can range from $8,000 to $12,000 per year, depending on your lifestyle.
The costs of living vary from state to state. 
Generally, the more expensive areas of the US are located in cities. However, many suburban areas have lower living expenses. Some states with the lowest living costs are in the Midwest.
For example, the average apartment in Boston can cost as much as 3,000 USD a month. This is a more modest living expense than the higher costs of Seattle or San Francisco.
For Indian students, the estimated student living cost in the USA can vary greatly. This includes costs associated with housing, food, transportation, and entertainment. It can also include tuition fees and medical expenses.
Things to consider while evaluating cost of studying in USA for Indian Students
1. Tuition fees vary for different universities
For Indian students, the cost of studying in the USA varies greatly depending on what type of institution they want to study at, the degree program they are interested in, and the location of the school. 
The average tuition fee for an undergraduate course in the US ranges between $2 lakh to $40 lakh. Similarly, the cost of an MBA degree can vary depending on the college, location, and course.
Tuition fees and living expenses are the major factors determining the total cost of study in the USA. The average student spends roughly $10,000 to $12,000 per year on living expenses. This figure varies significantly from city to city and from state to state.
The cost of studying in the USA is lower than in many other countries. However, it is important to take into account the costs of travel, insurance, and supplies.
The cost of a bachelor's degree in the USA ranges between $20,000 to $35,000 for public and private universities. A Master's degree costs, on average, over $100,000.
2. Community colleges are cheaper than public colleges
Community colleges offer students an affordable way to earn an associate's degree. They are cheaper than four-year schools and usually have smaller class sizes.
These colleges are also often cheaper than private universities. Depending on where you live, you can save money on tuition and textbooks. 
However, you should be careful about how you spend your money. You may be able to find used books and school equipment, but you should be prepared for registration and textbook costs.
Community college graduates can enter the job market quickly. Some of these graduates are able to work in high-paying professions right away. 
Students can also transfer to a four-year college to earn a bachelor's degree. Researching your school's transfer process before you commit to a plan is important.
A community college may have different social opportunities than a university. This is due to the fact that the students attending these institutions typically live in their communities. But they still have access to activities like sports and clubs.
3. Public universities are cheaper than private universities
The cost of attending college has become increasingly unaffordable for many students. Private colleges and public universities are popular options for those who want a good education without breaking the bank. However, both have their advantages and disadvantages.
First, the costs of attending a private college tend to be higher than a public one. Tuition prices for private universities are estimated to be nearly 50 percent higher than at public schools. This is because the government does not fund private colleges. Instead, they are financed by tuition, fees, and donations.
Private colleges also have the advantage of smaller campus sizes and class sizes. They also have a greater selection of degree programs. Consider attending a private university if you want to specialize in a certain field.
Aside from tuition, the other major costs at private institutions are room and board. The rest of the cost includes books and supplies.
4. Boarding schools are cheaper than public schools
Boarding schools are a type of educational institution that provides formal instruction to pupils. They are often situated in a rural setting. The main goal of a boarding school is to produce economically self-sufficient students.
Some boarding schools also offer day programs. A typical boarding school has several residential houses, some of which are on campus. Sometimes, the school has an on-site store or snack bar, a gym, and a theater. These facilities serve as amenities in addition to the academic curriculum.
Another type of boarding school is a military academy, which provides strict discipline. This type of boarding school serves children from rural areas and those with special needs.
Many schools also have athletic and recreational facilities like swimming pools, gymnasiums, and a student recreational center. There are many variations on the boarding school theme. For example, some schools charge for breakfast, and others have a dress code for certain meals.
5. Scholarships available to Indian students
The US offers a variety of scholarships for international students. Some of them are purely government-funded, while others are privately funded. Moreover, some scholarship programs are specific to a country or subject. Looking for scholarships that apply to your study in the United States is important.
Several US colleges offer scholarships to international students. These scholarships are offered by the college itself or by private donors. You can find information about available funding sources online. Besides, you may contact your school counselor to get an assessment of your qualifications.
There are two types of scholarships: merit-based and need-based. Merit-based scholarships are given to applicants who are academically talented or have a special skill. For instance, they could be for athletes, musicians, artists, or entrepreneurial ventures. On the other hand, need-based scholarships are awarded to international students based on financial need.
Many universities offer partial and full scholarships to international students. Partial scholarships usually cover a portion of the tuition fee and living expenses. Nevertheless, they still require other sources of financing.
The Fulbright-Nehru Research Scholarship is among the most prestigious scholarships available to Indian students. This scholarship can be used at several colleges in the US. It provides a stipend and accommodation, airfare, and accident and sickness coverage.
These scholarships are available for full-time study in the United States. In addition, the AAUW Fellowship Program offers a grant to support post-graduate students in the US.
Another popular scholarship for Indian students is the SEED Foundation scholarship. The SEED Foundation provides scholarships to aspiring students from the Indian subcontinent with good academic records.
In addition to a solid academic record, you must be of Asian-Indian ethnicity and complete a full-time course in a US university in the fall.
Conclusion
In conclusion, studying in the United States for Indian students can be cost-effective. The high quality of education and opportunities available in the US makes it an attractive place to study.
This blog successfully highlighted the necessary information about the cost of studying in the USA for International students.
Landmark Immigration is one of the best immigration consultants offering the best information to aspirants willing to study abroad.