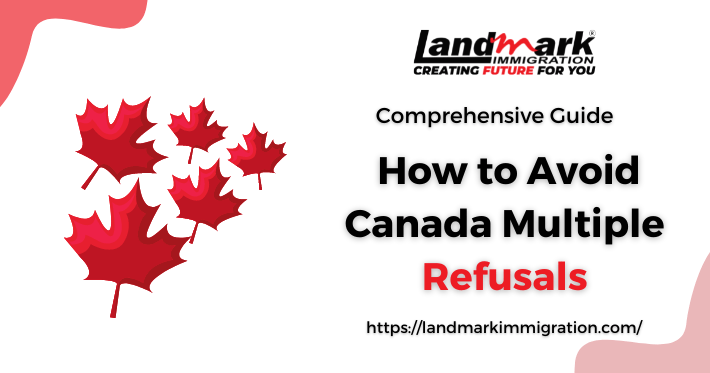 Comprehensive Guide for How to Avoid Canada Multiple Refusals
In this blog by Landmark Immigration, we will discuss the process that candidates, whose study visa applications got rejected (even multiple times), can use to secure their study visas for Canada.
This video will also discuss the possibilities and means of achieving good results. It will also tell you about the points to take care of and how the rejection can be negated based on the province where you are applying – be it in Toronto, Montreal, British Columbia, or Vancouver.
Another aspect will be to discuss the alternatives to Canada in case you keep getting the refusals and don't see a way out of them.
Please watch our video for deep details
What are the options with a candidate if they face multiple refusals?
First off, students need to understand why they get multiple refusals.
Let us take an example of a student who faced 4 refusals. He had applied for a package study visa but was not aware of which college to apply to, how to fill the form perfectly, or where to submit his file for processing.
Here, the fault is not of the student. The real problem is that the student did not have guidance on how to choose a college to apply for, and also was not aware of the family income level and the documentation required to apply for the study visa.
In such cases, the first step is to apply for GCMS notes which is a system used in Canada to process immigration, student visa, tourist visa, citizenship, and any other visa applications.
One has to look for clear directions and guidelines otherwise it might result in a ban on the student applying for the student visa. The first step is to understand that the student has to apply to a government college.
Then comes the step where the student has to choose which college to apply to. This is quite important because many candidates end up applying for those colleges where the yearly intake of students is in thousands.
In such colleges, it is obvious that the probability of a study visa acceptance rate will be less. On the contrary, if a student applies for a college that has an intake of suppose 300 students per year and receives only 400 applications, the probability of the student getting a study visa increases significantly.
The next step is to understand that if you are getting multiple refusals from a city, you have other great options in other cities that should be considered. It is better to apply to a college in a smaller town where students are required, and the chance of visa acceptance is higher.
What if I am doing everything right and still getting multiple refusals?
Even if you manage to follow the aforementioned processes and submit your application as best as you can, including complete financial documents and a strong SOP, there are still chances that your study visa application will get rejected by the Canadian authorities.
In such a scenario, the only option is to finally choose a country other than Canada for your study visa. It becomes very important to analyze the file that was submitted and represent the case clearly.
The proper assessment helps in identifying the best opportunity for the student and then choose a country accordingly where their study visa acceptance rates will be higher.
What are some of the most common reasons for refusal of a study visa application in Canada?
Some of the most popular reasons for rejection of study visa by IRCC (Canada) are:
• Insufficient financial capacity for the student
• The program applied for does not match the applicant's employment or academic background
• The acceptance letter of the applicant is in question
• The applicant lacks English language proficiency
• Identity or travel documents are incomplete
• The applicant's intent to return to their home country post the successful completion of their course is under doubt
• There is a lack of job prospects in the home country
Checklist to follow to reduce the chances for the study visa rejection
• Make a list of mandatory documents required for submission for the study visa. It can be obtained from the Canadian Government's official website
• Completely and carefully fill the visa form. No column blank should be left blank
• A copy of the offer letter received by the student from the college or university should be uploaded
• For candidates having prior professional work experience, bank statements or salary slips along with employment documents should be submitted as proof
• If there is any travel history or visa rejections, they should be clearly mentioned in the visa file
Conclusion
While it is common to face multiple rejections while applying for a study visa in Canada, there are certain processes and guidelines that you can follow to increase the chance of your application being accepted by IRCC.