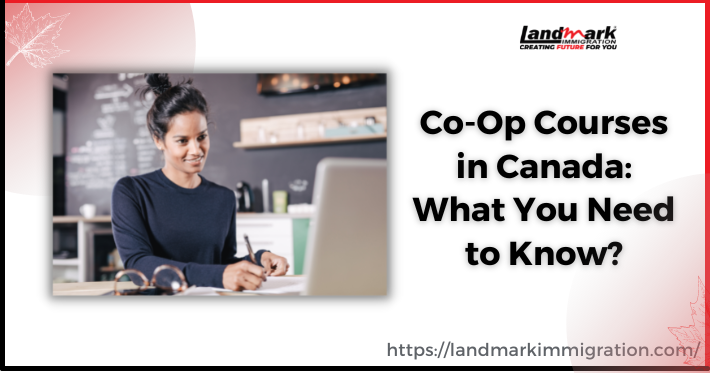 Co-op courses in Canada are a great way to gain work experience, but they're also a great option for people looking to advance their careers.
These courses can be taken in a variety of fields, from nursing to social work. Here are some important things to consider before applying to one.
This blog will discuss with you everything about eco-op courses in Canada.
Benefits of Co-op Courses in Canada
1. Better Way of Earning
Co-op courses are a good way to make money while you're studying. They help you build your resume and gain real-world experience. This can increase your chances of landing a high-paying job.
In Canada, students can get paid up to $20 per hour. A co-op position usually lasts three to 12 months. Students also work on a team.
2. Professional Skills
As an international student, you may choose to enroll in one of the great Canadian CO-OP programs. These programs are designed to provide you with the professional skills you need to succeed. You'll learn the ins and outs of your field and network with other professionals in the industry.
Most universities require you to complete two or three co-op programs. Each co-op term counts for three units of credit. However, you don't have to complete a full GDDA course during your time in the co-op.
The University of Ottawa, for example, offers a great hands-on program for students. Many companies seek experienced applicants. It's a great way to learn about the business world, meet key players in the market, and discovers if you're a good fit for their company.
3. Enhance Career
Co-op courses are a great way to enhance your career in Canada. They combine academic coursework with paid work experience. These programs are available in most post-secondary institutions in the country.
In general, students are required to participate in two or three co-op programs during their time in college. While they do not necessarily guarantee employment, they will often increase your chances of finding a position after graduation.
Co-op courses are a great fit for international students, as they provide a unique opportunity to gain practical experience in a specific field. Many companies are interested in hiring graduates with work experience.
4. Strong Network
Students who choose to take part in co-op programs will also benefit from the network of their classmates. Through these programs, they can build relationships with key players in the market. This networking can be crucial to your future professional success.
5. Work experience does matter
The Co-op program in Canada is an excellent opportunity for international students to gain professional experience. By working for a company in a field related to their studies, international students can earn a salary and pay for living expenses in Canada.
Students who want to apply for a CO-OP program should first analyze available opportunities and consider their profile. This will help them make better decisions in the current job market. It will also help them build a network of professionals in their field.
All international students who have received a valid study permit and a work permit in order to pursue a work permit are eligible for a co-op position. They can acquire a work permit from Immigration Canada.
If you possess a study permit and a working permit, you can begin receiving qualifying work experience. There is a wide range of co-op programs in Canada. Each program is tailored to the specific needs of the student.
Cost
Co-op courses in Canada offer students a unique opportunity to earn an education while working in a professional setting. It's a great way to get the experience you need to start your career while improving your skills.
There are a lot of factors to consider when choosing a co-op program. This includes how much the fee will be, how long the program lasts, and where you will be working.
The cost of co-op courses in Canada is higher than the tuition fee of regular courses. However, they do give students the chance to acquire real-world experience and make connections. They also enable students to increase their chances of landing a well-paying job after graduation.
Most universities expect students to complete two or three co-op programs. Each co-op work term is usually four months. Depending on the institution, the work term may last for as long as eight months.
You should check with the Admissions and Student Recruitment office to find out more about the cost of co-op courses in Canada.
Universities Offering Co-Op Courses in Canada
If you're looking to start your career with a co-op course in Canada, there are many universities to choose from. However, it can be a daunting task to decide which one to attend. So, before you sign up, it's important to learn more about each of the universities to avoid making a mistake.
1. Waterloo
If you are interested in getting a graduate degree in Canada, then the University of Waterloo is probably the top choice. It offers a variety of programs in the humanities, business, science, and engineering.
The school also has a number of satellite campuses all over the world. As part of its educational program, the university has a vibrant entrepreneurial culture. It has several co-op work opportunities for students. Students can work for Canadian-based businesses and organizations, all around the globe.
Students can choose to work for companies across Canada, as well as throughout the world. This is an excellent way to gain future-ready skills and explore a career. Some of the jobs that are available to co-op students are in the healthcare, environment, and technology sectors.
2. UTSC
The University of Toronto Scarborough (UTSC) offers a robust Co-op program that allows students to develop the skills and experience to secure a rewarding career after graduation. With more than 50 co-op programs and internships to choose from, UTSC students have the option to work with reputable businesses and organizations.
UTSC's Computer Science (CS) program has a major CS Co-op and a Specialist CS Co-op, both of which require a core of nine credits and three four-month work terms. Students in CS are also encouraged to take advantage of the UTSC's Studio program, which includes hands-on art classes and a video and photography component.
UTSC's management program is also known for its cooperative education initiatives. Students learn real-world applications of academics while building networks and a resume.
3. Conestoga College
Conestoga College is one of the leading polytechnic education providers in Ontario, Canada. It offers a number of programs, including more than 200 career-focused courses. The school also has seven campuses across Ontario, providing students with multiple entry points to learning.
The college has a wide range of co-op courses, with more than 70 options. Co-op courses, which are more expensive than regular courses, aim to provide students with practical knowledge and skills. They are often used in graduate programs, allowing students to earn while they study.
4. McGill University
Co-op courses are offered by universities in Canada. They provide students with supervised and paid work experience that enables them to gain skills necessary for entering a specific profession.
The University of Waterloo offers one of the largest Co-op programs in the country. Its program allows students to work in a variety of fields, with a salary ranging between $8,400 and $19,800 per work term.
Students must obtain a co-op work permit from Immigration Canada to use as a trainee. The permit will allow them to take any job for their employer, as long as it's required for their studies.
5. U of T
The University of Toronto (U of T) is a leading Canadian university that offers co-op courses for undergraduates. This is an ideal way to gain valuable work experience in an industry of your choice, while also learning and preparing for future careers.
Across several different disciplines, more than 250 courses are offered by this university. Students can study a variety of subjects, including computer science, accounting, finance, human resources, and management, as well as the arts.
Students can choose from a wide range of work terms in reputable businesses, from small startups to major Canadian banks. In addition to offering on-the-job training, the U of T Scarborough Co-op programs prepares students for rewarding career opportunities after graduation.
In a variety of departments, students can study subjects such as linguistics, English literature, journalism, visual arts, international development issues, and regenerative medicine. Additionally, the Department of Management provides specialist degrees in accounting, information technology, finance, human resources, and marketing.
Conclusion
In conclusion, co-op courses in Canada offer students the opportunity to learn about new and different fields of study while working together.
This is a great way to gain experience in a variety of fields, and it can also help you find a career that fits your skills and interests.
To acquire assistance regarding co-op courses in Canada contact Landmark Immigration.