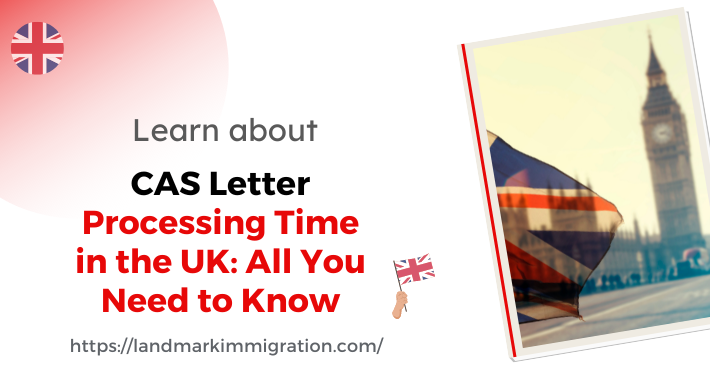 Want to study abroad in the UK?
There are requirements for documentation in obtaining student visas to the UK. This includes English proficiency assessments, filling in the application form, and collecting academic and financial documents. However, in addition to all of this, it is important to pay particular attention to The CAS Letter.
The CAS Letter is crucial, in particular for a UK Study Visa. This blog will cover all important information regarding this CAS letter. Most importantly, we talk about CAS Letter processing time in the UK.
What is CAS Letter?
CAS means Confirmation of Acceptance to Study. It's an electronic document that proves that a particular university or college has admitted a student to a program of study. The institution or school will give you the CAS number, which must be included when you apply for a visa.
The CAS letter also contains specific information regarding your program, including the beginning and ending date, course information, and tuition costs.
Significance of CAS Letter
A CAS letter is essential for international students who want to pursue their studies in the UK. It is required to apply for a Tier 4 student visa; this is the type of visa you'll need to pursue your studies within the UK. A CAS letter is crucial since it provides information on your course, which must be included in the visa application.
How to Apply for CAS Letter?
If you want to be eligible for a CAS application, it is necessary to be offered a place at the college or university of the UK. If you accept the offer, your university or college will issue you a CAS id. It is necessary to mention this number when you fill out your application for a visa.
What is CAS Letter Processing Time in the UK?
The processing time for CAS letters in the UK depends on several variables, like the time of year, which university or college you're applying to, and the difficulty of the application. Generally, colleges and colleges must issue letters to CAS within ten working days after receiving all required documents from the applicant.
It's crucial to remember that processing times may take longer in peak times, like before the beginning of the academic year; therefore, submitting the CAS form as soon as possible is crucial.
Eligibility and Requirements for CAS
Suppose you want to qualify to receive a CAS certificate to be eligible. In that case, you need to have received an invitation from a UK college or university that you can take a full-time degree at or above level 6 of the UK National Qualifications Framework.
Additionally, you must show proof of having enough money to fund your study and other living expenses while in the UK.
For a CAS letter, you'll be required to submit these documents:
A passport or travel document
A certificate of your qualification
Proof of your English level of proficiency
Copy of tuberculosis (TB) test results (if needed)
Evidence of financial sponsorship or the capacity to cover the costs of living and tuition within the UK
Other documents may be requested by the college or university
Validity of CAS Letter
A CAS certificate is valid for a specific time frame, typically up to six months. You must submit your Tier 4 student visa within six months of receiving your CAS card.
If you submit your application for a visa within six months, you can apply for a new CAS from your university or college. This could take some time; therefore, submitting your visa as quickly as you receive the CAS letter is crucial.
Things to Consider While Applying for CAS Letter
There are some aspects to consider in submitting the CAS letter you're applying for:
Please ensure you are armed with all required documents before submitting your application. This will make sure that your application gets processed efficiently.
You must ensure that you are given sufficient time before the beginning of your program to apply to get your visa. The processing time for Visas can be different according to various factors; therefore, it is crucial to give yourself ample time for processing the application.
Be in contact with your school or university during the entire application process. If you encounter any problems or delays with your application, they will aid you in solving them.
Make sure you know the visa specifications for the country you your origin. Some countries may require additional conditions to be met when applying for a Tier Four student visa.
Conclusion
The CAS letter is crucial for international students who want to study in the UK. It is crucial to submit your application for the CAS letter as soon as possible and ensure you've got all the necessary evidence.
The processing time for a CAS letter will be different. Therefore, it's essential to give yourself enough time before the commencement of your studies to file your visa application. If you have questions concerning the process for applying to college or university, Landmark Immigration can assist you.