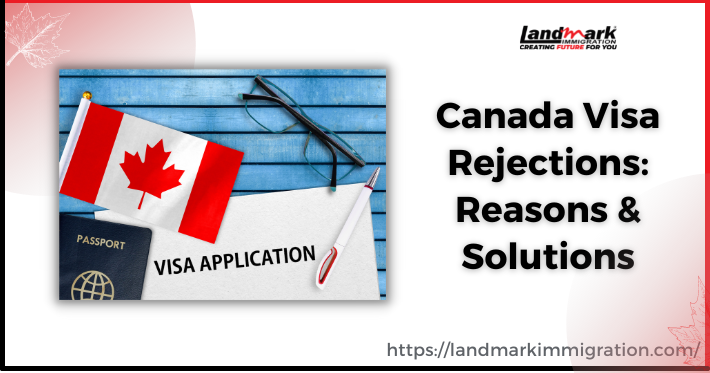 19 November 2022
Canada is a country that welcomes immigrants from around the world. There are numerous ways to immigrate to Canada, however, if you do not have your visa in hand by the day of your interview, you will be declined.
In this article, we will explore some common reasons for Canada visa rejections along with tips on how to strengthen your chances of being accepted into Canada.
Reasons for Canada visa rejection
Incomplete application.
Incomplete documentation.
Insufficient financial resources to support yourself in Canada.
Prior criminal record or immigration violations.
Please note that if you do not qualify for a visa, you will have to apply for one from the same country again once your case is complete.
1. Insufficient financial resources to support yourself in Canada
If you don't have enough money to support yourself in Canada, the visa rejection letter will say as much. This could be because of your age and family situation (can't afford to pay rent) or because of your employment situation (can't afford health insurance).
It's important to note that there are many factors that affect how much financial support you need while immigrating. The amount of money required depends on what type of lifestyle you want to lead—whether it's a good one!
The amount also depends on where in Canada you live; if it's remote or urbanized areas like Montreal versus Toronto or Vancouver BC respectively then those cities might require different amounts depending on where exactly they live within those cities!
Also, consider whether any children are included since each child requires additional funding beyond just their parents alone which makes sense because kids need things too but don't necessarily use them as often either so this could also add up quickly, especially if someone doesn't have extra cash lying around just waiting for another job opportunity elsewhere within Canada etc.
2. Prior criminal record or immigration violations
If you have a criminal record, or if your immigration violations are serious enough to warrant rejection, then it's likely that you will be denied entry into Canada.
If you have been convicted of a crime of moral turpitude (or if the Canadian Border Services Agency suspects that you may commit one), then they may also deny your visa application. In addition to such offences, any offence related to the security of Canada can also be grounds for denial.
3. False documents or misrepresentation
False documents. If you provide false documents, such as a passport with a different name or date of birth from the one that appears on your application, this may result in your visa being rejected.
Misrepresentation. You may be considered to have misrepresented yourself if you fail to disclose information that would affect how Canada will treat you (for example criminal record).
4. Medical issues and health concerns
If you have a medical issue or health concern, your visa request may be rejected. This could happen if:
You are not a Canadian citizen or permanent resident of Canada.
You are not a Canadian permanent resident on a work permit/study permit.
5. Security concerns in your reference country
If you have lived in multiple countries, and your reference country is one of those countries, you must select the country that you consider to be your home.
If you are not sure which country is your reference country, contact your visa office for further guidance.
So what can you do to avoid Canada visa rejections? In that case, go through our comprehensive guide on avoiding Canada's multiple refusals specially curated by India's best immigration consultants.
Conclusion
In summary, Canada visa rejection is not a reason to worry too much. The country is quite liberal and generous when it comes to immigration laws. The refusal follows only after crucial issues during the documentation process.
Consult the immigration experts at Landmark Immigration for eliminating the chances of Canada visa rejections.