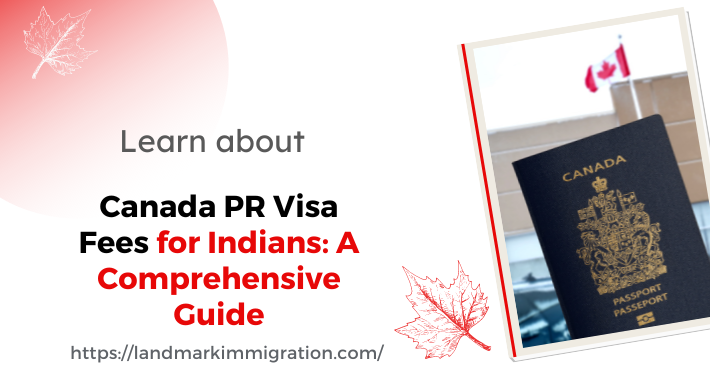 Canada has emerged as one of the most sought-after immigration destinations for individuals around the world, including Indians. Acquiring a Permanent Residency (PR) in Canada comes with a plethora of benefits, such as access to healthcare, education, social security, and numerous job opportunities.
In this blog post, we will explore the essential aspects of Canada PR Visa fees for Indians, helping you navigate the financial aspects of your immigration journey.
Understanding Canada PR Visa:
Permanent Residency in Canada is a status granted to foreign nationals, allowing them to live and work in the country permanently. As an Indian aspiring to move to Canada, obtaining a PR Visa is crucial.
It opens doors to numerous opportunities and paves the way for eventual citizenship. The pathways to obtain a Canada PR Visa include programs like the Federal Skilled Worker (FSW), Canadian Experience Class (CEC), and Provincial Nominee Programs (PNPs).
Eligibility Criteria for Canada PR Visa:
To be eligible for a Canada PR Visa, there are certain criteria you must meet. These include factors such as age requirements, educational qualifications, work experience, language proficiency (usually assessed through exams like IELTS or CELPIP), proof of funds, and medical and security clearances. Meeting these criteria showcases your ability to contribute to Canadian society and economy.
Canada PR Visa Fees for Indians:
Fees associated with a Canada PR Visa should be taken into account when applying. These fees may vary based on the immigration program you choose. The following are the key fees to consider:
Application Processing Fees:
Federal Skilled Workers (FSW):
The current processing fee for the FSW program is CAD 1,325 per adult applicant, and CAD 225 for each dependent child.
Canadian Experience Class (CEC):
The processing fee for the CEC program is the same as the FSW program.
Provincial Nominee Programs (PNPs):
The fees for PNPs vary by province, and each program has its own fee structure. It is important to research and check the specific fees for the PNP you are applying through.
Right of Permanent Residence Fee (RPRF):
The RPRF is a fee of CAD 500 per adult applicant, which is applicable once you receive approval for your PR Visa.
Biometric Fees:
Biometric fees are mandatory for all individuals aged 14 to 79. The fee for biometric collection is CAD 85 per person or CAD 170 for a family applying together.
Other Associated Costs:
Additional costs may include medical exams, language tests, educational credential assessments, police clearance certificates, and translations of documents.
Payment Methods and Refund Policies:
When paying the Canada PR Visa fees, you can use various methods such as online payment, credit cards, or bank drafts. Government authorities in Canada provide specific instructions. Make sure you follow them. Refund policies for Canada PR Visa fees vary depending on the circumstances and stage of the application. It is advisable to thoroughly understand the refund policies before making any payments.
Tips for Cost Optimization:
Navigating the financial aspects of the Canada PR Visa process can be overwhelming. Here are some tips to optimize costs:
Understand Fee Structures and Associated Costs:
Familiarize yourself with the fee structures and associated costs for the immigration programs you are eligible for. Taking this into consideration will make it easier for you to plan your finances.
Applying through Provincial Nominee Programs (PNPs):
PNPs often have lower application fees compared to federal programs. Research and explore the PNPs available to you, as they may offer more affordable options.
Utilizing Immigration Consultants or Lawyers:
While not mandatory, seeking assistance from reputable immigration consultants or lawyers can be beneficial in navigating the complex process. They can guide you through the fee structures, ensure accurate documentation, and help you make informed decisions, potentially saving you time and money.
Planning for Additional Costs: I
n addition to the application fees, it is crucial to plan for other expenses such as language tests, medical exams, educational credential assessments, police clearance certificates, and translations. Having a clear understanding of these additional costs will help you budget effectively.
Additional Resources and Support:
To gather accurate and up-to-date information on Canada PR Visa fees, it is recommended to refer to official government websites. The Government of Canada provides comprehensive resources that outline the fee structures and requirements for each immigration program. Reputable immigration consultants and lawyers can also offer valuable guidance and support throughout the process.
Additionally, online forums and communities dedicated to Canadian immigration can provide insights and experiences shared by individuals who have gone through the process themselves.
 Conclusion:
Acquiring a Permanent Residency in Canada is an exciting opportunity for Indians seeking a better future. While understanding and managing the Canada PR Visa fees is a crucial aspect of the immigration journey, it doesn't have to be overwhelming.
By familiarizing yourself with the various fees, eligibility criteria, and associated costs, you can plan your finances effectively and optimize your expenses. It is important to remain informed, seek professional guidance when necessary, and remain patient and determined throughout the process.
With the right knowledge and preparation, you can embark on your journey to Canada with confidence, knowing that you are well-prepared for the financial aspects of obtaining your PR Visa.
Landmark Immigration can assist you with the right way to get Canada PR visa.