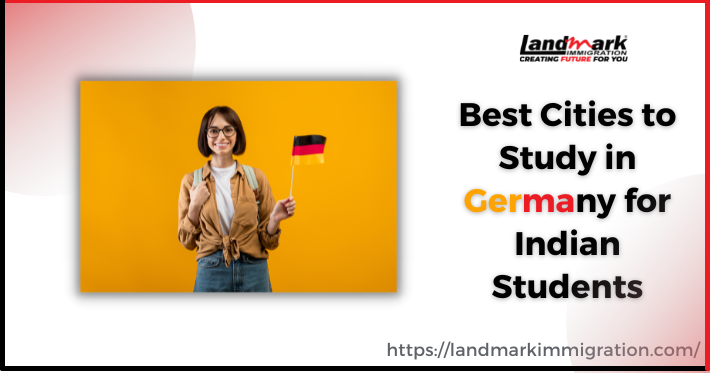 International students often feel confused when selecting the best city to study, particularly when it comes to countries like Germany. For a lot of international students, the topmost priority is the quality of education available in the city they want to study in Germany.
A piece of excellent news for international students looking forward to studying is that Germany offers a lot of great cities with colleges and universities. However, deciding which city in Germany is the best to study in can be a daunting task. To ensure that you make the best decision, here are the top German cities that you need to consider as an international student.
The best cities to study in Germany for Indian students
Berlin
Notable universities located in Berlin
Here are some of the best universities in Berlin:
● Berlin International University of Applied Sciences
● Charite University Berlin
● Berlin University Of Arts
● Berlin Institute of Technology
● Free University of Berlin
● Humboldt University of Berlin
Things to do in Berlin
You can experience studying in a city on your own, making the best out of everything that comes your way. When you are in Berlin, your day would be more pleasing by recognizing the renowned Berlin Wall as well as walking along the Spree River in Berlin while you are enjoying a cold coffee.
Munich
Notable universities located in Munich
Here are some of the best universities in Munich:
● Munich University Of Applied Sciences
● Ludwig Maximilian University of Munich
● Technical University of Munich
Things to do in Munich
When you are studying in Munich, you can enjoy and visit the various European cities located nearby. These are located in close proximity to the city with amazing transportation and allow you to enjoy the rest of the continent.
Hamburg
Notable universities located in Hamburg
Here are some of the best universities in Hamburg:
● Hochschule für Musik und Theater Hamburg
● HafenCity University Hamburg
● University of Fine Arts Hamburg
● Hamburg School of Business Administration
● Hamburg University of Technology
● HFH Hamburger Fern-Hochschule
Things to do in Hamburg
You can visit the countless museums and parks in Hamburg. You can even spend the entire day hanging out in various bars in the city, visiting the small museum, spending time at musical venues enjoying musicians, and experiencing conversation in the dark.
Dresden
Notable universities located in Dresden
Here are some of the best universities in Dresden:
● Palucca University of Dance Dresden (Palucca Hochschule für Tanz Dresden)
● Academy of Fine Arts Dresden
● University of Applied Sciences Dresden (HTW Dresden)
● Dresden University of Technology
Things to do in Dresden
As a student, you can tour the past and historic buildings in the city. You can also enjoy a picnic right outside the Z-winger Palace or the Dresden Castle. You can even take a Prague cruise. When you are studying in Dresden, you can also experience a lot of art and culture, such as visiting the galleries and enjoying cafes.
Cologne
Notable universities located in Cologne
Here are some of the best universities in Cologne:
● Cologne Business School
● German Sport University Cologne
● Cologne University of Applied Sciences
● University of Cologne
Things to do in Cologne
International students can spend their time visiting the monuments and tourist spots of the Nazi era. They can also tour the historic churches in the city and experience the events funded by Rhine Cruises.
Conclusion
Germany is one of the best countries to study for international students. German cities offer an enriched experience with their vast art and culture, splendid education, and numerous career opportunities. As an international student, you should be able to also focus on your personal growth as well as professionally, which is something you will never have to worry about in German cities.
For better guidance about your future as a student in Germany, it is best to consult international immigration experts at Landmark Immigration.