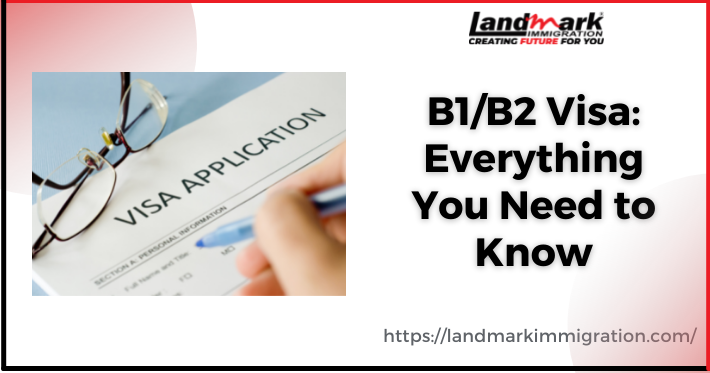 A B-category visa is a temporary type of visa to let the holder visit the USA for tourism or business in the USA. They are issued by the US government. There are generally two types of B visas–a B1 visa and a B2 visa.
The B1 visa is issued for business-related activities while the B2 visa is issued for tourism such as vacation or visiting a family. However, the US government also issues a combined B1/B2 visa to BUSINESS TRAVELERS who are looking to travel within the US for tourist activities during their stay in the US. This lets you travel to the US for business or vacation.
Almost all temporary visits are covered by B visas except for student travel that is covered by F-1 visas.
What Reasons of Travel are Covered by B1/B2 Visas?
The B1/B2 visas are issued for several reasons to travel to the USA that covers both business and tourism/non-business purposes.
Reasons for travel under this category include but are not limited to:
Getting involved in business activities, such as negotiating a contract or opting for a business meeting.
Holidaying or Vacation
Visiting Family
Treatment
Attending events such as classes, concerts.
What is Not Covered By B1/B2 Visas
However, the B1/B2 visa doesn't cover any of the purposes given below:
Long Term Employment
Paid events or paid performances
Permanent residence
Working as a foreign correspondent in film, print, or any other mass communication medium.
Also, keep in mind that a B-1/B-2 visa doesn't ensure permanent resident status. It is just a
TEMPORARY VISA is meant for tourism and business activities in the USA. However, the holder can opt for a green card.
The maximum duration of time issued for a B1/B2 visa is 180 days. The visa also allows multiple entries in the USA.
What Documents are Required for a B1/B2 Visa?
To apply for a B-1 or B-2 visa, the applicant needs to prove that the travel is temporary and they can fund their trip. Moreover, they have to prove that their intention to leave the nation once their "valid duration" to stay is over.
Documents Required to Apply:
Valid passport for six months
Recent digital photograph
Proofs of the fund to cover the cost of the trip
How to Opt for a B1 or B2 Visa
Complete the form DS-160 and apply online with the latest photograph.
Get an appointment for an interview. However, a minor or elderly over 80 are required to report to a consular officer at the nearest US embassy or consulate.
Deposit the application fee that can be $160. However, the fee may vary based on your location and paperwork.
Collect important documentation such as passport, birth certificate, copy of the application, and photographs.
How to Prepare for B1/B2 Visa USA
Your interviewer will a consular offer who will assess your eligibility for a visitor visa. Make sure to bring evidence to prove your purpose of the trip, your intent to depart the nation, and your ability to pay for the trip without doing a new job in the US.
Once your application is approved, you will be allowed to travel to a US port of entry. However, your visa doesn't make you eligible to enter the USA. You are still required to complete an interview with a Customs and Border Patrol (CBP) officer at a primary interview booth upon arrival. Your visa will be considered valid only when it has a stamp and permit by the officer.
We hope that this piece of information has been useful for you and that it has answered all your queries about B1/B2 visas. If you want to know more or need assistance with visa issues, get in touch with our immigration experts at Landmark.