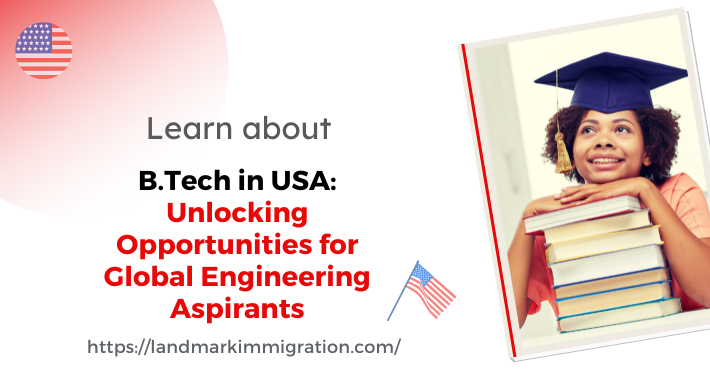 Getting a Bachelor of Technology (BTech) degree in the United States offers a wide range of advantages and challenges for international students. With its world-class education, prestigious institutions, and cutting-edge technological advancements, the USA is a preferred study destination for aspiring engineers. In this blog post, we will explore the reasons to study BTech in the USA, course highlights, top universities, admission process, scholarship options, and potential career opportunities.
Why Study BTech in USA?
Choosing the USA as a study destination for a BTech degree comes with several compelling reasons:
1. Globally Recognized Institutions:
The USA is known for its prestigious educational institutions, offering a quality education respected worldwide.
2. Research Opportunities:
Students at US universities can contribute to cutting-edge technology advances through research and classroom learning.
3. Specializations and Emerging Fields:
A wide range of BTech courses are offered in the US, including emerging fields such as artificial intelligence, data science, and biomedicine.
4. Practical Approach to Learning:
The US system stresses practical learning, encouraging students to participate in projects, laboratories, and real-world applications.
5. Scholarships and Financial Aid:
The government and educational institutions provide numerous scholarships and financial aid programs to reduce the financial burden for deserving students.
6. Job Opportunities:
Graduating from a US university opens doors to job opportunities in renowned tech giants, startups, and SMEs.
7. Optional Practical Training (OPT):
OPT programs allow students to gain work experience after graduation, enhancing their career prospects.
8. Diverse Learning Environment:
Interacting with peers from diverse backgrounds while studying abroad enhances a student's learning experience and personal development.
BTech in USA: Course Highlights
● Course Duration:
BTech programs in the USA typically span four years.
● Eligibility:
High school students are generally required to have a background in Physics, Chemistry, and Mathematics.
● Specializations:
Aerospace Engineering, Civil Engineering, Bioengineering, Mechanical Engineering, Electrical, and Computer Engineering are some of the popular specializations.
● Standardized Exams:
Students are required to take exams such as SAT/ACT for general admissions and IELTS/TOEFL to demonstrate English proficiency.
● Top Employment Sectors:
Engineering Services, Computer System Design, Manufacturing, and Construction are among the top sectors for BTech graduates.
Top Universities for BTech in USA
Several universities in the USA offer excellent BTech programs. Here are some popular ones:
Oregon State University
University of Alabama Birmingham
San Jose State University
Wright State University
Cleveland State University
University of Wisconsin Milwaukee
University of New Haven
Colorado State University
Arizona State University
California State University
Types of Engineering Degrees in USA
The U.S. education system offers a wide spectrum of BTech specializations, including both traditional and emerging fields. Some degree options are:
Bachelor of Engineering (B.Eng.)
Bachelor of Engineering Science (B.Eng.Sc.)
Bachelor of Science in Engineering (B.S.E.)/Bachelor of Applied Science (B.A.Sc.)
Bachelor of Science Engineering (B.Sc.Eng.)
These degrees cover areas such as Bioengineering, Energy Engineering, Chemical Engineering, Civil and Structural Engineering, Nuclear Engineering, Electrical Engineering & Computer Sciences, Engineering Mathematics & Statistics, Engineering Physics, Environmental Engineering Science, and Mechanical Engineering, among others.
The curriculum often includes core courses, electives, labs, and independent capstone projects or research.
BTech in USA: Admission Process
To secure admission to top universities and colleges in the USA for BTech programs, students should follow these steps:
Research and Shortlist:
Identify universities that match your interests and requirements.
Standardized Tests:
Take the necessary standardized tests, such as SAT/ACT and IELTS/TOEFL.
Document Preparation:
Collect and organize all required application documents.
Credential Evaluation:
Take advantage of globally recognized agencies such as WES or ECE to evaluate your academic credentials.
Online Application:
Submit the application for BTech in the chosen university.
Eligibility and Admission Requirements:
Present a complete profile showcasing academic excellence, standardized test scores, personal essays, and letters of recommendation. English proficiency is also required for international students.
Scholarships:
Explore scholarship options specific to engineering disciplines and apply accordingly.
BTech in USA: Scholarships
While scholarships specifically for BTech programs in the USA are limited, there are various scholarships available for international students at the bachelor's level. Some options include:
QS scholarships
International Education Fee Scholarship
Endowed Undergraduate Scholarship Funds
Ford Undergrad Engineer Scholarship
VueVille Future Technology Scholarship
BrokerFish International student scholarship
International students can also apply for scholarships through organizations like AAUW and IIE.
Jobs and Career Opportunities
The USA is home to numerous tech companies, offering abundant job opportunities for engineering graduates. After completing their BTech studies, students can pursue various roles, such as:
Staff Engineer
Civil Engineer
Design Engineer
Process Engineer
Software Engineer
Software Developer
Project Engineer
Project Manager
Environmental Engineer
Senior Software Engineer
Mechanical Engineer
Electrical Engineer
Manufacturing Engineer
Aerospace Engineer
Industrial Engineer
Chemical Engineer
Automation Engineering Manager
Conclusion
International students can discover a multitude of career options by earning a BTech degree by studying abroad in the USA. Despite the preparation and investment required, the transformative returns make it an attractive choice for aspiring engineers. With world-class education, research opportunities, and a diverse learning environment, the USA stands as a promising destination for BTech aspirants.
Dear Engineering Aspirants, Landmark Immigration is there to fulfill your desires to pursue BTech in the USA.