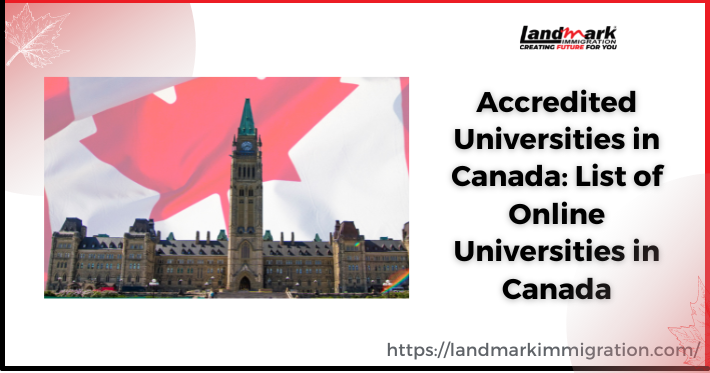 Today online education is getting especially popular worldwide, as it allows you to receive controlled settings knowledge without moving from home. The best Canadian online accredited universities offer degrees for various academic ranks, courses dedicated to narrow professional development, and relevant diplomas valued highly in the profession.
Why choose Canadian Online Universities?
There are many reasons why you may want to consider choosing a Canadian online university, including:
1. Convenience and flexibility: Online accredited universities allow you to study from anywhere, anytime.
This is especially useful for working students, having family commitments, or living far from a traditional brick-and-mortar university.
2. Access to high-quality education: Canadian online accredited universities offer programs and degrees comparable in quality to those offered by traditional universities.
Many of these programs are taught by experienced instructors and cover the same material as their on-campus counterparts.
3. Cost-effectiveness: Studying at an online university in Canada can be more cost-effective than studying at a traditional university.
Tuition fees are typically lower, and there are no additional costs for housing, transportation, and meal plans.
4. Wide range of programs and degrees: Canadian online universities offer diverse programs and degrees, from certificates to PhDs.
This means that you can choose the right program for you, whether you are just starting or looking to continue your education.
5. Access to support services: Canadian online universities offer various support services to help students succeed, including academic advising, online tutoring, and career services.
6. Enhanced opportunities for international students: Studying at an online university in Canada allows international students to study in a top-ranked country and gain a valuable Canadian degree without the challenges of relocating to a new country.
7. Improved employability: You are more likely to get hired with a Canadian online degree.
Canadian degrees are well-respected worldwide and can open up new career opportunities.
Admission requirements for online universities in Canada
It varies from institution to institution and program to program what admission requirements a student needs to attend an online accredited university in Canada.
However, here are some standard requirements for admission to online universities in Canada:
1. Educational background: Most online accredited universities in Canada require a high school diploma or equivalent for admission to undergraduate programs and a bachelor's degree for admission to graduate programs.
2. English proficiency: English is the primary language of instruction in Canadian universities, so most institutions require evidence of English proficiency, such as TOEFL or IELTS scores.
3. Academic transcripts: You must provide transcripts from any previous schools or universities you have attended.
4. Application fee: Many universities require fees to process your application.
5. The letters of recommendation: Certain programs may require letters of recommendation from professors, teachers, or other professionals.
6. Personal statement or essay: Many online universities in Canada require a personal statement or essay as part of the application process.
This is an opportunity for you to share your academic and personal goals and explain why you are a good fit for the program.
7. Resume or CV: Some programs may require a resume or CV to help the university understand your work experience and relevant skills.
It is important to note that these requirements may vary from institution to institution and program. Before applying, check the specific admission requirements for the online university and program you are interested in.
Top Online Universities in Canada
1. University of New Brunswick
The University of New Brunswick is the first English-speaking university in Canada and has a long and successful innovation and leadership in education.
It has programs that are among the first of their kind in Canada, which include forest and engineering.
The school also offers a range of degrees that can be completed online, such as a bachelor's in general studies and a bachelor's degree in historical studies.
The university is part of the Canadian Virtual University Consortium, and its degrees are recognized throughout the market for professionals.
The school has an admissions policy open to all, allowing students who do not have an educational background or formal qualification to enroll in their degree programs.
This makes it an excellent option for older students and students who have graduated from high school without getting a degree.
2. Queens University
Queens University is one of the most prestigious institutions in Canada, known for its engaging and collaborative learning, meaningful relationships between students and teachers, and a fusion of liberal and humanities and the work world.
The 178-year-old campus sits near Lake Ontario's shores and steps from Kingston's city center.
Recognized by the Canadian Virtual University Consortium, Queen's offers a variety of online courses in education, business tourism, arts, tourism, and technology.
The programs and diplomas it offers are highly sought-after on the professional market and provide a viable alternative for students seeking to further their careers.
3. University of British Columbia
UBC is regularly listed among the world's 40 most prestigious universities and is a West Coast institution that enables innovative thinking to be transformed into ideas that transform the world.
It inspires staff, students, and faculty to question convention as they lead discovery and discover different ways to learn.
UBC provides a range of online courses, which include those that are partially open, which means that you can sign up at any time you'd like with no requirements.
The other online programs are based on terms and have more interaction, including weekly assignments and online discussions.
Most of these classes also provide the opportunity to obtain a certified certificate from UBC for a nominal cost.
4. University of Toronto
The University of Toronto often called U of T, is one of the most research-intensive universities around the globe. It is known for its outstanding research, teaching, and research.
The school has an international perspective and works in close collaboration with other top institutions around the world to provide students with opportunities who are studying abroad.
Additionally, the school has several top institutions and academic facilities.
It's not a reason to be surprised that the University of Toronto offers a vast array of online classes, most of which are open to anyone to take.
If you're interested in studying public health, for instance, a couple of the University of Toronto online courses will be helpful for you.
Conclusion
In conclusion, there is an exhaustive list of online accredited universities in Canada.
These universities offer a wide variety of undergraduate and graduate programs, which can be tailored to fit the needs of individual students.
If you are considering an online university in Canada, check out the accredited institutions and find the one best suited for your needs.
Our expert immigration consultants at Landmark Immigration will suggest the best online universities in Canada according to your academic interests.