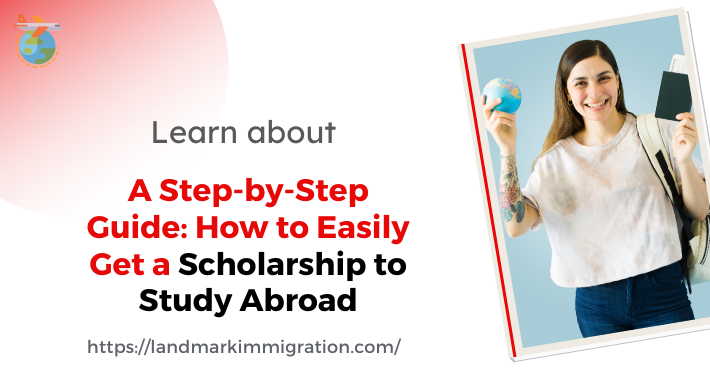 Do you dream of studying abroad but worry about the cost? Good news!
Scholarships offer a fantastic opportunity for Indian students to pursue their education overseas without breaking the bank. In this comprehensive guide, we'll walk you through the essential steps and strategies to help secure a scholarship to study abroad for Indian students.
1. Research, Research, Research
The first step in obtaining a scholarship to study abroad for Indian students is thorough research. Explore various scholarship opportunities for Indian students, such as government-sponsored scholarships, university-specific scholarships, and external funding options.
Websites, forums, and education fairs are great sources for discovering suitable scholarships. Know the scholarship eligibility requirements, application deadlines, and required documents before applying.
Stay organized by maintaining a spreadsheet with relevant information to keep track of your options.
2. Focus on Academics:
Academic excellence is a key factor that scholarship providers consider. Maintain a strong academic record throughout your education, which significantly improves your chances of securing a scholarship.
Aim for high grades, participate actively in class, and seek additional learning opportunities such as workshops, seminars, and certifications.
Remember to request letters of recommendation from teachers or professors who can vouch for your academic abilities and work ethic.
3. Extracurricular Activities and Leadership Roles:
Besides academic performance, scholarship committees often seek candidates who have demonstrated exceptional leadership skills and involvement in extracurricular activities.
Engage in activities that showcase your passion, commitment, and potential to contribute to the community. Join clubs or volunteer organizations, or start your initiatives to address social issues.
These experiences enhance your personal growth and make your scholarship application stand out from the competition.
4. Craft an Impressive Personal Statement:
Good personal statements can make or break your scholarship application. Use this opportunity to express your aspirations, goals, and motivations for studying abroad.
Take a look at your academic journey and life experiences in order to gain a deeper understanding of why you want to pursue education abroad.
Be authentic, highlight your strengths, and demonstrate your determination to succeed. Remember grammar, spelling, and structure to ensure your personal statement is professional and error-free.
5. Seek Guidance and Support:
Don't hesitate to seek guidance from experienced professionals, teachers, or education consultants who can provide valuable insights and assist you throughout the scholarship application process.
They can offer feedback on your application essays, suggest suitable scholarships, and advise on meeting specific requirements.
Additionally, connect with alums or current students studying abroad, as they can share their experiences and offer helpful tips on securing scholarships.
6. Prepare for Standardized Tests:
Scholarship applicants may be required to submit scores from standardized tests such as the SAT, ACT, TOEFL, or IELTS. Start your preparation early to ensure you achieve a competitive score.
Utilize study materials, practice tests, and online resources to familiarize yourself with the test format and improve your performance. Hire a tutor for personalized guidance or enroll in test preparation courses. A strong test score can significantly boost your chances of being awarded a scholarship.
7. Submit a Complete and Polished Application:
Attention to detail is crucial when applying for a scholarship. Review the application requirements thoroughly and ensure you provide all necessary documents, such as transcripts, letters of recommendation, and financial statements.
Avoid submitting incomplete or hastily prepared applications, as they can be a major disadvantage. Don't forget to proofread your application and essay, making sure they are well-structured and error-free.
Best scholarships to study abroad for Indian students :
Government Scholarships:
Indian Council for Cultural Relations (ICCR) Scholarships
Commonwealth Scholarships
University Scholarships:
Fulbright-Nehru Scholarships
Chevening Scholarships
Privately Funded Scholarships:
Tata Scholarships
Inlaks Scholarships
Country-Specific Scholarships:
Australia Awards
DAAD Scholarships (Germany)
Canadian Commonwealth Scholarship Program (Canada)
Conclusion
Securing a scholarship to study abroad may seem like a daunting task. Still, with careful planning, dedication, and following the steps outlined in this guide, your chances of success will increase significantly. Remember to start early, stay organized, and put your best foot forward in every aspect of the application process.
At Landmark Immigration, we have a team of knowledgeable and dedicated professionals who stay updated with the latest scholarship opportunities and can provide valuable insights and advice.
Landmark Immigration helps students identify suitable scholarships based on their academic profile, guide them through the application process, and ensures that all necessary documents are prepared and submitted accurately and on time.
Additionally, we offer personalized counseling sessions to help students enhance their scholarship applications, including assistance in writing effective personal statements and recommendation letters.
With Landmark Immigration's support, Indian students can maximize their chances of securing scholarships to study abroad and turn their dreams into reality.
Good luck on your journey to pursuing higher education overseas!