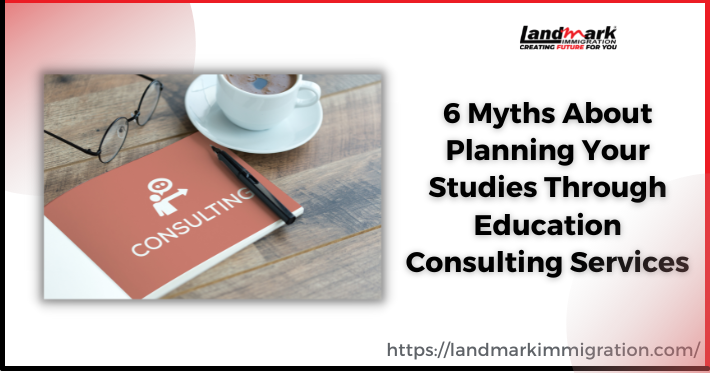 The entire process of studying abroad is an experience in itself. Whether the plan is years of planning or a decision made in the spur of the moment, you realize it is no cakewalk.
This a time-consuming, energy-draining process that makes you doubt yourself several times throughout. The only silver lining in this process is relying on an international education agency providing education consulting services. The research, and application process, are handled by immigration experts.
All your worries and doubts go down the drain because you are backed by a reliable and experienced source. And it is not just the application process, they are the best study counselors as well.
Maybe you want to study in Australia, but Canada turns out to be the ideal destination considering your stream and career prospects. 
Given their expertise and reach, there are a lot of myths that give Education Consulting services a bad reputation. This not only sends a wrong message but circulates misinformation.
This does not affect anyone but students and their dreams. Take a look at some of the most common myths surrounding international education agents.  
1. Your university is not your choice
This is far from the truth. On the contrary, among the first things a study counselor asks you is to list your preferred locations, colleges, and universities.
Counselors have zero influence on your education choices. They will guide you, and show you the bigger picture, based on which YOU make a decision. 
The only way you change your plans after counseling is when your education plans do not align well with your career prospects.
Studying abroad is no less than an investment and counselors make sure you get as many returns as possible through your experience.
Of course, the entire plan is mapped out after thorough research, and discussion, with the ultimate approval being yours. 
2. Consultation quality is never the same
The most common myth among students is that the quality of consultation varies depending on the choice of country.
You are guided by trained and experienced professionals regardless of where you want to go. Yes, their expertise might be more prevalent in some countries but this doesn't affect their overall caliber. 
3. Consultation is very expensive
This is among the reasons why students avoid this very first step of consultation.  This misinformation affects the students and their parents. This crushes their hopes and dreams at the initial stage itself.
What you need to know is that consultations are mostly free or very inexpensive. Yes, the visa-related expenses are there but there are no hidden charges even then.
The entire process is a transparent one. As a parent, you need to steer clear of any doubts related to expensive consultations. 
4. They are only commission-based services
If this was even remotely true, there would not be any successful education consultants. Most students have their hearts set on a particular college or university.
Education agencies make this process easy for you. They are not trained to persuade you to change your mind. 
Your counselor will help you with the application process and how to turn the tables in case of rejection. They will go to any lengths to help you ace your application to your preferred institute.
This arduous journey cannot be carried out on your own and this is where your counselor plays a vital role. 
5. They are fraud
Higher the credibility, the higher the doubts about authenticity. People who do not understand the concept of education consultancy can refer them to fraudulent practices.
Again, this could influence your parents who could later refrain from trusting the agencies. This only affects their child's future.
Still, the concern is genuine and therefore you must go for registered education consulting services that have a certified team to cater to all your doubts and queries.
It is all the more important for you to choose reputed services just so you and your family are assured of their authenticity. 
6. The process is slower than normal
It is often believed that agencies due to the heavy influx of applications can delay your process. On the contrary, they expedite the process by attaching relevant documents and information.
The process is far easier and faster compared to the estimated time taken by you if done on your own. 
Everything remains prepared in advance and each step goes by seamlessly because of their expertise. In adverse cases, they offer vital information in case of any discrepancies that might occur in the future.
If any of the myths listed above was the reason behind dropping the idea of consulting an education agency, then act fast.
Do not let any misinformation hinder your dream of studying abroad. For further inquiries and queries, contact our experts at Landmark Immigration.