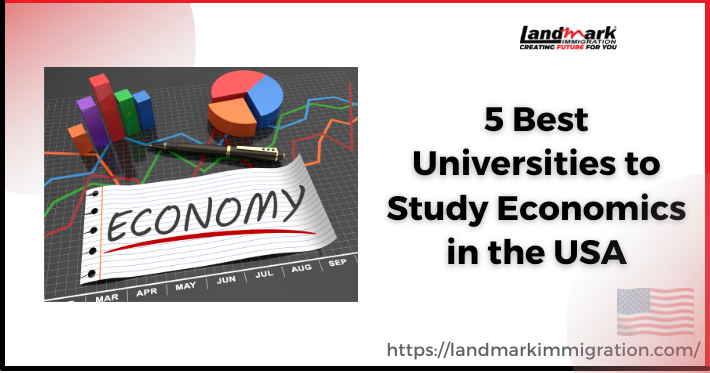 There are many universities that offer a lot of economics courses. The best ones to study economics in the USA are those with the highest quality programs and experienced faculty.
This blog will discuss why you should study economics and the best universities to study economics in the USA.
Why Study Economics in the USA?
If you're looking to study abroad in the USA and are interested in economics, there are several reasons why you should choose.
Whether you want to work in the financial industry or pursue a career in government, a degree in economics is one of the best ways to get there.
1. It's a Social Science
Economists study how people allocate scarce resources to produce goods and services. These studies help us understand economic systems on a local and global scale.
Although economists focus on various topics, they are most interested in how societies produce and distribute goods and services efficiently.
This allows them to understand what makes a society successful and how it can be better run.
2. It's a Diverse Field
As a social science, economics is a broad and varied field that covers many different aspects of human life.
It's not just about finance, banking, business, and government, but it also addresses important issues such as poverty, income inequality, unemployment, recession, prices, monopolies, and other societal problems.
This is why a degree in economics is such a valuable asset.
3. It's a Global Field
The field of economics is a global one with many different subfields.
These include finance, which studies money, credit, and banking; investments, which deals with securities (stocks, bonds); financial institutions and risk management.
All these subfields are interconnected and affect how we live our lives. This makes the field a great choice for those who want to learn about the world from a global perspective.
4. It's a Lucrative Field
Economics is a challenging and interesting field that allows you to combine theory with practice to contribute to social, economic, and environmental change.
If you want to get ahead in the workforce, a degree in economics could be right for you. It is a well-paying field projected to grow 33 percent by 2029, according to the Bureau of Labor Statistics.
With an economics degree, you'll have a wide variety of options regarding careers in government and private industry.
5. It's a Well-Paying Field
Economics is a well-paying field, and it's one of the best majors to pursue if you're looking for a career in business or finance.
A degree in economics is particularly desirable if you have an aptitude for maths and statistics and want to work with data analysis.
Graduates with a bachelor's or master's degree in economics can pursue careers as economists, actuaries, accountants, and financial analysts.
Those with a doctorate can become senior economists or postsecondary teachers.
Best Universities To Study Economics In The USA
If you're interested in studying economics, there are a few different schools in the United States that you can consider.
Some of these are ranked higher than others, so choosing the best one is important.
Yale University offers an undergraduate program in economics with a broad range of courses.
Students also have the opportunity to research a topic of their choice for a senior thesis.
1. University of North Carolina at Chapel Hill
Founded in 1789, the University of North Carolina at Chapel Hill is a public institution that serves 18,522 undergraduate students and 10,946 graduate students.
The college utilizes a semester-based academic calendar with 1669 full-time instructional teachers.
The University of North Carolina is one of the top schools in the United States and is known for its exceptional academics. However, it is also a very challenging school that will require a lot of effort on your part.
2. University of California at Berkeley
Berkeley is a world-class university that is known for its academics and research. It also has a diverse student body that is open to all people.
The University of California at Berkeley is an outstanding place to study economics and has a great reputation for its academics.
It has a strong commitment to a liberal education, which is important for anyone studying economics. It's also a great choice for students who want to live on campus.
They can get involved in various clubs, organizations, and activities.
3. Massachusetts Institute of Technology
One of the most prestigious and highly-ranked universities in the world is the Massachusetts Institute of Technology (MIT).
Many of the top business owners and entrepreneurs in America have hailed from this region.
Economics is one of the many majors offered at the university. Development economics, microeconomics, and macroeconomics are among the options available to students.
MIT's curriculum is focused on education, not just research. This is a major advantage for economics students.
4. University of Chicago
The University of Chicago is a great choice for anyone who wants to study economics.
This prestigious university is known for its rigorous academic standards and outstanding professors who are internationally recognized.
The University of Chicago is a renowned research university with many Nobel Prize winners teaching there.
This means that the university is considered the best in the world in the field of economics.
5. Stanford University
The Department of Economics at Stanford has a long history of producing major contributions to economic theory and empirical economics.
Stanford University's faculty has made foundational contributions to formulating general equilibrium theory, game theory, and market design.
The college's faculty also conducts cutting-edge applied research.
Recent projects have focused on developing new methods for analyzing big data and machine learning.
The department is highly interdisciplinary and collaborates with scholars from across the university.
Eligibility Criteria
To study economics in the USA, here are some general requirements:
1. Academic Qualifications:
You must have completed your secondary education or equivalent and have a recognized high school diploma or GED qualification.
Additionally, you will need to meet the minimum academic requirements of the college or university you are applying to.
2. English Language Proficiency:
As most courses are taught in English, you will need to demonstrate your proficiency in the language by taking an English language test such as TOEFL, IELTS, or PTE.
3. Standardized Tests:
Many universities and colleges will require you to submit standardized test scores such as the SAT or ACT.
These tests are designed to evaluate your academic readiness for higher education and are used to determine your eligibility for admission and scholarship opportunities.
4. Visa Requirements:
International students must obtain a visa to study in the USA.
To be eligible for a student visa, you must have been accepted by a college or university and demonstrate sufficient financial support to cover tuition fees and living expenses while in the USA.
Conclusion
In conclusion, studying economics in the United States can help students better understand market behavior and economic policies.
Additionally, economics provides a solid grounding in Macroeconomic Theory, which is necessary for understanding financial markets and stability.
Finally, students who choose to study economics in the US can learn from some of the world's top economists and gain invaluable knowledge that they can apply back home.
If you are interested in pursuing economics in the USA, our expert immigration consultants at Landmark Immigration will offer you the right guidance.