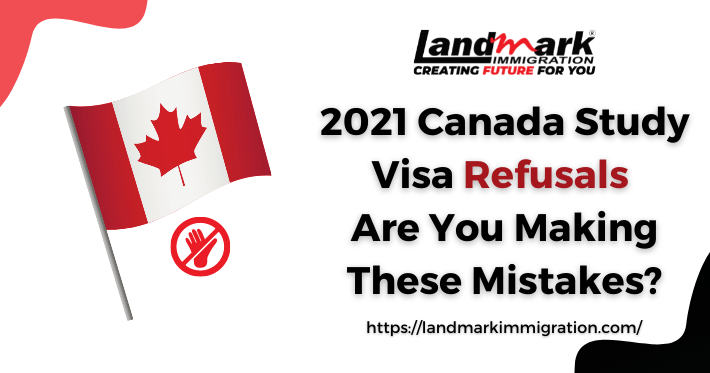 Canada is one of the popular study abroad destinations, thanks to top-class education and great career opportunities.
Needless to tell that a Canadian study visa is important to study in Canada, however, the visa is not that easy to acquire. Though the process seems quite simple, it comes with a lot of challenges and hassles. A single mistake can lead to your visa rejection.
Although Canada is looking to immigrate more international students, it has still strict study visa guidelines.
In 2021, the study visa rejection rate is on the rise due to COVID restrictions, policy changes and study programs.
Please watch our video for more information.
Let's walk through some common reasons leading to student visa rejection.
Not Having a Letter of Acceptance:
Getting a letter of acceptance from a Canadian school or college is downright essential to apply for a Canada Student visa. Otherwise, your eligibility can be questioned to pursue a course from any Canadian institution and might lead to visa rejection.
Not Having Sufficient Funds:
Showing evidence of your financial stability is an important part of the Canadian study visa process. If you fail to demonstrate your ability to manage tuition fees, travelling and other expenses related to your study in Canada, the visa authorities can cancel your visa application.
Not Having Satisfactory Academic Performance:
Your past academic performance is also checked during the approval process. If you have outstanding grades, it can increase the odds of getting student visa approval. Poor grades, on the other hand, can hurt the possibility of getting a visa.
Not Having Proper Documents:
It takes you to submit a large huge list of documents while applying for a study visa. The incomplete submission of these documents can lead to visa rejection.
Not Being Able to Prove Your Intentions to Leave Canada After Completion of the Studies:
Keep in mind that a Canada Student visa is not a permanent visa. It is a temporary visa that comes with an expiration date. Once your visa is terminated, you are not allowed to stay in Canada.
If you fail to prove your intention to return to your nation, the visa officers have every right to reject your visa application.
Not Having Command Over the English Language:
Students are required to be well versed with the English language and have proof of the same in the form of IELTS, TOEFL scorecards. If you don't have a satisfactory level of scores in these English language proficiency tests, the chances of visa rejection become higher.
Not Choosing the Right Study Program:
The selection of an appropriate course that matches your qualification and educational background is an important factor while applying for a Canadian study visa. Choosing an inappropriate course can lead to visa refusal.
Not Submitting the Documents On Time:
Submitting on time makes a huge difference. The sooner you apply, the better it is. If you apply late or miss the deadlines, get ready to see a visa rejection.
Not Sounding Convincing During the Visa Interview:
Although the interview is not required to get a study permit, the visa officers can call you up for a meet before approving the visa. If you fail to convince the interviewer or behave inappropriately, the chances of visa rejection can increase.
Facing Several Study Visa Rejections? Call Us Now!
If you are the one whose study visa has been rejected due to the reasons listed above, you can contact us. We will guide you on the procedures and help you with documentation to ensure that you get your study visa this time. Get in touch with one of your study visa experts now!